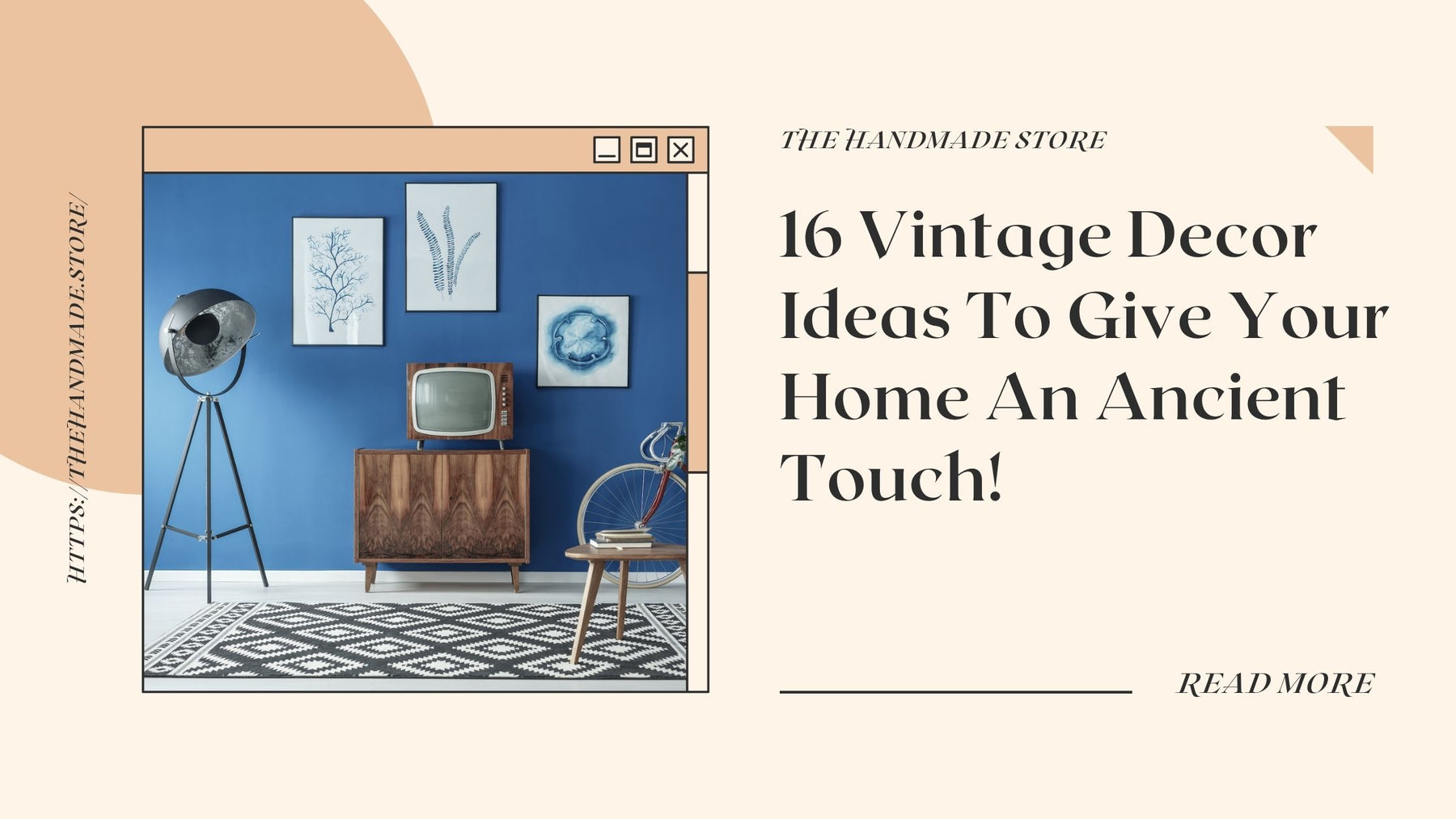 16 Vintage Decor Ideas To Give Your Home An Ancient Touch!
1. Call Your Loved Ones in a Beautiful Setup
A vintage telephone is not only meant for calling purposes but can also be a great decorative element. It adds both charm and functionality to the home. You can use it in quite different ways to enhance its home decor.
Vintage telephones with their rotary dial look elegant. They are available in a variety of designs, colors, shapes, and sizes. Choose the one that suits your interior decor. Make sure it attracts the attention of every visitor.
You can place a vintage telephone in your living room, study room, bedroom, and hallways. Don't place it in the center of a room but in a corner or side of a table. If you place it on a table or wall, ensure it isn't in the way. Before placing the phone in a hallway, make sure it is broad enough.
A vintage telephone can enhance your bedroom. Place the telephone on the chest of drawers or other pieces of furniture. If you spend a lot of time every day in your study room, you can keep a phone close to your desk for both calling and decorative purposes.
Checkout our collection of Vintage Telephones.
2. Make Every Hour in the Day Count
An antique clock can always be a great addition to your room if it suits the interior decor. It is a simple decorative piece, which adds more character and meaning to your home. You can find a wide variety of antique clocks with unique designs, colors, and frames that will attract your attention.
You can decorate your living room with a giant and bold wall clock with an accent lighting set. Select an antique clock color that matches your wall paint, chairs, or throw pillows. Use a wall clock as a focal point on your dining room wall. You can hang clocks that show various time zones on your extended living room wall.
Also Check: Modern Vintage Decor Items For Office
A subtle clock design looks perfect in the center of your bedroom. Add beautiful paintings on the wall to increase your bedroom's visual appeal. If you have a rustic style room, create a click wall by adding clocks of different styles, designs, and sizes in one place. Always choose antique clocks that reflect your personality and add aesthetics to your living space.
Checkout our collection of Vintage Clocks.
3. Revisit Memories With Your Favorite Music
A vintage gramophone can be a great investment and a decorative piece for your home if you love music and classic things. You can place a vintage gramophone in your sitting room so all visitors can see it. To enjoy your personal space, you can also keep it in your study room.
The bedroom is also a good place to place a gramophone if it suits the interior decor and existing furniture. A gold gramophone perched on a tall wooden table is a common sight in a vintage living room. You can also place a gramophone in your entryway, living room and dining room to add fresh air to a space.
Display it as a centerpiece decorative element on your office table. A gramophone can look good in any room of your home if it blends with the surroundings.
Checkout our Vintage Gramophone.
4. Love Looking at Yourself Every Day
A vintage mirror is the epitome of elegance. It can add a regal touch to a home of all sizes. Place a vintage mirror in the entrance lobby to create a focal point in your home and create a good impression on visitors.
If you have a fireplace in your dining room, you can place a rustic mirror over it. A wooden dining table backed by a fireplace and antique mirror creates a paradise and pleasant mood. As you spend most of the time in the living room, place a vintage mirror horizontally on the sofa wall.
A vintage mirror looks awesome in walk-in closets. You can check out your complete look after wearing your favorite outfit and click some selfies! To give a chic look to your bathroom, you can install an antique mirror with polished edges.
5. Brighten Up Your Home and Life
A vintage lamp can be a great decorative piece of furniture, which can redefine and give a makeover to your home. Pick a lamp suited to your home decor theme.
Treat a standing antique lamp as a character and place it in a dark corner of your living/bedroom. You can also place a drum-shaped vintage floor lamp beside your dining table to add a sophisticated touch and create a romantic environment.
A tamper shade lamp gives a traditional look to a space. Place it on the corner table beside the sofa in the living room. A classic old lamp, usually made of brass with a firm base and adjustable arms cost less than the designer ones. You can place it in your bedroom to enjoy the vintage lighting.
Checkout our collection of vintage lamps.
6. Cherish Real Comfort and Beauty
Vintage furniture adds character, story, and uniqueness to your home. You can use it in a variety of ways to transform your home.
If your home looks like an antique farmhouse, add a Persian rug, which ties together different-looking wooden frames, and a dark leather trunk as a coffee table. Revisit the 1950s adding a jukebox and quirky chair to your room. To reflect your music choices, you can create an area with phonographs, band posters, and old records.
Add a decorative armchair and then slowly add more pieces to your favorite room. You can also mix your vintage furniture with modern decorative elements. Keep different vases in the center of a coffee table.
Checkout: Gift Ideas For Vintage Lovers
Use old books as antique wall decor and nails to fasten books to the wall. You can create a collage with torn-out pages and add beautiful vintage frames around them. Increase the storage space in your living room decor by adding cabinets. Place a cabinet in a hallway as an entryway table or behind the couch. You can also keep it on a desktop.
7. Plant and Spread Happiness Around
A vintage planter can always enhance the charm of interior decor and bring you close to nature. You can use a cookie jar as a vintage planter for your indoor plant. The cookie jar base as a plant pot can be a quirky addition to your home decor.
You can restructure a vintage pitcher as a distinctive planter, mainly if that pitcher's shape is like an animal. Tiny succulents and houseplants fit perfectly into antique enamel cups. If you want a vintage planter in larger sizes, use enamelware pots or bowls.
If you have a round vintage planter, position a plastic plant pot upside-down on the bottom of the container and fill the pot with soil. Then, the water will seep via the tray into the vacant space under the tray.
8. Type Your Words Out
A vintage typewriter adds functionality and aesthetics to your office or study room at home. It can also look good sitting on your bookshelf. A bright-colored typewriter adds brightness to a small space and creates a retro look when you place it on the top of a trunk.
You can turn your normal white self into boho by adding a colorful vintage typewriter. Add a suitcase and plants to fill the shelf more if you want.
Keep your typewriter on your extra desk and dresser space to increase its visual appeal. A setup filled with a vintage typewriter, books, and records can always look elegant.
9. Look Forward and Explore the World
A vintage telescope can be a great decorative element if you place it right in your home. It looks awesome in a geography-themed home.
You can keep a telescope on your table and shelves. It works well as a decorative piece and an instrument to watch a far daytime scene or night sky. To complement the telescope, you can place two-colored world globes on both sides.
Put a vintage telescope with a stellar sky-framed print on your table to enhance your room decor. You can also place it next to your bed or other furniture to explore nature and the nighttime sky. Make sure you choose a telescope that suits the design and color of your home decor.
Checkout our collection of Vintage Telescopes.
10. Strengthen and Enhance Your Room Foundation
A vintage rug can define and add warmth to a space. It mainly works in large rooms that require definition. You can use one or multiple rugs of different sizes to create a sense of variation. Make sure the rugs complement each other's style, otherwise it would look unpleasant.
Pick a rug depending on the color scheme and existing furniture in your room. Choose a subtle rug the wallpaper/upholstery has an ornate pattern. If the wallpaper/upholstery is subdued, try bolder colors to beautify your room.
A rug can be a good focal point in a room. Create a contrast by painting your walls in a color, which echoes one of the rug's accent hues. Change rugs and pillows to upgrade your room in different seasons or to introduce new colors.
Use a liner to prevent your rug from creeping or slipping. The rug liner needs to be perfect for your floor type and appropriately sized to prevent your rug from sliding.
Checkout our collection of Vintage Rugs.
11. Capture the Most Precious Moment
A vintage camera can be a stylish addition to your room. You can keep it on the shelf or in a display case. Even an overused camera exudes elegance to a living space!
To make your room look unique, attach a vintage camera to wall mounts and place vacant frames around them. You can use the oldest camera with bellows to add elegance and create a contrasting look in your contemporary workspace.
If you love photography, you should always have a vintage camera placed in your study or office room. In case you aren't fond of photography, you can use it only as a decorative piece for your home.
12. Absorb What You Listen Peacefully
A vintage radio can look great in any room of your home. You can dedicate a room or shelf in your home as a small museum of your radios. Arrange the favorite old radios in a way that attracts attention.
Find the right place in the home to place your vintage radio and show off its beauty. Keep the radio on your shelf, living room, or a prominent spot in your home so all visitors can see it.
You can also place a vintage radio in your bedroom, office room, or a common area in your home. A kitchen is also a good place to keep your radio. You may not know a vintage radio can be a finishing touch to your bathroom decor.
13. Paint Your Reality and Feel Alive
Fill and enhance the empty walls in every room with beautiful vintage paintings. Ornately framed portraits, landscape art, prints, and posters add a historic touch to any space and reflect your personality.
Keep your vintage painting above the headboard in a bedroom or a sofa in your living room. This type of art can be the perfect decorative element for a farmhouse-style kitchen. You can showcase your dishware by hanging tiny paintings behind stacks of plates and bowls on open shelves.
Black-and-white photographs can add glamor to any space. An asymmetrical arrangement on image ledges against a dark-colored wall pops up in the photos. Accessorize the prints with hints of color through table lamps, throw pillows, and artwork.
It's tricky to display a massive artwork without superseding a space. You can hang a large portrait of an old man to make your room's focal point. Entryway accessories and acrylic console tables can reduce their prominence. You can add symmetry with a pair of sconces.
Checkout our collection of Vintage Paintings.
14. Fall in Love With Your Vintage Wall
Vintage wall decor is always trending and can enhance the overall look of your home. You can find a variety of vintage decorative elements to decorate your wall.
You can use sconces to light up the bed and showcase your unique wall accents. Choose glamorous and antique sconces to reflect your personality.
Vertical gardens are perfect to add fresh and green life to a dull environment and look fabulous on white walls. You can decorate everything yourself with restructured wood, antique photo frames, old containers, and other decorative elements.
You can create a retro whimsical gallery wall with signs. Add color and texture to your walls with authentic elements. If you are a sea lover, you can mount a vintage pirate ship wheel on the wall.
Checkout our collection of Vintage Wall Decor.
15. Add Light and Warmth in the Darkness
Wooden candle holders look elegant and can act as a great vintage decoration element for your home. You can find them in different types and thus, create different home decor.
Terrariums add visual appeal to space by grouping candles. You can play with their height and texture to decorate your room. Lanterns work like magic in any space, provide safety for lit candles and direct the light into a pleasant glow. So, you can use lanterns of different shapes and heights to create a dramatic design.
Do you have a broad flat space? You can replicate the look of a fireplace with candles of various heights and textures on a bed of polished and smooth rock. The candles will emit a fireplace's warm glow.
Glittery goblets can be the perfect holders for fragile candles. The candlelight reflects via the glass and adds a royal touch to your dinner party decor. You can do flower arrangements to impress the visitors.
16. Dine With Family to Make the Fondest Memories
A vintage dining table needs to look beautiful, provide you the desired comfort and serve your purpose. It can look good in both casual dining and an eat-in kitchen. To increase your comfort, you can add a cushion or pillow on every chair and drape a faux fur throw on the bench.
Go for the combination of white and real wood to exude the charm of a farmhouse. Place a small table with an additional leaf, which will give you space when required. A matching dining table and chair set create cohesion and add warmth to a space.
An extra-lathe and offset table flatters the window nook shape without looking so cramped. Though the materials are understated and colors are subdued, the geometric shapes can add definition to the dining area.
Checkout our collection of Vintage Home Decor.