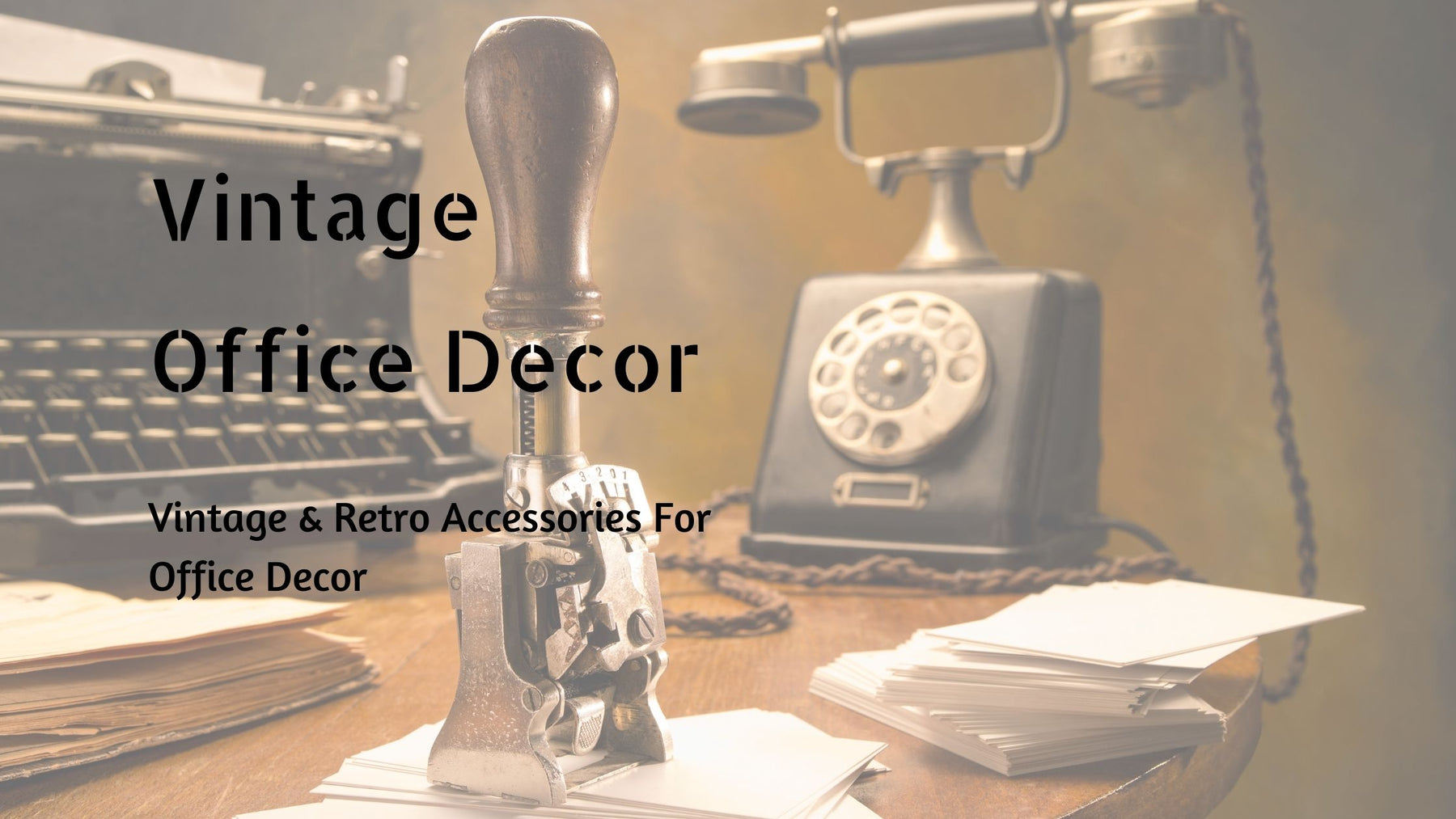 10 Tips To Decorate Your Office With Vintage Accessories
Your office need not be only functional space. It should also look good and organized to attract more possible candidates. An office with an amazing interior can make your employees feel good every day, which automatically boosts overall productivity.
Vintage and antique office decor are trending these days. Such decor looks stylish yet sophisticated and adds a unique touch to your workplace. The best thing about this type of decor is that it also blends well with modern furniture.
Want to decorate your office interior in vintage and retro style?
Here, you will learn how to do so. But before that, let's discuss what's so unique about vintage and retro office decor, and why people love it so much!
What's So Special About Vintage and Retro Office Decor?
Vintage and retro office decor are special mainly because of their visual appeal. Office owners are investing in vintage and antique decor to make their workspace look sophisticated yet eye-catching.
The vintage decor's elegance can make a style statement in an office that can always attract the best people. As vintage furniture is eco-friendly, you can attract and retain clients and candidates who care for the environment. Creating a vintage and antique office is worth the investment as the trend is getting more popular, and real vintage furniture tends to stay long.
Also read: Vintage Office Decor Items You Must Have
Now, let's discuss how you can decorate your office in vintage and antique styles using those high-quality and long-lasting items.
Follow the tips below:
1. Maintain Simplicity
Keep the entire office interior as simple as possible. If you have a small office, use contemporary office desks with sleek legs and comfortable chairs. Stick to brown-colored desks as they look subtle yet available in stylish designs.
Add a few catchy paintings and signboards to fill the empty walls.
2. Add Vintage Furniture and Decor Items
Choose vintage furniture, decor accessories, and wall decorative accessories to complete the full decoration. Install the right lighting to brighten up your workspace. Decorate your office table with some pieces that can add a vintage and antique touch to the space.
Go for leather furniture as it is exquisite, lavish, extremely durable, and easy to clean. As leather furniture gets better with age, you can keep them in your vintage office for years. As it is never out of fashion, your office looks trendy throughout.
3. Replace a Desk With a Bench-Style Desk
Remove the traditional office desk and place a trendy office bench as a fun element to the space. Make sure the modern bench goes well with the artistic wall decoration. Stick your priority tasks list on the vacant wall space.
4. Create a Pleasant Environment
To work smoothly in your vintage and antique-style office, create a pleasant ambiance. A dark-colored wooden office desk can be the perfect addition. You can add wooden shelves to keep all your books and files or place a table in the center of your cabin.
5. Choose Basic Decorative Elements
Decorate your workspace with certain basic elements. Choose a neutral shade desk and comfortable chair.
Keep an antique telephone or gramophone with vintage records on the table. You should always focus on adding as much comfort and functionality as possible to your office.
Checkout Vintage Tabletops here.
6. Add Beautiful Rugs
Rugs may seem like an unnecessary decorative element for many office owners. However, rugs can enhance and add functionality to your workspace. The addition of soft rugs on the floor makes walking comfortable for people.
As rugs can absorb sound, they help to create a silent environment in your office. The thicker a rug, the more sound it absorbs sound and decreases noise. So, make sure you pick thick rugs to reduce all types of noise.
Checkout our vintage handmade rugs.
7. Add a Maximum Functionality
No matter what your office interior decor style is, you should never compromise on its functionality. Besides creating a visually appealing space, add a neutral wooden shade desk, a floor lamp, and some antique-style lighting fixtures.
A table lamp, which blends with your vintage furniture, can be a perfect decorative element. It can add charm, style, and functionality to your workspace. You can find table lamps in a wide variety of designs suited to your requirements. So, you can always choose the one that completes your office decor and create an ideal environment.
You can also set up a few antique lights and fill vacant walls with storage space. Add a retro-style sofa that complements your office decor.
8. Go for Bright Shades
Vibrant furniture can also help you create a vintage and antique-style office. A modern wooden desk and shelf in a bright shade can always add elegance to your workspace. The right lighting can highlight the beauty of such furniture.
9. Place an Antique Sculpture
Sculptures are incredible pieces of art that can take your office decor to the next level. A beautifully crafted sculpture can stay in the minds of people who visited your office once.
Do you have a dull corner in your office? Place a modern sculpture to make that corner a center of attraction. You can also position sculptures at the entrance to make the visitors feel welcomed and add a positive aura to the space.
10. Create a Library
Libraries are special and bring a sense of calm to your office. If you keep old books on the shelves, the visitors feel that you like collecting and reading them. You can have books in your library, which are wood boxes looking like old books. It's quite easy to find old leather-bound books to keep on your library shelves.
Make sure the reading and gathering space is illuminated. Backlighting bookshelves highlight the books' charm. You can add LED light strips above those books to throw light on them. Strategic lighting increases the value of your library.
The Bottom Line
Do you want to decorate your office in vintage and antique style? Then, follow the simple tips above to revamp your office and make it a beautiful yet functional space. Make sure you choose furniture and other decorative elements carefully as a wrong decision may hamper the overall decor.
Visualize the new look of your office and take your time selecting and adding decorative pieces to your office. All the best!
Where Can I Purchase Vintage Office Accessories?
To buy the best vintage office accessories at a great price, visit The Handmade Store today! Browse our wide range of unique decorative items that can decorate your office in vintage style. With our stylish and elegant accessories, you can create the most beautiful and functional workspace where people would love to work for hours.