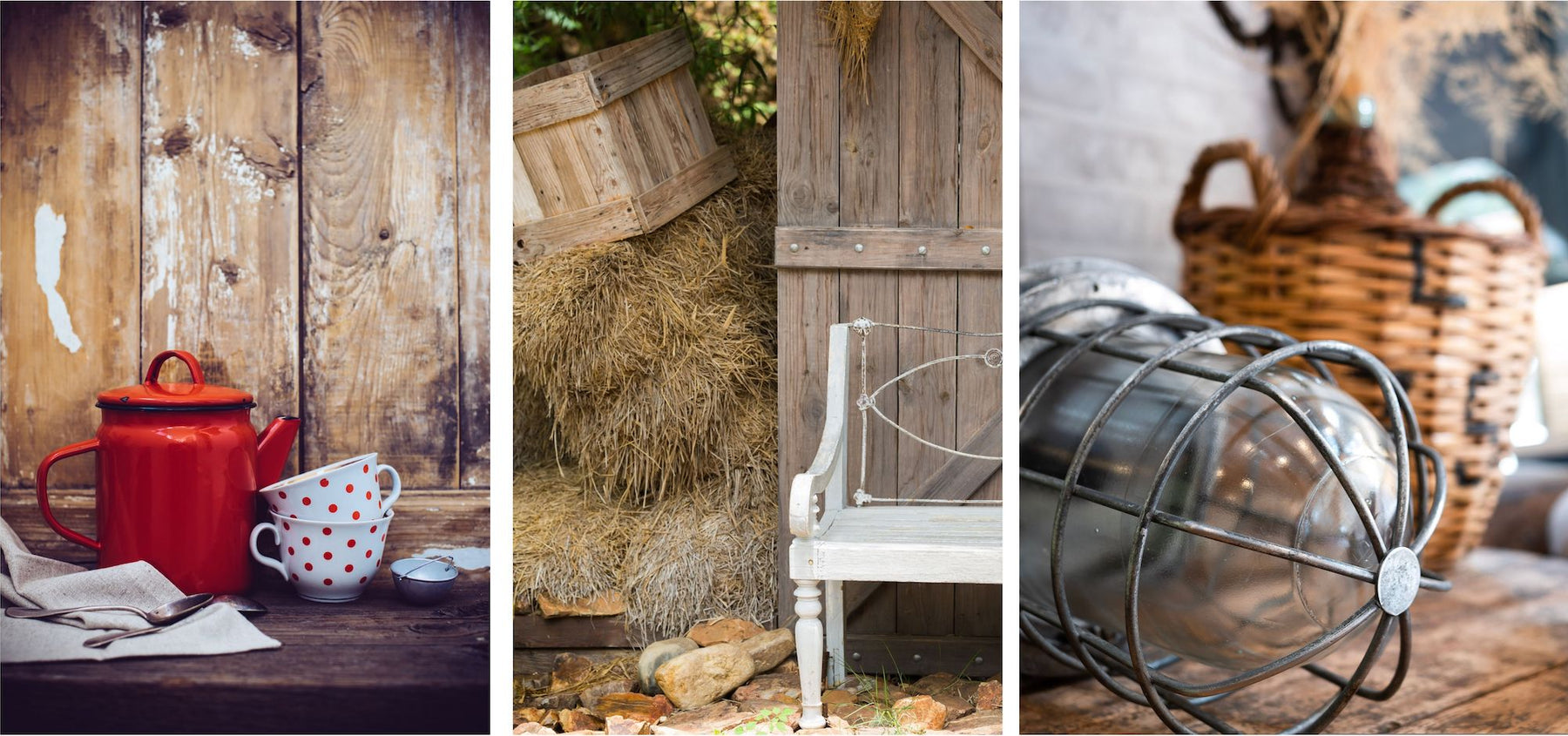 Rustic Decor Vs. Farmhouse Decor Vs. Vintage Decor
The main difference between rustic decor, farmhouse decor and vintage decor is that rustic is highlights the raw elements, farmhouse gives a rural vibe and vintage takes you back in time with the antique element.
Interior decor has an impact on our lives, whether we're enjoying a leisurely meal at a restaurant or shopping at our favorite store. You might not even realize it until you stop and think about it.
Your experience can be enriched by the space around you. Interior designs do so much for us, so subtly, and we never even notice. They make the mundane interesting, and that's no less than magic.
When you think of interior decor, a few names come to mind. Choosing a style for your house's interior is the first step. Popular interior styles include rustic decor, farmhouse decor, and vintage decor.
What's in there?
If you are confused about the right kind of interior decor for your space, you can settle on a good option by the end of this blog. Following are the takeaways for you-
A brief idea of rustic, farmhouse, and vintage decor
Few substantial elements of difference in the styles of interior decor
A loud voice in your head telling you which interior approach to take
What is Rustic Decor?
A rustic decor highlights the ruggedness and raw beauty of nature. The idea of the rustic style of interior decor is to create a calming and relaxing environment highlighting natural elements like wood, leaves, stones, iron, and organic elements. It is not a style that aims to achieve perfection.
Rather, it is a style that gives each piece character. It might be your not-so-beautiful knot in the woodwork or the so-called ugly rust on the metal, Rustic Decor is a grand celebration of the flaws in the character.
If you wish to settle on rustic interior design, it is time to get over the shiny chandeliers, cold color palettes, and plastic furniture. Rustic interior design focuses on the warmth and comfort of natural elements.
It is more about hardwood floors and bulk iron accents shining like a glow from the fire. If you want to introduce elements of depth in the rustic interior style, go for a woven blanket, pieces of fur, etc.
Color Palette and Design Elements Of Rustic Decor
The color palette and design elements of the rustic interior are always natural. The significant areas to explore in the color palette are greens, dark brown, mud red, ocean blue, etc. Metal finishes and accent colors of bronze, copper, and iron enhance the look to bring in more warmth.
Use natural elements to enliven rustic interior design with a raw and simplistic approach. Fireplaces and wood-burning stoves, hardwood furniture, braided rugs, and fur carpet, utilizing the branches and antler, etc. contribute to achieving a perfect rustic appeal.
Also Read: 10 Ways to decorate modern house in rustic style!
What is farmhouse decor?
Farmhouse decor was born out of necessity, not to dominate the interior design field. They're practical. They reflect the beauty of rural lifestyles.
Keeping the rural natural beauty intact, the style does not compromise on modern comforts and makes the space cozy and stylish. Over the years, it has become a popular style of interior design. The farmhouse decor style became popular during the post-industrial revolution.
It soon became the part of the homes that were not from a functioning farm. We have had enough glimpses of modern farmhouse-style interior decor in TV shows.
It became the very idea of an elegant urban home. Man is always directed towards nature and cannot stay away from it for longer. Farmhouse style brings us close to the greenery and nature.
Elements of Farmhouse Style Interior
The most dominating feature of all the other attributes of the farmhouse interior is practicality. Every little part of it is there for a particular function. Ornate detailing is not a significant requirement in this form of styling.
Unlike the original farmhouse, one can incorporate modern elements to keep the design flavorful. A piece of wooden furniture, cotton upholstery, etc. can do the trick. The matte finish of low-shine, and lots of greenery are integral parts of the farmhouse interior.
Also Read: 6 Ways to decorate your house farmhouse style
What is Vintage Decor?
The dominating feature of vintage home design is the collection of antiques. It is all about the collection of various and taking pieces and unifying them into a theme to build the concept of the home environment. Every piece evokes elegance and speaks for itself.
Despite its enigmatic nature, it is simply an approach to arranging well-recognized items in a home sensibly and giving visitors the answer.
There's no style and no excuse for congestion. Piece placement is key. The aged look adds to the appeal. Use color as a major unifying factor.
You can always go colonial and have a different setup in different rooms. Vintage decor style allows you to explore your time capsule at home and relive the past
Elements of vintage decor
Creative liberty is the first ingredient for creating vibrant vintage home decor. You can always bid the norm adieu. Vintage interior is not a one-day thing.
You have to keep working on it for a long period to achieve the appropriate look. Visit your local antique store and pick up enchanting pieces for the corners of your home.
The neutral color palette teamed up with high-energy vintage pieces will speak for themselves. You can expect the minimal to work for you in this case. An old family picture just adds to the authenticity of your home interior.
What Makes them Different from Each Other?
Knowing about various interior decor helps us decode the genuine difference between them.
The rustic interior design enhances the rawness and ruggedness of surfaces. Natural colors are a preferable color palette for this kind of interior design.
Farmhouse interior design incorporates greenery for the styling of the place. A subtle fusion of modernity always complements the farmhouse interior design style.
Vintage decor enhances the age and oddness of elements. It allows you to tell a personal story and have a meaningful glimpse of history using galvanized metal, old photo frames, etc.
Which One to Go For?
Interior designing is a personal call. People tend to stick with the urban interior design approaches, but you can choose your preferred style based on your personality. A vintage interior design look is a good choice if you don't need natural elements.
Rustic interior design is a good choice if you can't live without some natural elements.
Above all, if you want the natural vibe at your place with a dash of modernity in it, you should go for farmhouse interior decor.
Conclusion
You need a place where you feel safe and at home. Interior design can help you do that. Look at how you like the places to be and then design them accordingly.
A stunning interior is all about a functional space with furniture and other essentials. It's not about adorning the house unnecessarily.
Checkout our collection of home decor products.