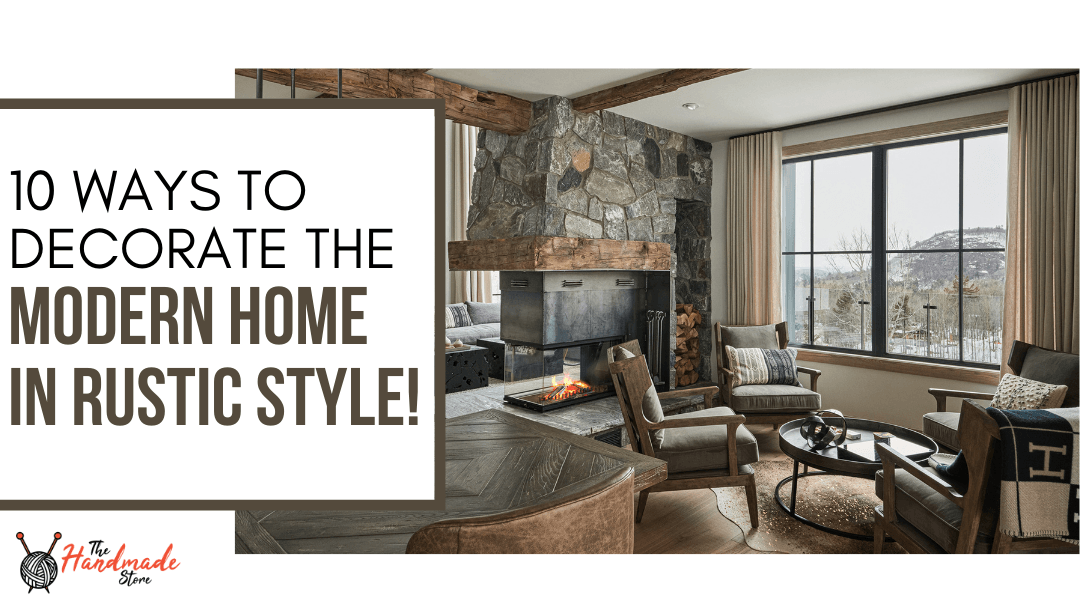 10 Ways To Decorate The Modern Home In Rustic Style!
What is with all these Country style decor? Trust me when I say that Old is Everywhere! We have those old charms around us. Be it a traditional wood-fire pizza or old-school music playlist.
Well, I may sound a bit off-topic when I say the word Old, but think about the synergy of emotions attached with the style of your decor.
Old, Rustic. Antique. Vintage. Country Style. Farmhouse Style. And many more!!!!
So, let me take you through the Idyllic mood of your house decor!
What is rustic style home decor?
Rustic interior design is a relaxed and comfortable decorating style that evokes the impression of a simple country living. Vivid and lively colours are used in the colour scheme, and design features such as antique products and second-hand accessories might be used.
Wood, brick, and stone, as well as other natural elements, are combined to create a country style interior. Exposed beams, wood panelling, and wood flooring are all typical characteristics of rural decor.
A number of different features may be integrated into your design to give it a rural feel. These specifics may change based on the nation style variant you choose. For example, you may want a more mid century modern design aesthetic or a more real and classic country visual identity. Alternatively, you may be seeking a regional variety, such as English or French vintage style.
Why is rustic style so popular?
Over the last several years, the number of people opting for farmhouse home décor alternatives has increased. It is a trendy contemporary style that has recently become trendy. Kitchens with brickwork feature walls, barnyard style lighting, wallpaper borders with flowers, and walnut kitchen cupboards, on the other hand, are not a new concept.
However, today's farmstead design is less realistic and more akin to an idealised depiction of "farm life."
Most people find it relaxing since it has a warm, welcoming feel about it.
It's also quite adaptable and goes well with a variety of different styles, such as classic or industrial. In this design, you have a variety of alternatives to select from.
It has a family-friendly feel. The textures, materials, and laid-back attitude of this design are ideal for families, particularly those with antique furniture. The metals and wood furnishings have dull finishes that provide character to the space and so improve its appearance.
Farmhouse décor and farmhouse lights are widely available. There are various options available at both online and local retailers.
10 ways to give your home a rustic touch
1. Be Artful with Handcrafted Rugs
Handmade rugs are extremely versatile. Whether you choose a traditional design with earth tones or something more adventurous in shades of rust, cream, orange, blue, or pale green, mix it with other elements for the perfect balance.
Checkout our rustic style rugs.
2. Throw in floral and vibrant colored cushion covers, bedsheets
The pillow cover is a great fall decoration that would go with any home décor. When the design is flowery, it immediately adds an old school and rustic appeal. Moreover, cushion covers can be an ultimate solution to refurbish your home and give it a new look even when you cannot afford to purchase costly stuff.
Checkout our cushion cover collection.
3. Add vintage stools and furniture to get the Rustic Look
What could be a greater compliment to your rural décor than vintage furniture with a strong or subtle design aspect? Sometimes you come across a piece of antique furniture that is so eye-catching that you have to utilise it as the focal point of your room. There's no way to mix it in; it has to stand out.
The two-tone, high-gloss surface seems dramatic in a modern house, made more so by the Victorian design, complete with elaborate accents and carved features. It has a regal air, and the height of the legs makes this item seem exceptional while also making the area appear larger.
Also Check: 8 Tips To Mix Modern & Vintage Decor!
4. Definitely hang paintings
Nothing adds more charm and colour to a room than a gallery wall. Showcase a collection of paintings or pictures, or incorporate wall hangings and other artifacts. Choose basic, coherent frameworks or a variety of elaborate variants to spice things up! Word of advice: Expand the gallery wall all the way to the ceiling to give the impression of a larger room.
Checkout our paintings collection.
5. Lamps, hanging lights etc that change the vibe of the house
The rustic design is a means for us to express ourselves, to find solace, to feel nostalgic, and to ensure a serene and quiet environment.
Here's our finest advice for you! Give fantastic lighting pieces to your cosy living room; yellow lamp options are the most appropriate for rustic living rooms; they add charm to the ambiance and highlight the distinctive qualities of this interior design style.
Using these country decor ideas in conjunction with the greatest lighting designs is the ideal combination for creating the fully inviting home ambiance that you have always desired.
Checkout our vintage hollywood style lamps.
6. Old and vintage clocks
Clocks have long been an important component of our home design, from school rooms to bedrooms. Wall clocks may appear monotonous and out-of-date, but they offer a touch of brightness when they are well-matched with your decor.
All you need to do is choose the greatest antique wall clocks online to make your home appear more appealing.
Wall clocks continue to be a low-cost method to improve the design of any space. They are the simplest yet most beautiful element that provides significance and individuality to your home. Some people enjoy decorating their homes with old wall clocks. If you are one of them, this post is for you! It's time to brush up on your history knowledge.
7. Crafted mirrors
A gorgeous wall mirror is about more than just practicality. We prefer to think of wall mirrors as sculpted art and decorative items, in addition to reflecting your lovely face and making spaces look more spacious.
They can serve as compelling key elements above a table in the foyer, added texture on the walls behind a sofa or bed, or glittering accents that bring a touch of sparkle to barren walls.
To summarise, a well positioned wall mirror may quickly change a space, providing both elegant flair and a fresh viewpoint.
8.Tables with subtle design
Rustic interiors are designed to be informal due to the neutral hues and relaxed décor. After all, they are living places. Having an informal arrangement will help to emphasise the relaxed feeling in places. Instead of formal furniture, opt for basic pieces that will assist your spaces and patterns feel less important.
For instance, a casual design is defined by informal furnishings that are neither stiff or excessively conventional and appropriate. At a dinner table, try a wooden bench and slouchy slipper chairs, or position a linen rocker slightly off centre from a gray velvet heaped with cushions.
9. Candle stands that speaks through art
Candles are one of those items that will never go out of style. The candle holders improve each piece of candle by adding elegance, charisma, and individuality. A great piece of candle stand, whether perched on a wall or put on a table, is an important home décor item that can improve any home interior.
10. Farmhouse Accessories
Natural materials add an organic aspect that distinguishes rustic settings. Choose natural rustic design elements such as raw or damaged timbers, braided fibre pieces, galvanised metal accessories, and leather with patina and wear. The charm of organic fibers lies in their patterns and flaws, and it is these characteristics that make rustic interiors seem comfortable and inviting.
Just a tip! Identify leather components to include into your area, such as a tan leather chair or a cowhide rug. Furnishing with leatherette creates the most rich, multidimensional, and comfortable rustic homes. Just be sure you limit yourself to one or two statement items.
Checkout our vintage and rustic decor items.