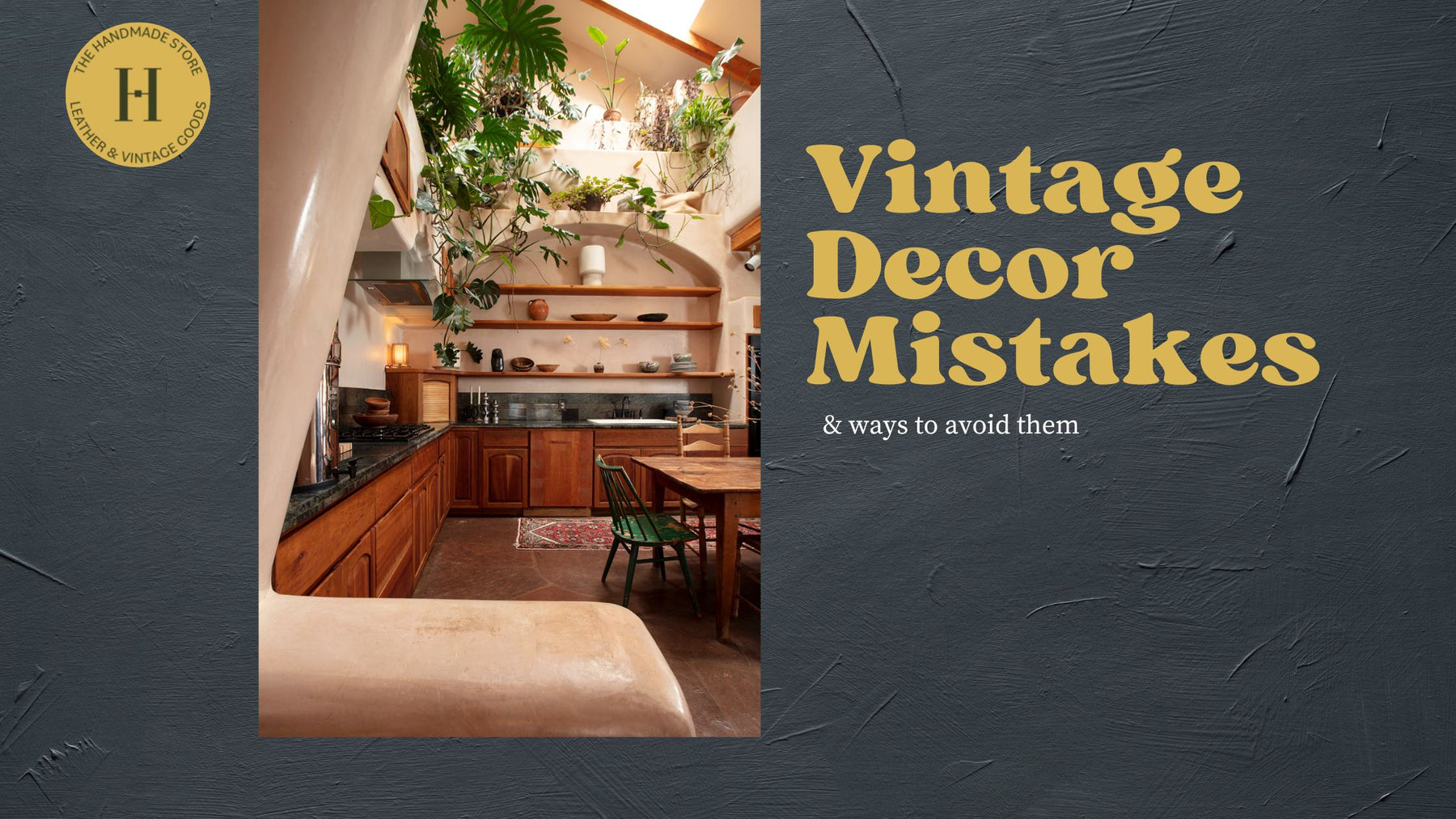 9 Common Vintage Decor Mistakes to Avoid
You can't escape from the hassles of your modern life but you can rest and live peacefully in your home. The vintage decor creates a cozy environment and adds warmth to your home. The old collectibles, antique furniture, rustic decorative pieces, and subtle colors exude charm and give you the comfort you desire after a busy day.
By decorating your home with vintage pieces, you can recreate past stories and connect with cultural heritage. Even though a vintage home interior is old-fashioned, it's not only about filling a space with only antique elements but striking the perfect balance between old and new decorative pieces.
To create the modern vintage decor, you should avoid certain mistakes. Want to know which are those mistakes? Here they are:
1. Sticking to Only Dark Brown and Rustic Interior
Many people have the misconception that vintage decor is mainly about a dark brown rustic look. It can also be colorful but you need to pick the right color palette and styles to get the layered look, which shows your furniture and accessories' intricate details.
Don't stick to a dark brown rustic interior and go for rich jewel tones in shades, such as ruby red, turquoise, and emerald green. The color combination of orange and blue can work well in your living room. If you like warm shades, go for a subtle pastel color palette.
2. Forgetting 70's Decor and Choosing Antique Decor Instead
Vintage decor is not old but belongs to the '70s era. You should not choose only antique decorative elements but bright colors and designs. The 70s decor was mainly wooden and carved furniture with straight and curved edges. You can place a velvet sofa in your living room and long-armed grandfather or iconic cane chairs on the balcony.
Mix your old and new furniture to create a unique interior decor. You can also restructure your broken furniture or use distressed furniture to add a yesteryear touch to your space. As crochet, macrame and other woven elements were popular in the 1970s, you can add lace sofa covers, crochet, wall hangings, and macrame plant holders.
3. Going Overboard With Decoration
Vintage decor should be minimalist and make a subtle style statement. Never go overboard with anything. You can fill your living space with decor elements, such as glass lamps, ornate mirrors, bells, typewriters, and kettles to add fun vibes.
Vintage colored glassware, tea sets, dishes, and dinner plates, are perfect to display in cabinets or on shelves to add elegance to your decor.
4. Disconnecting with the Technologies from the 70s
When it comes to vintage decor, you should miss out on keeping technologies from the 70s. You can find vintage telephones in a wide variety of shapes, colors, sizes, and designs to decorate your rooms. They look classic because of the rotary dial, are wireless, and add vibrancy to your home decor.
You can also place a gramophone in the dining room of your home. A gramophone on the corner shelf will attract the attention of all visitors. If you love music, you can include a shelf filled with vinyl records and a gramophone.
Create vignettes on your center and side tables to give a retro touch to your home by displaying your vintage gramophone, record player, or telephone.
5. Following Different Themes in Different Rooms
Make sure you always follow the same decor theme across your room, otherwise the interior looks imperfect. Your home should have clocks and collectibles from that era. You can easily find cuckoo clocks and unique decorative pieces in the marketplace that can create a visually appealing ambiance in your home.
Create a corner or entire walk in the home filled with old decorative pieces to define the aura of your room. A vintage-printed duvet or cushion covers and bed sheets can add warmth to your living room or bedroom.
Choose accent pieces that tie the vintage look across your home. Though the bed takes the center stage in a bedroom, the ornate mirrors and side units can follow the same theme.
6. Keeping Heavy Furniture and Creating Discomfort
To create vintage decor, you don't need to buy and place heavy furniture that creates discomfort. As vintage decorative pieces are available in various shades and finishes, you can easily find airy and light options.
Choose furniture items that take you back to the old days. You can rework the upholstery, fix broken legs and apply polish/paint to enhance your existing furniture.
Once you place furniture in your home, make sure you feel cozy, warm, and peaceful. You can use coffee tables, matte cabinets, and rustic trunks with subtle colors in a modern interior to add old charm.
You can also go for grass/bronze fittings and fixtures. A metallic finish with an aged patina adds a vintage feel to your space.
Also Check: 7 Tips To Make Modern Furniture Look Vintage
7. Installing Only Modern Lights and Fixtures
Tube lights in your rooms can ruin the vintage decor. Thus, you should carefully choose the ceiling and wall lighting fixtures to reflect the beauty of your decorative elements.
Don't forget to keep a vintage lamp in your bedroom to create a pleasant environment. Retro-style sconces and crystal chandeliers made of iron can be the perfect addition to your vintage living space.
8. Opting for Improper Rugs and Flooring Options for Your Home Decor
Carpets and rugs can take your vintage decor to the next level. Your dining room can look complete with a deep red floral Persian carpet. A vintage can add color, character, and coziness to your home decor. You can find them in different sizes.
Marble or vitrified tiles can look good in all types of interior decor. Oxide flooring or yellow sandstone can take you back to your olden days. Distressed or rustic flooring is never out of fashion. You can also go for a checkerboard-styled vinyl flooring pattern for an unfair flooring design.
Checkout Our Vintage Rugs Collection.
9. Picking the Wrong Artwork
Artwork can amplify the beauty of the vintage home decor. But, you just can't afford to choose any. Look for the perfect wallpaper with subtle shades and designs or floral printed curtains.
You can use posters or paintings with a retro touch for your home. Illustrations of cities, music bands, and movies can help you to create the desired vintage look.
The Bottom Line
As now you know the most common mistakes to avoid when creating vintage interior decor, you can hope to create the perfect look. Just ensure to pick the right decorative events so they are worth the investment to enhance your home's visual appeal. All the best!