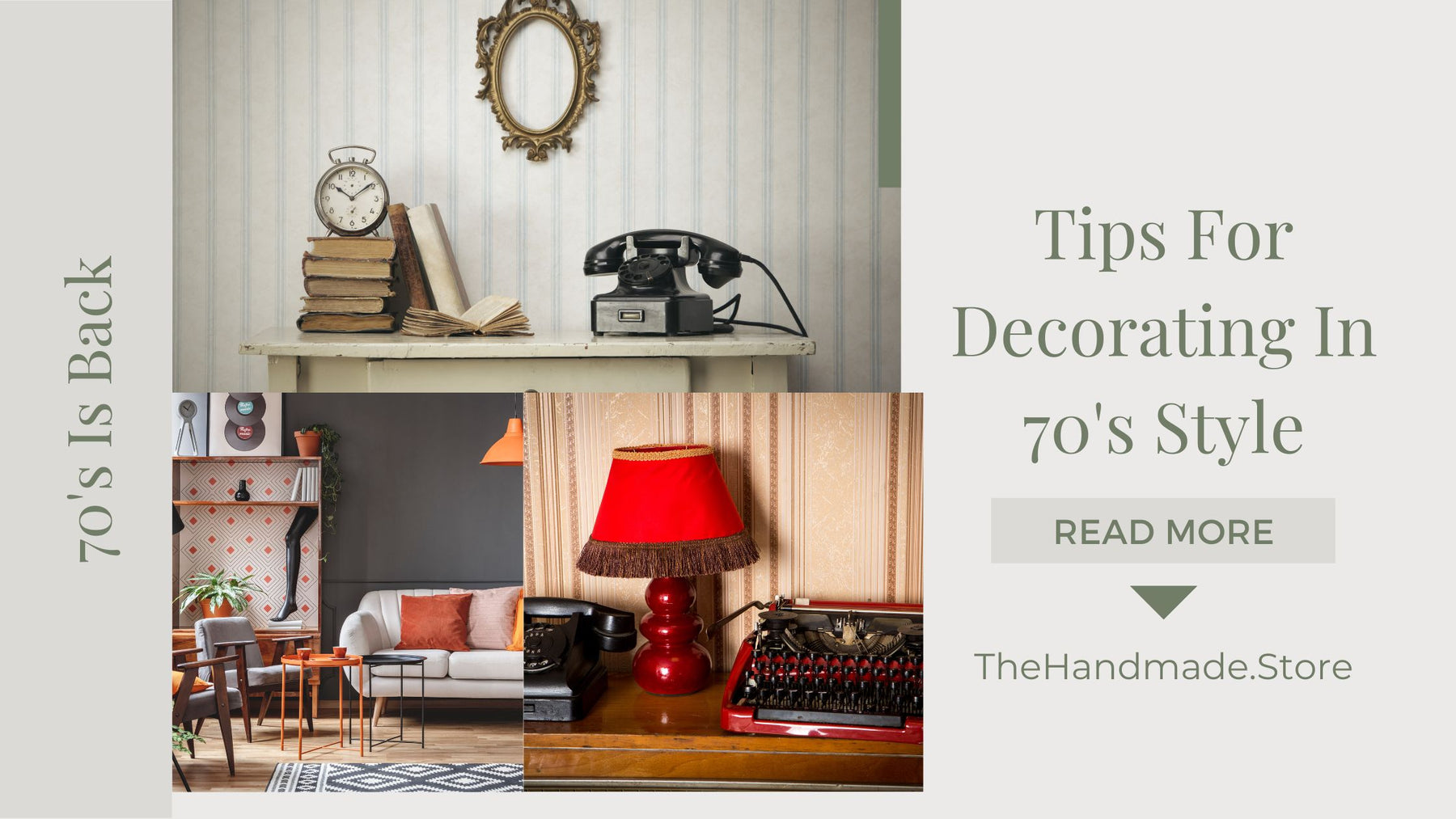 7 Tips to Decorate Your Home Interiors 70's Style!
1970s decor is back in trend and many homeowners are investing in it to revamp their home decor. Nowadays, hardly anyone prefers to follow a set of patterns when decorating their homes. They are experimenting a lot with bold colors, retro designs, and furniture to transform their home.
Do you want to decorate your home in 70's style? Here you will learn how to do that perfectly. But before that let's discuss why 70s decor is people's favorite and back in trend.
Why Do People Love 70s Decor?
70s decor gives homeowners a break from the typical contemporary decor. People are embracing the vibrant colors, patterns, and materials to enhance their home interior. If you are fond of the concept of maximal decoration, you will surely love 1970s decor.
With rich colors, such as green and turquoise, you can glam up any dull space. Even though 70s decor is retro, it looks chic today. Almost everything was fashionable about the decor in that era. The homes in the 70s used to look lavish yet subtle because of the vinyl furniture, antique wall clocks, and other v8ntage decorative elements.
Why is 1970s-Style Interior Decorating Back in Trend?
1970s interior decoration style could come back as people have started shifting from minimal design to maximal home decor. When it comes to decorating your home in 1970s style, you can do it in a variety of ways. This interior decor style adds vintage charm and a nostalgic feel to a home in modern times.
The 70s color palette was about rattan, timber, and all natural-looking materials. The lava lamps and vibrant colors are used to brighten up the living space. If you want to create a warm and vibrant environment in your home, you should try decorating your home in the 1979s style.
7 Tips To Decorate Your Interiors Like 70's Style
1. Lay Exquisite Vintage Rugs on Floor
Vintage rugs can add color, character, and coziness to your home decor. You can find them in a variety of designs and colors that would help you add that 1970s vibe to your living space. You can even combine rugs to cover up a massive floor area.
Use long skinny rugs in your hallway or stairs. If your hallways are extremely long, you can use two short runners of the same color and design. The foot of your bed is also a good place to lay a runner rug. If you want to create a comfortable TV watching space in your living room, you can use two rugs to create a separate cozy area.
Checkout the collection of vintage rugs.
2. Add Retro Furniture to the Right Places
Retro furniture adds uniqueness to your room. You can use them to decorate a full room or areas of interest. A retro furniture item can be a focal point of your living room. You can keep a bold-colored large sofa with other subtle furniture. When selecting retro furniture for your home, make sure they all are in the same color palette to maintain consistency.
A cabinet cooler is one of the best retro furniture where you can keep cocktail glasses. An elegant armchair and ottoman set with a bit of mixing and matching can give that sleek 1970s vibe to your living space.
Checkout our Vintage Home Decor Collection.
3. Install Decorative Vintage Lightings
Interior decor is incomplete without lights as they add both beauty and functionality to a space. Install bulbs that emit a warm light and allow you to change colors according to your preferences. You can create ambient lighting easily by placing recessed lights in rows.
Industrial lighting adds a rustic touch and soft illumination to a space. Tiffany lamps were very popular in the 1970s. You can place a Tiffany lamp in the center of a room or near a window so natural light can brighten up the colored glass shade in the daytime.
Checkout Vintage Lighting & Lamps.
4. Enhance Your Tabletops with Decorative Pieces
Tabletop decoration can largely affect your home decor. Choose the color palette of your tabletop decor depending on your interior design. Beautiful bowls and candle holders can be excellent decorative tabletop accessories.
Keep a vintage telephone on your tabletop to attract visitors' attention. A black-colored telephone with a big rotary dial can take you back to the 1970s. A dinnerware set on your tabletop can also look awesome below task or ambient lighting.
Checkout Vintage TableTop Collection.
5. Use Old Electronic Devices as Decorative Pieces
Typewriters are an electronic device that has been seen in numerous homes since the 1970s. If you have restored your old typewriter, you can use it as a decorative piece. You can keep a vintage typewriter in your office or study room to use it as and when required. You can also keep it on a shelf only as a decorative piece.
A gramophone can be another useful and aesthetically pleasing addition to your 70's decor home. A restored gramophone that still works can be a boon if you love to listen to music. You can keep a gramophone in your living, study, or bedroom if it suits the decor.
Checkout our Vintage & Antique Gramophone.
6. Splash Bold Colors on Your Wall
As the wall is expansive and covers every room, you should decorate it perfectly. Give the 70s vibes to your home by adding bold colors, such as tortoise, green, yellow, fiery orange, and terracotta red, to your wall. 70s wall colors were all about the mix of disco and bohemian culture. So, apply the mix of vibrant shades and earthy tones to your wall.
Indulge in creativity when mixing and matching bold colors. Make sure all the colors are in sync when you paint them on your wall as a mural. Geometric and floral prints were extremely popular in the 1970s. Add these designs to your living space with a few rolls of such printed wallpaper.
7. Hang a Vintage Wall Clock
A wall clock can be seen in all types of home decor. If you hang a vintage wall clock in your home, it adds character and a new dimension to your room. You can find a wide variety of antique wall clocks with unique designs and frames suited to your home decor.
Use a vintage wall clock as a focal point in your living room. A subtle-looking wall clock can always suit any type of decor and glam up plain walls. A rustic or cuckoo wall clock makes your dinner time special. You can also make a wall full of different types of vintage clocks. However, this display looks great in a farmhouse-style home.
Checkout our Vintage Clock Collection.
The Bottom Line
As 70's style home decor is a growing favorite among homeowners, you shouldn't compromise when working on it. Home decor takes a lot of effort, time, and money to get perfect. Hopefully, the tips shared in this post help you to nail the 1970s home decor. All the best!