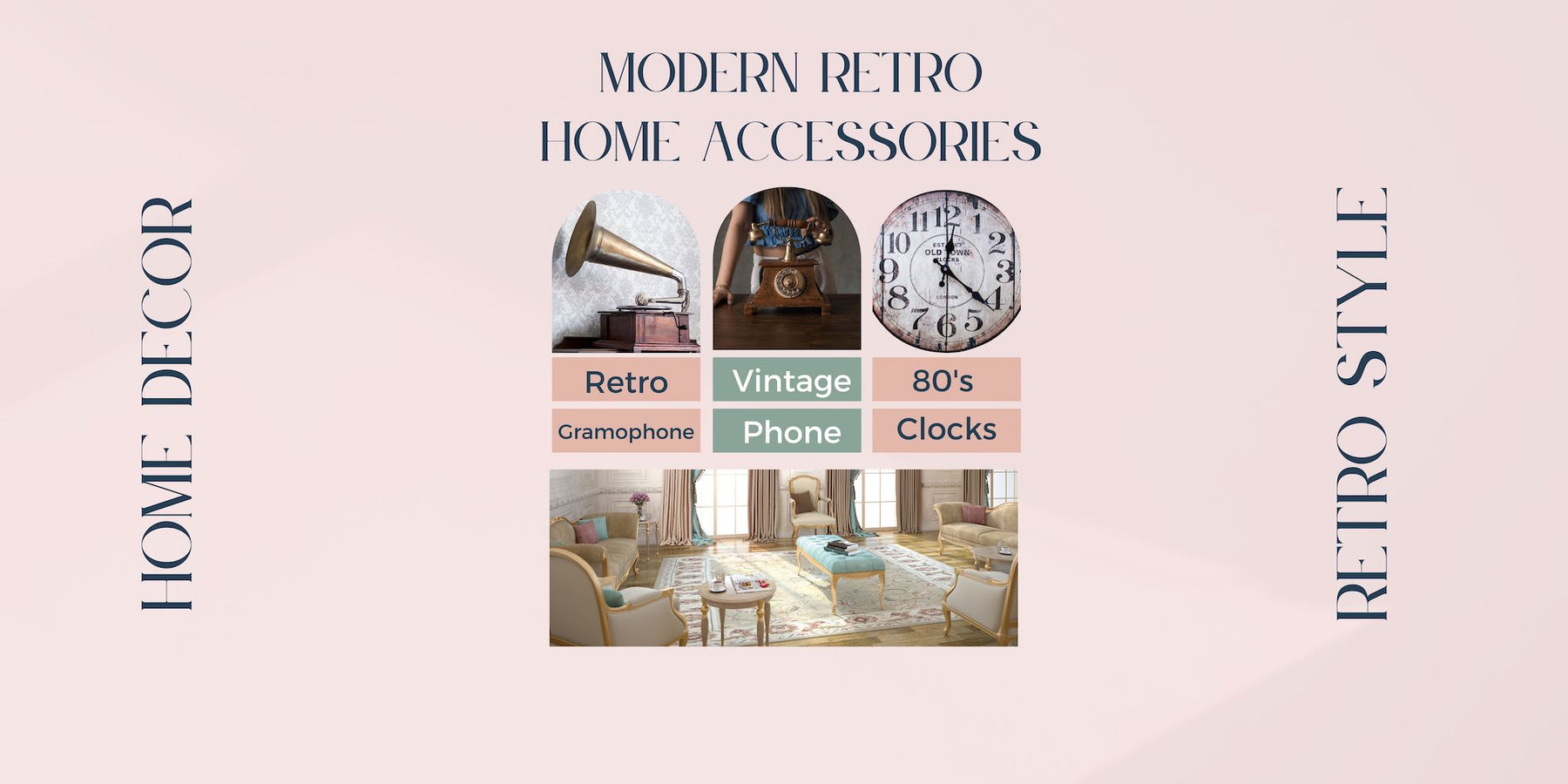 10 Modern Retro Home Accessories For The 80's Look!
When it comes to retro, creating spaces that impact vintage style in home design is the first thing that came to our mind.
Most of the home decor market nowadays has been covered by contemporary designs who does not have any distinctive feature.
If we talk about the designs in the 70's, that decade was defined by technicolor furniture being used extensively along with some timeless elements that are once again in demand today.
Wooden patterned walls, psychedelic floral patterns, and cozy warm elements were some of the striking highlights of that era.
Why do people love retro decor items?
The most important highlight of the retro decors items is that they allow us to connect with the past even deeper than our own lifetimes include.
When you start thinking of the motto behind designing the retro item, you can easily add those thoughts of the world to your own.
After all, antiques represent another era, recognition of items that are crafted for timeless experience is an art itself.
There are some key elements that can give you a clear idea behind loving retro decor items-
Dissatisfaction with modern factory-made or computer-generated products

Use of higher quality materials while designing and the craftsmanship involved

Retro decor items allow people to express themselves
10 Retro Decor Items To Give Your Home Vintage Look
When thinking to change room aesthetic what's a better option them providing a retro look?
From something new, and exciting to adding positivity to your home atmosphere vintage look fulfills all requirements and thus adds zeal to your life.
Nowadays, there are so many websites that provide quality products online, by far my first choice is "The Handmade Store".
We will be exploring collections on this website and thus help you to find your perfect match.
Below is the list of most popular top 10 retro decor items which can help you out -
1. Vintage Gramophone


As gramophone had its root attached with royal families to movie theatres. Extensively used in the past and invented by Thomas Edison in 1876, this masterpiece is known to be the 'first music player in the world. Consisting of a key and a disc, the vintage gramophone works without electricity.
Vintage Gramophone consists of two songs on each side of the disc to be played thus making it into a 70s feel. It is ideally suitable for your personal living space as well as in your drawing room.
2. Grandfather Clock
If you are in search of a perfect interior decor option then this "Floor Standing Grandfather" Clock can give your room corners an aesthetic look. It is available both in tripods as well as in longcase clocks. Vintage clocks were having only the hour hand.
These clocks have large round dials and are based on two types of movements- eight days & a single day. These clocks work on striking mechanisms, which makes them the best retro watches ever for home decor.
3. Antique Double-Sided Hanging Clock
Commonly used at railway platforms for the accessibility options for passengers from both sides, this Antique double sided wall clock leaves your home with a mix of retro with the modern decor feeling.
It has two watch faces which require two batteries to be inserted for proper functioning and it comes with a hinge provided to mount on the wall.
4. Hollywood director spotlight floor lamp
For getting a feel like a director, what's better than the spotlight floor lamp?
With the adjustable spotlight style head can be positioned just where you need it. For giving a retro look, the tripod is handmade with the addition of some vintage textures to it.
Just turn your space into a mini retro soundstage with this option and recapture your old Hollywood moments.
Also Read: 9 Retro Decor Items For 70's Look!
5. Old Fashioned Corded Phone
Ever miss simple old-fashioned retro life without having a phone with you 24x7!
Well, If you are fond of using these vintage gadgets, then this corded phone will surely be adding value to your collection. With a very stylish rotary dial landline, this old fashioned design can be used both as home decor and in the office.
With its simple working of the dial which rotates and interrupts the circuit between the phone & exchange thus creating dialing pulses. With those real shining metal bells inside them, you will feel pleasure listening to incoming calls.
6. Vintage Working Telephone
With its ability to convert the human voice into electronic signals vintage working telephone stills hold the first position when searching for something retro and fundamental.
Since its invention by alexander graham bell in1876, the telephone had gone through revolutionary changes. Having this vintage piece at the home can make you relive those moments when technology just arrived.
7. Vintage Brass Telescope with tripod
This decor item is particularly for those who like to travel and don't want to use modern methods for watching distant objects.
Yes, a Vintage brass telescope fitted with a tripod can be a perfect fit for the activities like -bird watching, trekking, etc.
It not only gives you the colonial period feel of army persons using the same for their search operations but also connects you with the retro working of vintage objects.
8. Antique Pirate Ship Wheel
For sea lovers, there is always something to cherish. This time is the Antique Pirate Ship Wheel.
Often known by the name of "Helm", This ship wheel can only be placed on the walls which redefine retro texture with an essence of modern outlook. These nautical maritime gift ideas work to connect us to the life of sailors.
9. Washable Throw Rugs
When it comes to cleaning rugs, most of us find it a terrible job as it requires a lot of hard work to remove dust and wash. These Washable Throw rugs are made from premium quality material which is very easy to clean.
Vintage cotton rugs work for the drawing room to give it a retro look and if bought in color combination with the walls and ceilings can definitely makes your space retro special.
10. Tripod Table Clock
Setting up your study or office table according to your style requires a lot of research work. Let's make this an easy choice for you - the Tripod Table Clock.
Purchasing a clock that matches your theme can definitely affect your mood and decor in a positive way. These clocks offer refreshing alternatives to conventional clocks out there.
Going with the tripod table clock you will experience an ambient atmosphere around your desk. With this retro touch, vibes will be fully energizing as well as from the decor point of view it matches the perfection.
In summing up, when the world is moving towards AI, where everything is accessible at any place. There are certain people who always like it the way it was.
Going with the vintage decor options and giving your home a retro look can heal you emotionally & mentally when things are not going your way.
Living the retro style thus makes you stick to the roots and experience what has to be cherished forever!