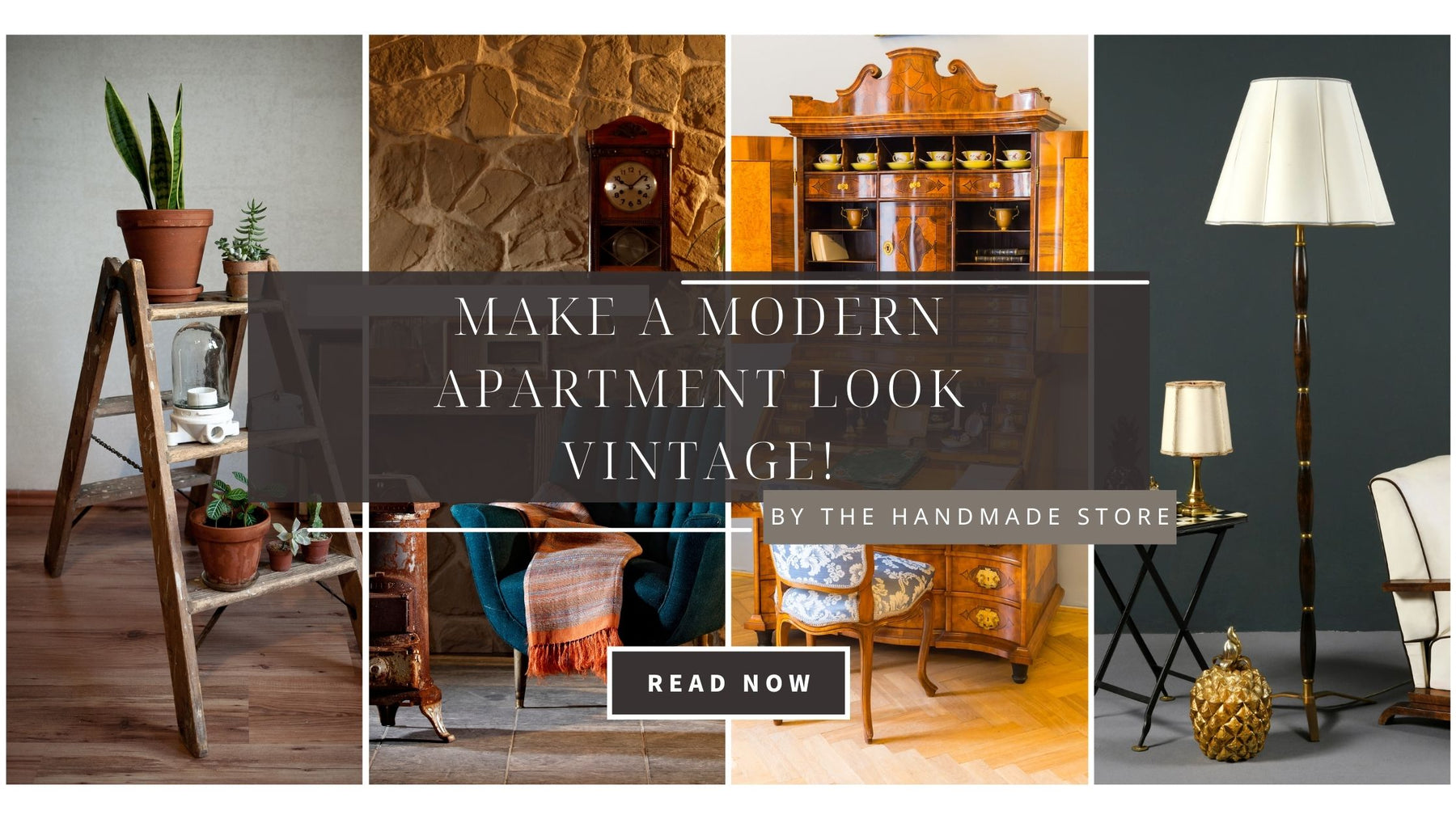 7 Tips to Make a Modern Apartment Look Vintage!
Interior design doesn't need to be always modern but can be vintage. Your home can stand out in a crowd if you add an old charm to it. Adding a vintage touch to your modern apartment can be quite challenging. You need to strike the perfect balance between modern and traditional designs. Vintage decor is mainly about nostalgia, age perception, and visual appeal.
Want to know how you can make your modern apartment look vintage? Follow the tips below:
1. Choose an Era
When it comes to designing your home interior, you have limitless options. Designing vintage interiors can be quite confusing. Choose an era to narrow down your designing process. The interior decor art spans history. You need to select the right wall art, furniture, and color palette from numerous visual themes.
For instance, The late Victorian era, in the late 1800s, usually refers to the Victoria style. Architects got inspired by ornate details and gothic decoration. The Victorian-style antique interiors were opulent because of detailed furniture and dark woods.
Nowadays, you can choose the interior look suited to your personality and preferences. You can transform your contemporary room into a space belonging from the 1880s to 1970s and beyond.
2. Pick a Color Scheme
A vintage interior always needs a classic color scheme to look perfect. Once you choose the perfect color palette, wall art, and furniture, they take you back to old memories. The vintage palette is usually lightly intense, uses abundant creamy white, and gets vibrant with buttery yellow, palest lavender, soft blue, violet, and moss/mint green. There is nothing as such a fixed vintage color scheme.
You can mix patterns, mainly florals, butterflies, birds, and 1949s to 1950s scenes. You can also use neutral color schemes with a pop of color to add a vintage touch to your living space. An embroidered pillow on your sofa, antique decorative items, and new flower vases enhance your room. Stick to the color of the the
rest of the interior decor when selecting an object, otherwise everything will look excessive.
3. Place High-Quality Antique Decorative Pieces
The vintage interior decor mainly depends on the antique items as they are the main pieces, which improve the overall design regardless of your theme's era. Their unique sense of history takes you back to ancient times.
If your furniture can't tolerate wear and tear, you should find a good alternative. A high-quality antique decorative piece is made of natural elements and thus is heavy. So, weigh the heaviness before buying one.
Checkout: How To Mix Modern And Vintage Decor?
4. Maintain Consistency
Antique elements can always work for vintage decor, not your entire home needing to have the same kind of decorative pieces. Add a few vintage-looking pieces in a suited modern room. Showcase vintage-inspired details with pieces with clean lines and a weathered finish.
When mixing modern and contemporary secretive items, maintain consistency, unless you want an eclectic design. Make sure your entire room has the same details and antique patterns and colors so your space looks and feels deliberate and unified.
5. Add a Statement Piece or Make a Focal Point
Choose a statement piece rather than going overboard with numerous vintage pieces of furniture. Make sure your living space has proper lighting. Once you find an antique decorative piece that can be the focal point of your room, buy and install them. A focal point should give your home visitors a breath of fresh air. Keep a genuine antique piece that adds a bold vibe and sets the tone for the rest of your interior design.
Furniture can be the perfect focal point in your room. The center stage should be an accent chair, dining table, and bed frame. If you like them, go for a larger decorative piece.
Also Read: Where to get vintage decor in affordable prices?
6. Mix and Match Various Decorative Pieces
You can easily go overboard with stylish and transformative interior decor but that can be visually disturbing. Everything in your home does not need to be vintage for the perfect vintage decor. Select the right mix and matched furniture and accessories to prevent clutter.
For instance, you can add a modern touch to your vintage setup. A stylish and sleek set of tables and couches surrounded by decorative antique lamps, vases, and plates, can be a great way to blend various styles. You can also go for exquisite chests and armchairs decorated with clean and trendy framing.
If you like rustic decor, add visually appealing pieces to the modern furniture to add a cozy feel to your room. Ensure to blend decorative pieces in a way so they complement each other but do not deteriorate the interior decor.
7. Use Natural Materials
Synthetic mixtures and poor-quality plastics will never compliment your vintage interior decor. Choose decorative elements made of natural materials, such as organic metals, woods, wool, and linens to add a vintage vibe to your interior decor. You should color the same decoration style for ceilings, walls, and floors.
As ceilings need to look normal, you can:t use stretch ceilings or plastic panels. A ceiling with cracks and inconsistencies can look wonderful. It creates a vintage interior cham and a special graceful mood. The floor should be made of natural wood or parquet. Moreover, the artificially old tail can improve the interior mood.
A vintage-inspired interior design also looks good with trays, chips, and cracks. Only patterned and monochromatic wallpapers should exude an organic look and feel. If you have decided to cover them fully in pure white, you need to consider the existing furniture and decorative items.
More design elements need fewer color options. You can use accents and pieces, such as linen, woven baskets, wood with a patina, and antique home numbers inspired by the garden. The rustic and gentle vibe suits a shabby home.
The Bottom Line
If you want to genuinely make your modern apartment look vintage, follow the tips above. Vintage decoration is trending and many homeowners see investing in that thus, you need to nail it to make your home loll the best of all. Hopefully, these discussed tricks help you to do so. All the best!
Checkout : Gift Ideas For Vintage Decor Lovers!