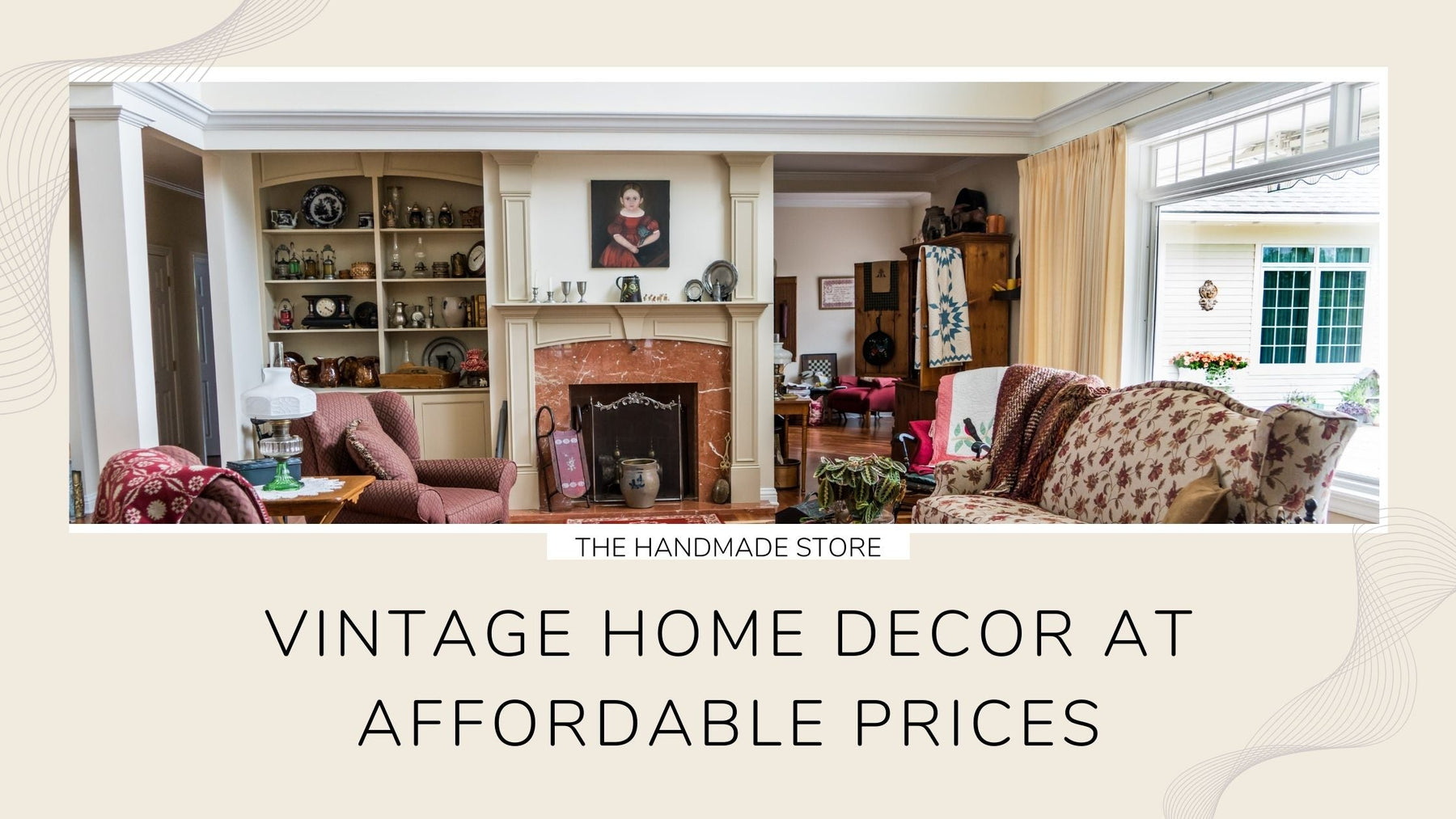 Where To Buy Vintage Home Decor Items On A Budget?
The vintage style involves the intentional use of antiques and the placement of recognized items from the past to create the desired environment. It is done in such a way that it gives a sense of history to a visitor.
Mid-century designs were out of trend but recently made a comeback.
More and more designers are adopting vintage decor and even mixing it with different interior design styles.
Vintage decor goes with any style, be it modern, bohemian, farmhouse, etc.
Vintage decor embraces pieces passed down from generations and celebrates them. It helps tell a story about the people and gives a sense of nostalgia.
It is simple as well as budget-friendly
Vintage-style decorating uses old pieces to create a nostalgic look from the past.
Vintage design style uses old and artificially aged pieces to give an elegant look to your space.
Designing a vintage-style home means incorporating pieces, colour palettes, and accessories from an earlier period. But some also include mid-century modern, art decor, etc.
Vintage style varies on the period you want to focus on. The 1940s and 50s are associated with a sense of romantic, old-fashioned charm.
Elements like wood, linen, aged furniture, one-of-a-kind pieces or lovely pieces handed down from grandparents are used in vintage-inspired interior design style.
Why DIY is the cheapest way to do vintage decor?
DIY is your best friend when decorating vintage style.
By making things yourself, you cut down labour costs.
Also using things readily available or reusing old material saves a ton of money.
Vintage decor is designed by antique and old pieces that look exquisite yet modern. Hence, you do not have to worry about your accent pieces looking a bit shabby.
It tests your creativity by pushing you to fabricate items. You tend to create one-of-its-kind items that can not be found in everyone's house.
DIY can be a fun family project that kids, as well as adults, enjoy.
Budget-friendly vintage decor ideas
Cover a wall in vintage plates

Make a pallet into a wall organizer

A vintage crate boot rack

Dye glass jars to create a look straight from the past

Pallet Entry Organizer

Turn an Old crib into vintage style bench

Interesting wine cabinet from an old dresser
Also Read:
10 Vintage Decor Items For Office!
5 things to keep in mind while doing vintage decor.
1. Don't Be Afraid
Letting go of your traditional idea of what "home decor" means is the first step to decorating with vintage decor.
Vintage is incredible because it's different from all other styles. It's not the type of decor you'll find at Ikea. It's unique. Unexpected. Unusual.
You shouldn't be afraid to mix it and stray from the norm to see its actual beauty.
You might question yourself on every decision you take. But trust your gut. Trust the process is true when it comes to vintage decor.
It is very normal to feel like it is all too much in the room but the final result will blow you away.
Vintage decor can easily make the space outdated if you do not have the vision.
It may take a while for you to see that, if decorating this way is new for you. But as it goes slowly, you start to realize the magic of vintage.
Once you see it, I promise you there's no going back.
2. Start Small
I suggest starting small if you're new to decorating with vintage style.
When you start decorating your house, always start with the basic things.
What vibe would you like the house to give? Decide on the theme of the house.
Choose a colour palette revolving around the theme. Avoid choosing more than 3/4 colours. Too many colours will make the house more confusing.
Then slowly go on buying basic furniture pieces like a bed, sofa, a table, etc. keeping the theme in mind.
Do not rush into things and pick anything and everything you like.
Look for thrift stores or local antique shops nearby that sell pieces that go with the interior design style of your choice.
Keep adding things one by one after deciding on the place of that piece and usage.
One small vintage element will instantly add charm and character to the entire room.
3. Statement Pieces