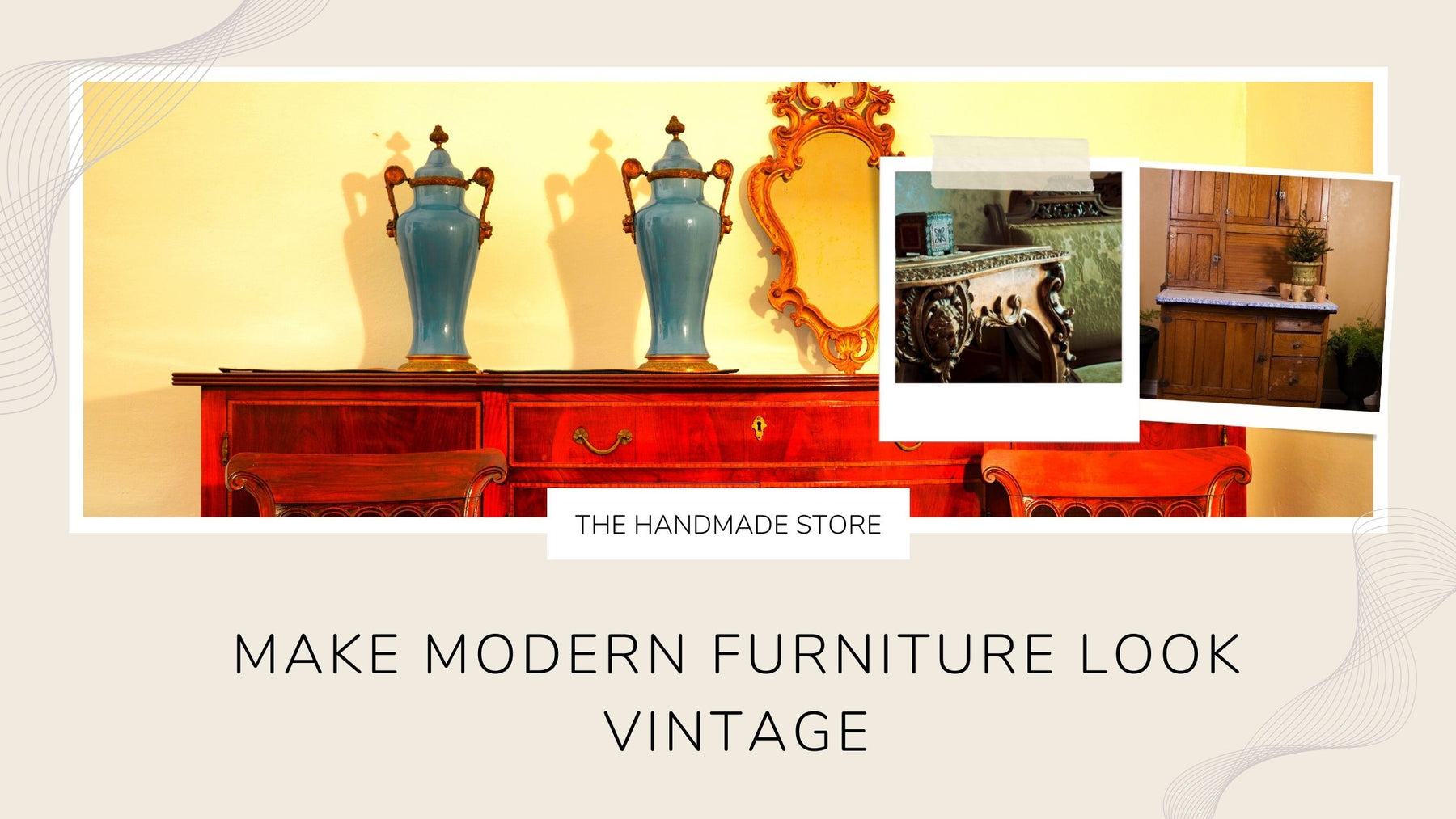 7 Tips To Make Modern Furniture Look Vintage
A vintage home decor looks perfect with the right furniture. Your modern and stylish furniture won't do justice to the vintage decoration. You may have some furniture and decorative pieces at home that don't work with your vintage decor yet you don't want to throw them away.
The modern furniture may not have the softened antique vibe but you can fake the desired age. You can distress and add an aged look to your favorite furniture with only paint and sandpaper. Want to make your modern furniture look vintage?
Here are the tips to do so:
1. Sand and Clean Your Modern Furniture
If your furniture is unfinished, lightly sand its surface. You need to do a deeper sanding if your furniture is polyurethane-treated or painted earlier.
Soften the extremely sharp edges to prevent the chance of anyone getting hurt. Once you are done sanding your furniture, wipe it with a tack cloth/rag to clean the dust and dirt
2. Use Solid Wood Pieces
Solid wood pieces can always be the best option to add a vintage look to your modern furniture. Wood veneers and laminates, as a painting technique, can also be a great option. Laminates, when applied as paint, can fool many eyes.
You can put the maximum abuse on solid wood. Make sure you are gentle with thin veneers and leave laminates only for painting.
3. Apply the Right Paint Techniques
Paint helps you to add faux age to your modern furniture without causing any sort of physical damage. Scuff the furniture lightly with high-quality sandpaper for better adhesion. Don't forget to apply a primer coat before painting.
To get a layered look (the piece looks painted multiple times), paint a piece of furniture with a minimum of two or more coats of paint in various colors. Then, scuff through the painted layers with sandpaper and chip away tiny areas with a paint scraper.
Crackle paint is another effective technique, where one shade coats the furniture evenly, which is followed by a crackling element. The top painted coat shrinks to cause cracks and the base painted coat perks via the furniture. Cover your furniture with off-white paint color to create a lighter vintage look. Then, wipe a darker shade, like golden brown into corners, seams, and other recessed places.
4. Enhance Wood Stains
Pale wood looks fresh irrespective of its species. When exposed to sunlight for one or two years, even light pine changes to a warmer gold with orange tones. Darker wood stains reflect your furniture's age. Some of your furniture may look almost black.
To enhance the dark tones of your commercial pigment wood stain, add a little amount of lamp black to the can. Hold a spoon over an oil lamp or a lot of candles to collect the black residue. Then, stir it into the stain little bits at a time until you get the desired color.
You can apply one coat of stain to your furniture for giving an antique touch to it. Then, wipe off the excess stain with a rag in a straight motion rather than circular rubbing for better results. Let the stain dry after that.
5. Mimic the Wear-and-Tear Scars on Solid Wood
Your well-worn piece of wooden furniture gets the imperfect exterior around the wedges because of the years of wear and tear. You can see dings, accidental scratches, and sometimes burns. Mimic such marks on solid wood with your imagination and creativity.
Heavy objects, such as thick chains, mallets, and hammers can form dents related to an old furniture piece. When you touch a wood-burning craft tool here and there, it causes dark spots that seem to have originated from a hot pot or tipped-over candle.
6. Distress Your Furniture With Sandpaper
You can remove some paint from your furniture and distress it with sandpaper. If you have applied two coats of paint, use steel wool on the waxed areas to show the base color. Besides sandpaper, you can also use steel wool on single-colored furniture to remove the unwanted paint and reveal the underneath bare wood.
Focus on corners when distressing your furniture. Add more damages until you are satisfied with the outcome. Before applying the finish, wipe away any chip/dust with a cloth or rag.
Checkout: Vintage Decor In Affordable Prices!
7. Opt for the Perfect Wood Finishes
Polyurethane may be the most common protective wood finish used in today's world but the outcome is not vintage. It helps in protecting the color of or sealing the furniture.
To add a more authentic wooden finish on furniture that has not been stained, scarred, or both, choose something, which doesn't leave the perfection of urethane.
When you warm and mix beeswax with mineral oil, it forms a paste that adds a subtle sheen to wood when buffed slightly. Touch-ups need only a new wax coat and more buffing. Shellac can protect the surface much better than wax. It can also touch up without having to sand the entire piece first.
The Bottom Line
Making your modern furniture look vintage is challenging but possible. When your bedroom has a neutral background, you can easily mix and match old and new furniture to create a vintage interior decor. If you follow the tips above and use various styles of traditional or modern artwork with various frames, you can add a significant character to your room.
Moreover, you can easily alter and swap our frames and artwork. If your focal piece of furniture looks modern and is your favorite, you can hand an artistic wallpaper above it to add a vintage vibe to your living space.
Hopefully, these tips can always help you to make your modern furniture look vintage and enhance the interior decor.