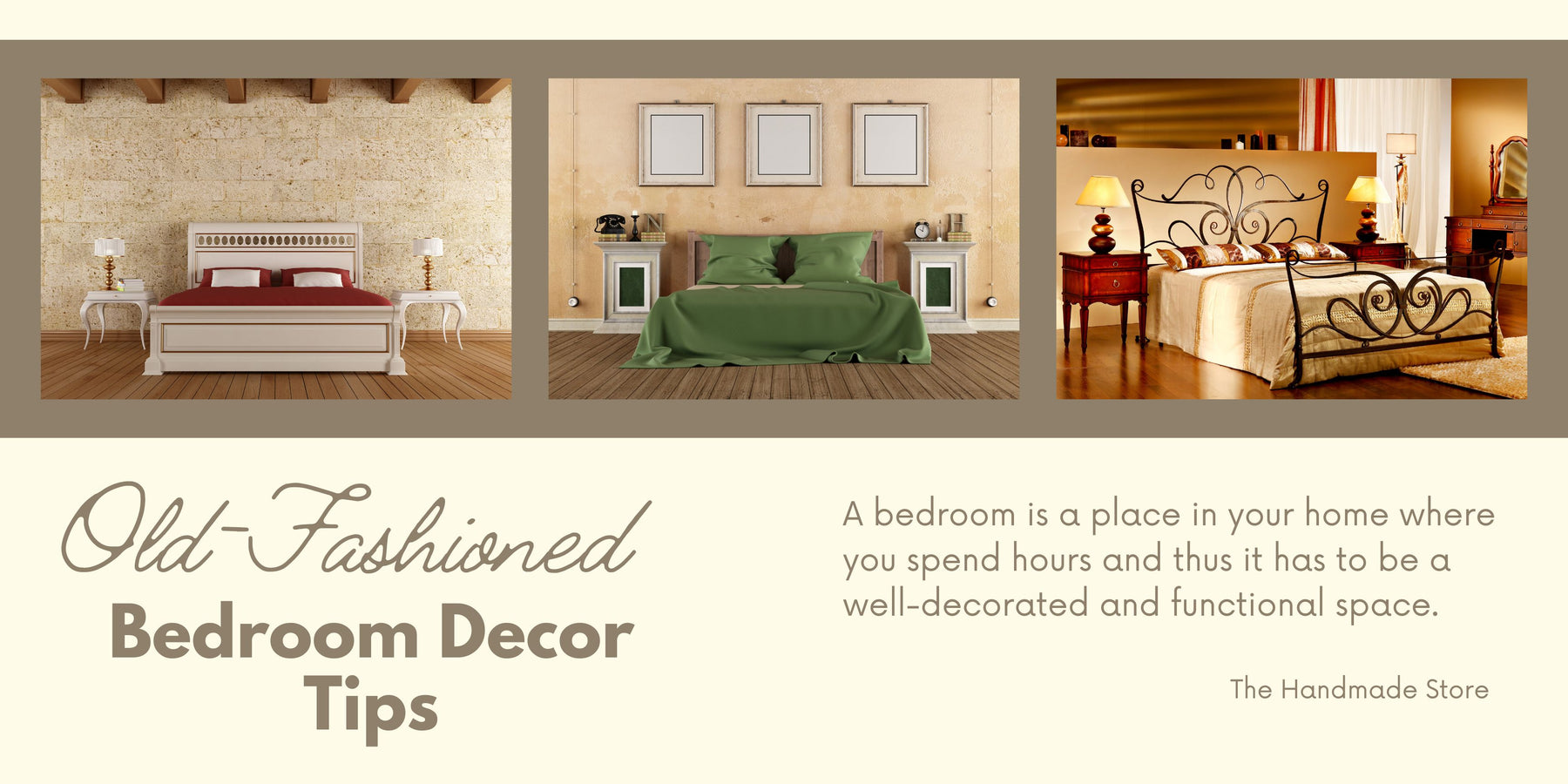 7 Old-Fashioned Bedroom Decor Tips
A bedroom is a place in your home where you spend hours and thus it has to be a well-decorated and functional space. It should be a room that provides the comfort to relax and sleep after a busy day.
When it comes to decorating your bedroom, it's not necessary to follow only contemporary styles. An old-fashioned bedroom can add uniqueness and style to your home decor.
You only need to decorate your bedroom with colors, fabrics, and furnishings that were popular in the old days.
Want to know how you can decorate an old-fashioned bedroom? Follow the tips below:
1. Mix and Match Vintage Textures and Designs
Combining vintage textures and designs can always help to make your home look old-fashioned. Use various material textures to add depth to the space and prevent clutter.
If you like to have a cozy and subtle bedroom, add lace, and heavy knits in the same or contrasting colors. Designs in subtle colors, such as pale pink, duck egg blue, and cream can always be any type of interior decor.
Light shades always work with delicate patterns, like mini florals. Combine them with textured fabrics to add a vintage touch to your bedroom. Lay a soft rug, like sheepskin, to give comfort to your toes in winter mornings. You can keep a velvet armchair in the corner to complete the look.
2. Choose the Perfect Color Theme
You need to choose the right color scheme to create the perfect old-fashioned decor as different colors give different vibes. The colors used in your bedroom should make you feel relaxed and energized.
Light purples, creams, and whites are some of the colors that can create a calm environment.
Pink is the perfect color to get happy vibes and light green to create a soothing ambiance and get rid of stress. Avoid choosing bright colors, such as yellow and orange, as they tend to disturb your sleep.
Checkout: 10 Old-Fashioned Home Decor Ideas
3. Select a Proper Theme
Your bedroom should have a theme that blends with your entire home decor. Polka dots have been in fashion since the 60s. You can go for that design by mixing spots of different colors and sizes. Floral designs are never out of fashion. You can go for a floral design theme exhibiting roses, daisies, irises, and lilies.
Stripes are versatile and can add a vintage touch to your home. You can mix and match strike patterns of the same or contrasting colors to create a classic interior. Use your desired theme in bedsheets and wallpaper to complete the look.
4. Try Wall Panelling
Paneled walls were common in vintage homes and thus you can try them in your bedroom decor. They add depth to your walls without occupying floor space. Add dark wooden tones to jewel-toned walls.
Keep and arrange lavish velvet sofas with white wood to create a vibrant and cozy environment.
You can choose either plain or detailed wall panels. Both common shapes and intricate designs can help you to give that old-fashioned look to your bedroom.
Checkout: Antique Gift Ideas For Men!
5. Decorate Your Bed
Your bedroom is unimaginable without a bed and thus, you should decorate it in the best way. A bed needs to suit the interior decor to increase the overall visual appeal. Embossed and embellished wood is a classic element of French decor. You can also use a bed frame with large decorative headboards and footboards made of white and wood or bars.
If you have a small room, use beautiful metal bars to maintain an open space that looks old yet stylish. An antique bronze bed frame can give your bedroom a simple and rustic appeal.
Your bed should compliment the other furniture in the bedroom. Wood/metal always works for a standard bed frame. You can pair your bed frame with old crates and trunks for storage purposes.
6. Install Opulent Light Fixtures
Lights are quintessential for any room as you always need to see the elements in a space. You can always choose a wide variety of light fixtures to install in your bedroom. Install a chandelier if you want to create an opulent environment in your bedroom.
A crystal light shade or shiny glass can be a great alternative if your room doesn't have enough space for a chandelier. The glass exteriors reflect the light and emit a warm glow without any harshness.
You can also go for floor lamps and set them up over a sofa or the corners of your room as reading lamps. Keep a tasseled lampshade to create a cozy environment in your bedroom. Old-fashioned lanterns are another great option to enhance your bedroom. Position a few lanterns together at different heights in a corner or the vacant space above a wardrobe.
Avoid burning candles as they can create an extremely hot environment. Go for LED light strings to avoid the heat and enjoy a subtle glow.
Checkout our vintage lighting and lamp collection.
7. Keep a Vintage Dressing Table
A dressing table completed a bedroom in front of which you dress up, tie your hair and apply makeup. You can find dressing tables in diverse styles, shapes, sizes, and designs for your old-fashioned bedroom.
If possible, you can make a dressing table out of vintage trunks. Complete it with a stool or chair so you can sit on it when using the table.
The Bottomline
The bedroom room is not only the place to sleep at night but to spend beautiful moments with your family. Sometimes your guests can even stay in your bedroom. Thus, you should never compromise on its functionality and aesthetics. The old-fashioned look can make your bedroom stand out if you follow the decoration tips above. Hope you can create a bedroom that looks old yet stylish in its way.