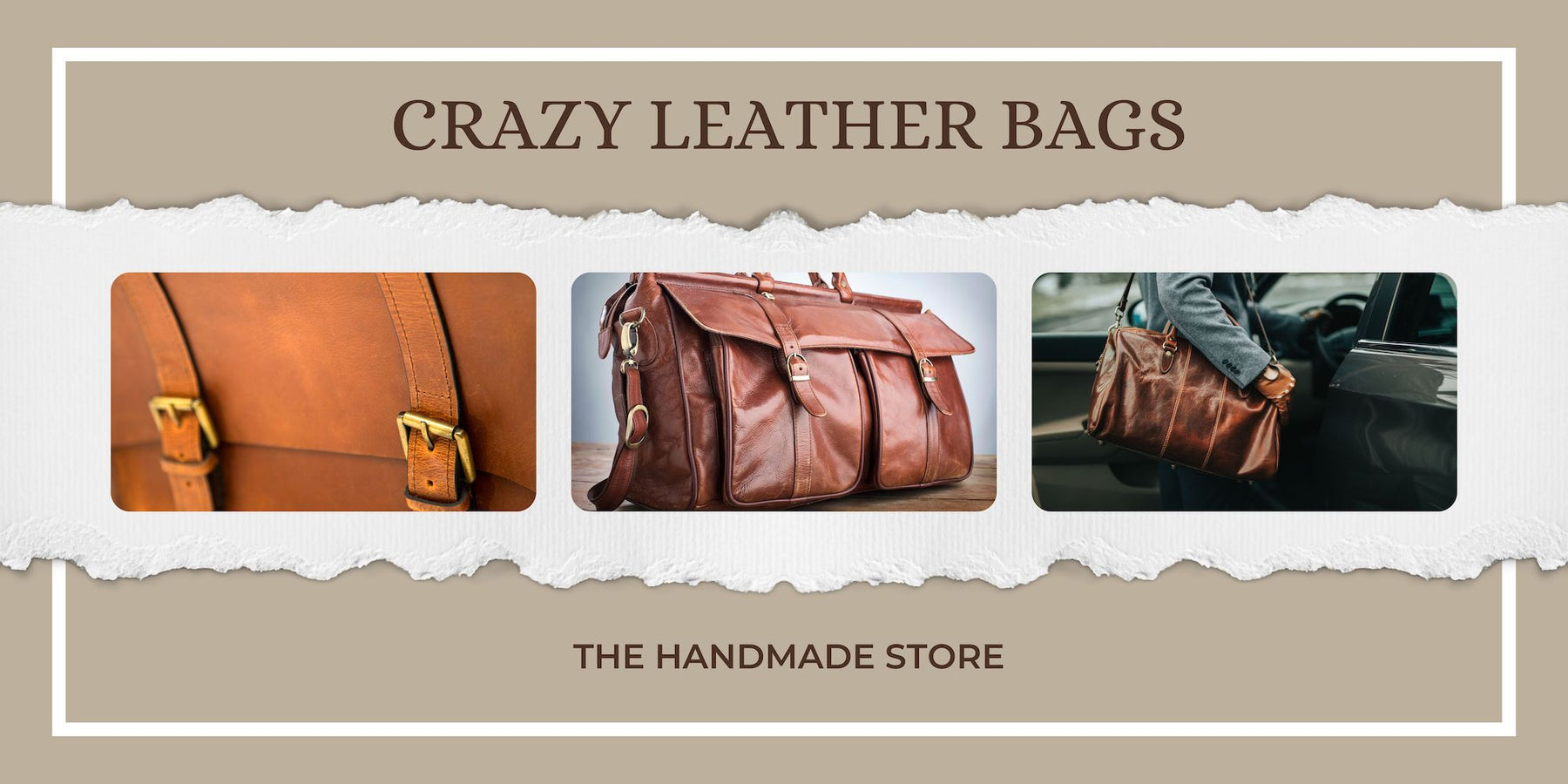 11 Best Crazy Horse Leather Laptop Bags
Crazy horse leather, also known as "Silla Leather", is used worldwide in leather laptop bags. As a laptop is a precious device that requires proper safety and care, you should carry that in a bag when going to a workplace.
It is made of the best quality full grain cowhide, the strongest leather, that can tolerate and retain charm even after years of abuse. Thus, a crazy horse leather laptop bag can be a long-term investment.
When it comes to buying crazy horse leather bags, you will get multiple options. Want to know the different options? Here, you will get to know. But before that, let's discuss the specialty of this leather. Keep reading.
What Makes Crazy Horse Leather Special?
The crazy horse leather manufacturing process involved taking from 100% natural cowhide and then applying a special wax on the softened and polished full grain cowhide surface.
The handmade leather manufacturing process retains its original charm for years, which makes crazy horse leather special. Its most noticeable feature is wax which is resistant to water and other liquids.
Thus, the wax protects fibers much better than other elements used in common leather products. Crazy horse leather bags can look perfect even after two or more decades with little care and maintenance.
The leather's color may change but it stays durable. Plus, you can clean this leather easily.
Checkout: 8 Full Grain Leather Bags For Men
11 Crazy Horse Leather Laptop Bags You Can Buy
Here are the nine best options to consider:

A full-grain leather messenger bag, made of crazy horse leather, stays for decades with minimal maintenance. Talented artisans have handcrafted this bag in such a way that it has enough space to carry your laptop and other essentials.
The bag smells pleasant because of the vegetable-tanned leather, which lets your mood. You get pockets to keep your pens and phones and interior zipper pockets to keep small things.
The adjustable strap helps you to adjust the length of the bag as and when required. The bag has a stunning color, which suits all types of outfits.

Get this dark brown leather laptop bag made of the finest full-grain crazy horse leather to look elegant. The two big internal compartments are quite spacious enough to store your essentials. The middle compartments are nicely cushioned to give comfortable support to your laptop.
The external compartment is perfect to keep your small stuff. The bag also has chic and smooth zippers. The brass hardware increases the bag's overall visual appeal. Plus, the crazy horse leather can tolerate years of abuse because of its sturdiness. So, you should have this elegant to use for years.

Make a style by carrying a vintage tan leather briefcase to your office. This hand-stitched bag is made of breathable crazy horse leather, which smells pleasant and keeps your belongings safe.
As this bag has multiple compartments, you should carry it for traveling purposes. The zippers are made of high-quality material and work smoothly.

Upgrade your bag collection with a vintage leather messenger that looks excellent. The real handmade full-grain crazy horse leather. It's color and stitching capture people's attention. The two zippers and internal compartments make this bag a useful product.
As the vintage leather messenger is equipped with magnetic buttons, you don't need to use a strap. This bag also has enough space to carry a laptop and important files. You can adjust the strap up to 55 inches as per convenience.

Look fashionable carrying a vintage soft crazy horse leather multifunctional handbag with multiple features. The sufficient internal space helps you to carry your laptop and essentials easily. The two internal compartments are exclusively designed and well-cushioned to keep valuable assets, like laptops. The two external compartments and a couple of pouches enhance the outward visual appeal.
The adjustable strap helps you to carry this bag anywhere. The brass work and extra briefcase handle on the top add beauty and functionality. As crazy horse leather stays intact for many years, you should add this bag to your collection.

Carrying a rugged leather briefcase can make you stand out in the corporate sector. This crazy horse leather bag has five compartments (four small and one big compartment) that are perfect to store your laptop and files safely. The briefcase handle and adjustable leather strap help to carry the bag comfortably.
As the zippers on this bag are made of the finest metal, they won't break. When you carry this bag, you look like a gentleman because of its rugged look.

This light brown leather satchel bag is made of handmade real full-grain leather and offers diverse features. The multiple compartments in the breathable bag help to keep your belongings safe.
The leather smells pleasant and sets your mood when traveling. The three compartments make this bag the perfect choice for traveling purposes. No matter how much you travel, the zippers won't break as they are made of the sturdiest material. The crazy horse leather is much sturdier and thus, the bag can stay for decades even after abuse.

With a stylish rustic leather satchel, you can reflect your choice and style sense related to bags and overall fashion. As the bag is made of durable crazy horse leather, you can use them for decades with little cleaning and maintenance.
This bag comes with multiple components - two big front pockets, two internal compartments, and one zipper compartment.
The cushioned internal compartments and the strong leather can keep your laptop safe. The crazy horse leather's rustic appearance, a briefcase handle on top, and an adjustable strap that you can extend up to 55 inches.

A distressed leather briefcase makes you look charming and attracts everyone's attention as you enter the room. The genuine full-grain crazy horse leather smells pleasant and the distressed look amplifies your style quotient. The heavy-duty crazy horse leather stays intact for years and thus this bag can be a worthy investment.
The spacious four compartments ( two front and two internal) pockets can hold your laptop easily. If you want to carry a laptop bag that enhances your overall look, buy this distressed leather briefcase.
A distressed leather backpack can be the perfect buy to carry your laptop comfortably. As the distressed look is always in fashion, you don't need to clean and maintain it much. Plus, this bag is made of crazy horse leather, which retains its original charm even after decades with little care and maintenance. As this type of leather wax is resistant to water and other liquids, you can carry this backpack to the office every day and on weekend trips. If you buy this backpack once, you and your succeeding generations can use it for years. The heavy industrial thread adds lifelong durability and quality to your bag.
Carry your laptop in this antique brown leather briefcase to your workplace. The distressed brown crazy horse leather's charm stays for decades even with minimum cleaning and maintenance. So, you can use it every day even if you want as it hardly gets dirty and the padded internal compartments keep your laptop cafe. Even if you spill liquid on your briefcase, you can remove it with a simple wipe. The special wax applied on the polished and softened cowhide exterior adds a natural shine to this briefcase that stays for decades.
How to Clean Crazy Horse Leather Bags?
It's very easy to clean crazy horse leather bags if you follow the tips below:
1. Clean Quickly
Once you notice stains in the crazy horse leather bag, clean it with a slightly damp cloth to clean the stain. If your bag gets wet, remove the moisture with a dry cloth. Quick cleaning prevents the stain from staying long and permanent. Water, if it stays long, leaves a stain on the leather bag.
2. Use Soft Cloth, Water, and Mild Soap for Cleaning
Crazy horse leather is unique because of its special wax application. Wax is a natural element, which works on leather fiber. When it comes to removing a stain, the chemical-based cleaner can ruin the wax and leather quality. So, use water, mild soap, and a soft cloth to wash away the stain.
3. Apply Leather Creams and Conditioners
Many people don't like the scratches and marks of crazy horse leather. To make your leather bag look new, apply leather creams and conditioners to remove them. Read instructions online regarding leather conditioning before you start removing them for the best results.
The Takeaway
So, these are the best crazy horse leather bags that you can buy to carry your laptop safely. As it is handmade and chemical-free leather, it's worth the high price. A crazy horse leather bag is sturdy, durable, and can stay for years with the least care and maintenance.