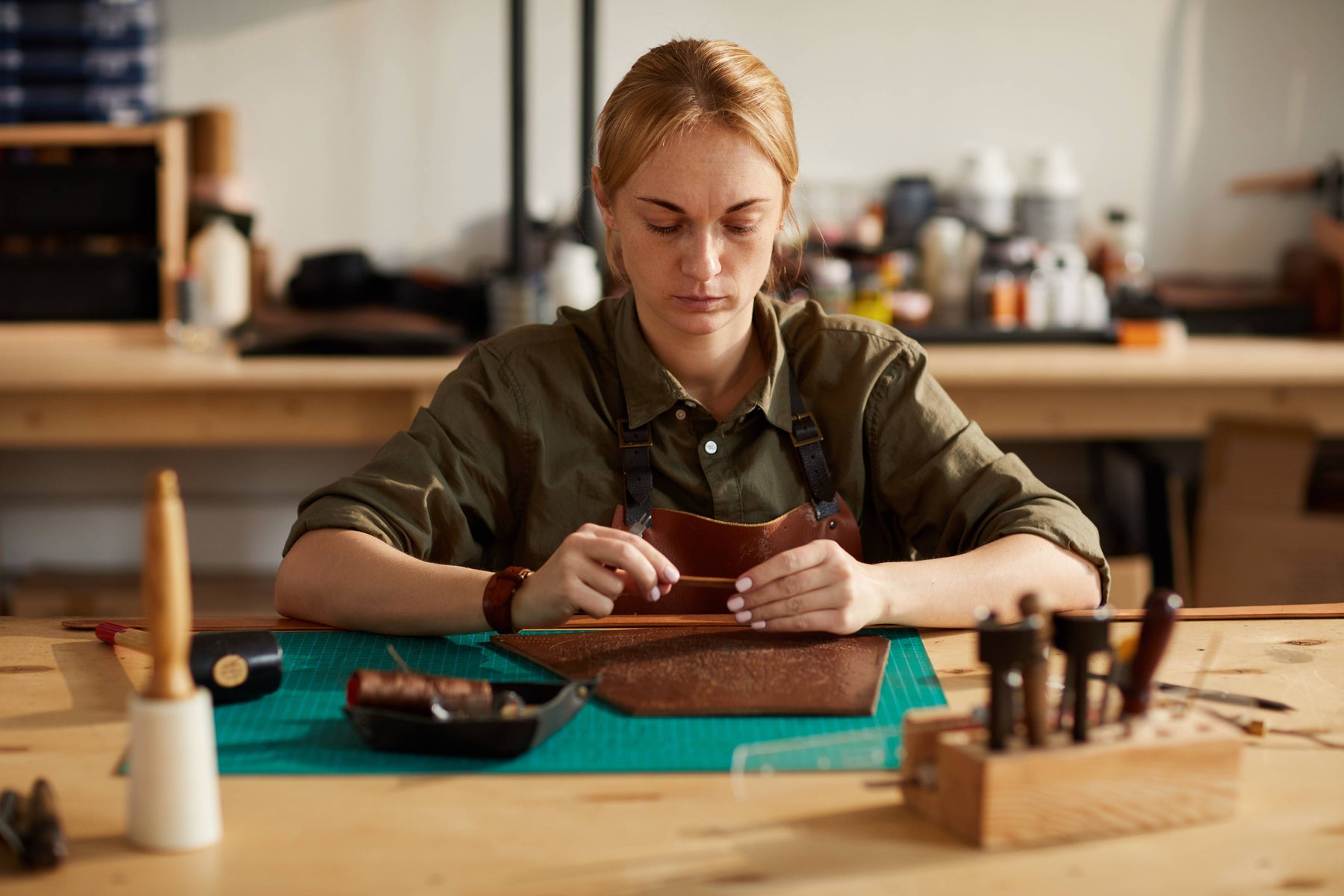 Why Handmade Leather Bags Are Better Than Machine Made Bags?
Have you ever wondered why a lot of rich folks only use handmade leather goods? Handmade leather goods are a form of status. From Italian to German sports cars every high-end automobile has a hand-stitched leather interior to make the end product more exclusive.
Because handmade leather goods deliver the best built quality which will be bound to last for quite a long time or even a very long time to come. This is why famous luxurious brands still feature the use of handmade leather in their products.
As time has passed by, there have been advancements in production techniques. Due to this leather bags are machine stitched. Any leather good which is machine stitched or mass-produced loses its charisma at once.
Machine-made leather bags cant deliver the longevity of the stitching. Machine-made leather bags usually end up having creases on them because of the poor built quality. Handmade leather bags have to go through several quality checks before they are even out for store sales.
Quality tests like durability, the color of the leather, uneven stitches and, tanning process. Machine-made techniques sometimes make use of bonded leather which is scrapped leather. These bonded leather bags are treated with chemicals and plastic to give them an extra shine.
Every aspect of a handmade leather bag is elegant by every means, today we will talk about why handmade leather bags are better than machine made leather bags.
History of leather bags
From Rig-Veda, there have been references for leather goods. Humans are using leather goods since 300bc and till now leather is known as a status symbol. Leather bottles, clothes, and bags were used back then.
Due to their durability and resilient nature leather bags and goods was the ideal pick for men to carry out their activities. Stuff like saddles, sandals, gloves, and bottles were the famous items used by our forefathers.
Industrialization IN the 18th and 19th centuries created a requirement for brand new sorts of leathers and a piece of new drive machinery. The invention of the car, the demand for softer, lightweight footwear with a trendy appearance, and a general rise within the standard of living created a requirement for soft, supple, colorful leather gave a rise to machine-made leather goods.
Advantages
Today's modern technology has made progress in the leather industry, as the development of chemicals and complicated processing methods have greatly expanded the aesthetics and feel of leather also because of the possible applications.
Read More: What type of leather is best for leather bags?
Modern machinery has given man an easy and cheap way to produce goods but due to this revolution, the authenticity of real leather handmade goods have faded away.
Benefits of buying handmade leather bags.
Genuine handmade leather bags are the definition of favor and sophistication, regardless of what your working environment is that they make you look exquisite.
Each of the pieces is uniquely designed with quality accessories that will withstand the trials of lifestyle. Here are seven advantages of shopping for a handmade leather bag. Today we are going to discuss some of the intriguing benefits of handmade leather bags:
One of the biggest advantages of handmade bags is that they look very exquisite. The fact that the bag is handmade and is made from leather brings a different charisma to the good.
You can never go wrong with a handmade leather bag if you wish to carry your belongings in a distinct style. Owning one will make you look attractive and trendy at the same time.
Employment to local artisans.
When you something which is locally made, you know the quality of the product. Buying a handmade leather bag from a local skilled artisan will provide you a lot of options like customized bags, maintenance support, and many more.
And because there are so many machine made leather bags available in the market you can risk it, the bet you can do is reach out to your nearest handmade goods shop and pick a leather bag from them.
Vintage and Antique Look.
The saddle tan and the hazelnut brown are the most famous colors in the leather industry. The color is the main factor that provides an antique look to the leather. And the fact that the bag is being handmade brings more personality to it. The pure color of the leather is impeccable by every means. It just gives a fetching charm to it.
The stitching on a handmade leather bag is done so perfectly, that it stands out in the crowd because of its contrast. Leather is antique in itself because it is been used since humans were in the stone age.
Long-lasting and Durable.
Handmade leather bags are made with durable material that will last for years with the proper maintenance. Handmade leather backpacks made up of full-grain leather are premium quality and may withstand tons of tension that comes from carrying heavy loads.
The lifespan of leather is fascinating. When properly cared for, genuine leather can last for years. This is often because genuine leather is just built to last because of its natural durability. If you've had fabric bags in the past, choose leather for your next. We guarantee that our products are superior and comparatively cheaper.
It is safe to say handmade leather bags are eco-friendly. Only natural resources are used to tan and color these leather sheets. Indeed leather is ecofriendly.
No leather good is cheaper. Leather goods take a lot of time to process and then finally converted into a final product. Machine-made leather bags are cheaper than handmade bags but if you see the longevity and superior built quality of handmade leather, they are bound to last more than machine made leather bags.
How to clean handmade leather?
Use a dry cloth to first wipe off the dust on the leather bag.
Then take lukewarm water with a wet towel and gently clean the surface of the bag
Use soap water to remove stains and dirt
In the end, clean the remaining water from the bag and let it dry
Checkout our collection of Handmade Leather Bags.