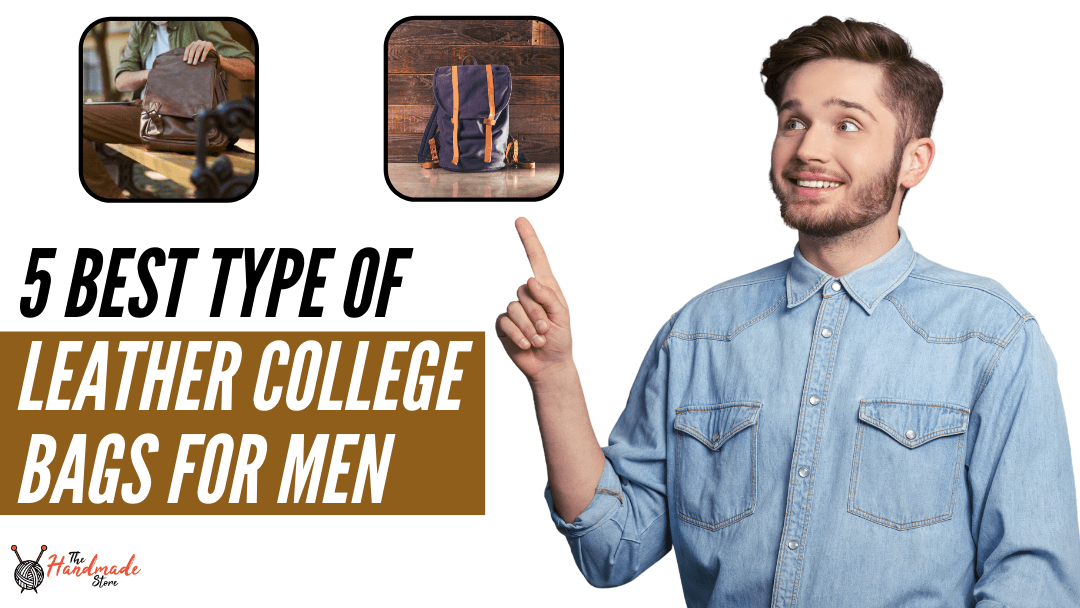 5 Best Type Of Leather College Bags for Men
Today, no one can imagine leaving the home dressed in a matter-of-fact manner. The world has evolved, as have the needs. From the business to the fashion sectors, everyone is focusing on his or her PR skills and personalities.
Competition is rising, and in order to survive, one must have a strong personality. The outer appearance contributes a lot to a person's quality, and this feature has been recognised by men who want to strike the finest bargain and achieve success.
Some of the best in men's fashion and trends can be found anywhere from Paris to London, New York to Tokyo. Everything is growing in popularity and creating a lot of attention among guys, from apparel and accessories to men's messenger bags.
If you know where to look, finding the best leather bags for guys may be a fun endeavour. And we're all about a good time. So, here are the five most important factors to consider in your pursuit:
Why leather bags for college?
Leather quality is important. Full grain leather is used to make the greatest leather purses for men (and ladies!). Period. Full grain leather is the finest leather money can buy.
To begin, full grain leather is derived from the top layer of the skin and has all of the natural grain (thus the name "full grain"). Full grain leather bags have a natural surface that tells a narrative. Its distinct texture displays natural flaws, blemishes, and even mild branding on the surface.
The natural grain also includes the hide's finest fibres, making bags highly durable. Instead of wearing out, full grain leather burns and beautifies as it ages, generating the sought-after patina and distinct character synonymous with the greatest leather bags.
Without a doubt, great craftsmanship, materials, and leather maintenance contribute to the durability of leather bags for men. Full grain leather, for example, is incredibly robust, and its natural grain contains the strongest fibres in the hide.
Furthermore, it is incredibly breathable, which helps to drain away moisture, maintaining the bag over time. Make sure you understand how to recognise fake leather to prevent purchasing an item that won't last long. Finally, utilise leather care products such as conditioners and cleansers to keep the lustre of your leather.
Zippers, snaps, buckles, clasps, rivets, decorations, and any other non-fabric component of the bag are examples of hardware. The greatest leather bags for guys, like high-quality leather, include long-lasting hardware.
We'll keep it easy here as well: check for metal hardware. (Does plastic hardware qualify as hardware?) You're on the correct road if you notice the words brass, nickel, or iron in the description.
Think about the bag's intended use and how he'll most likely carry it. Then, make certain that the bag's handles and/or strap are strong enough for the job. Will he wear the bag like a messenger bag over his body? Or does he like to carry his suitcase in the customary manner?
To facilitate cross-body or over-the-shoulder use, a strap should be cushioned and adjustable. Handles should be pleasant in the hand and placed in a convenient location for rapid grab-and-go. This leather briefcase bag is one of our top selections for the finest leather bags for men since it has both carry handles and a shoulder strap.
Let's speak about colour now. "Leather" bags come in every colour of the rainbow. However, we can simply narrow down the colour issue for you: the best leather bags for men highlight the inherent beauty of leather. Leather purses in a variety of colours, from light tan to dark oak, are available.
Choose either a warm medium brown leather attaché or a deep earthy brown leather laptop messenger bag. Above everything else, when it comes to choosing the best leather bag colours, keep in mind that high-quality (full-grain!) leather will vary over time as it acquires the desired character and tarnish.
Even with all of the care expected by the bag's appearance, the best leather bags for men will pay just as much attention to the interior. Is the interior carpeted? If so, how so?
However, because you're probably starting with a bag made of full-grain leather, the internal lining is nice to have but not needed. For example, even without a fabric or suede lining inside, these antique leather purses made the list of greatest leather bags. The revealed underside of the leather provides a one-of-a-kind inside surface.
Aside from the lining (or lack thereof), the best leather bags for men offer compartments for organisation and padded laptop sleeves.
Bottom line: start with high-quality materials, then add intelligent design and meticulous craftsmanship to create the greatest leather bags for men. The added benefit? They become better with time.
5 different types of bags for college
Messenger
Messenger bags are becoming increasingly popular since they are both attractive and functional. They are only second in popularity to office workers', college or high school students', and business college professionals' backpacks.
It has a wide strap that offers a pleasant carrying experience. Furthermore, messenger bags allow you to pack bigger goods and carry them easily since the weight is spread equally on the shoulder and back when you wear the bag across the chest.
Messenger bags are not only stylish sling bags, but they can also be used as a 15-inch laptop bag. This is why they are a popular choice for a daily carry-all bag.
2. Satchel/Briefcase
Satchels are easy to use and free up your hands. They are generally made of leather, so you will spend a bit extra for a fashionable, multifunctional, and long-lasting bag.
You may wear them crossbody or over one shoulder, and most versions have handles for carrying. However, if you are going to be hauling really big goods, this is probably not the best option.
Read More: What type of leather is best for leather bags?
3. Backpacks
Backpack is a fabric bag that is carried on an individual's shoulder and is secured with two strong straps. Leather Backpack for men come in a variety of styles and are commonly used by students and hikers.
Backpacks are superior to purses since they allow you to carry big loads for a longer amount of time. Durable backpacks can also withstand severe use, which means they will survive for many years. The greatest backpacks are constructed of long-lasting materials such as leather or nylon.
Most backpacks include robust straps and zippers for safe carrying and protection of your stuff inside. High-quality backpacks are made with high-quality thread and sewn with care. Packs with double stitching are considerably more sturdy and long-lasting.
4. Duffel bags
This is a popular bag design for students who need to carry a lot. More than just school materials may be stored in the cylindrical bag. Duffle bags can also be used to hold extra clothing or light equipment for after-school sports.
The Leather Duffel Bag is an excellent alternative to a traditional backpack. It's fashionable, long-lasting, and goes well with both work and informal attire. The bag's high-quality leather assures that it will endure a long time.
With two carrying options, the bag is ideal for both short and long travels, and it comes in a variety of colours to match any outfit. This leather duffel bag has a plethora of compartments that allow you to keep everything you need organised and even to carry gym clothes.
Leather is also a water resistant and water repellent material.
5. Small Crossbody Bags - Ipad
Crossbody bags may be one of the greatest sorts of travel bags. Unlike a travel backpack, you may wear one in the front, side, or back depending on the scenario (think squeezing through a tight airline aisle) and your comfort.
Furthermore, they allow you to keep your hands free. Because they're such a popular choice, the alternatives are virtually limitless. Everyone can discover a crossbody bag that meets their demands, whether it's a certain colour, material, size, or price point. They are ideal for travellers, college students, artists, marketing specialists, and others.
It is the ideal size for keeping ipads, passports, keys, sanitizers, notepads, pencils, and other small items.
Checkout our collection of leather bags for college.