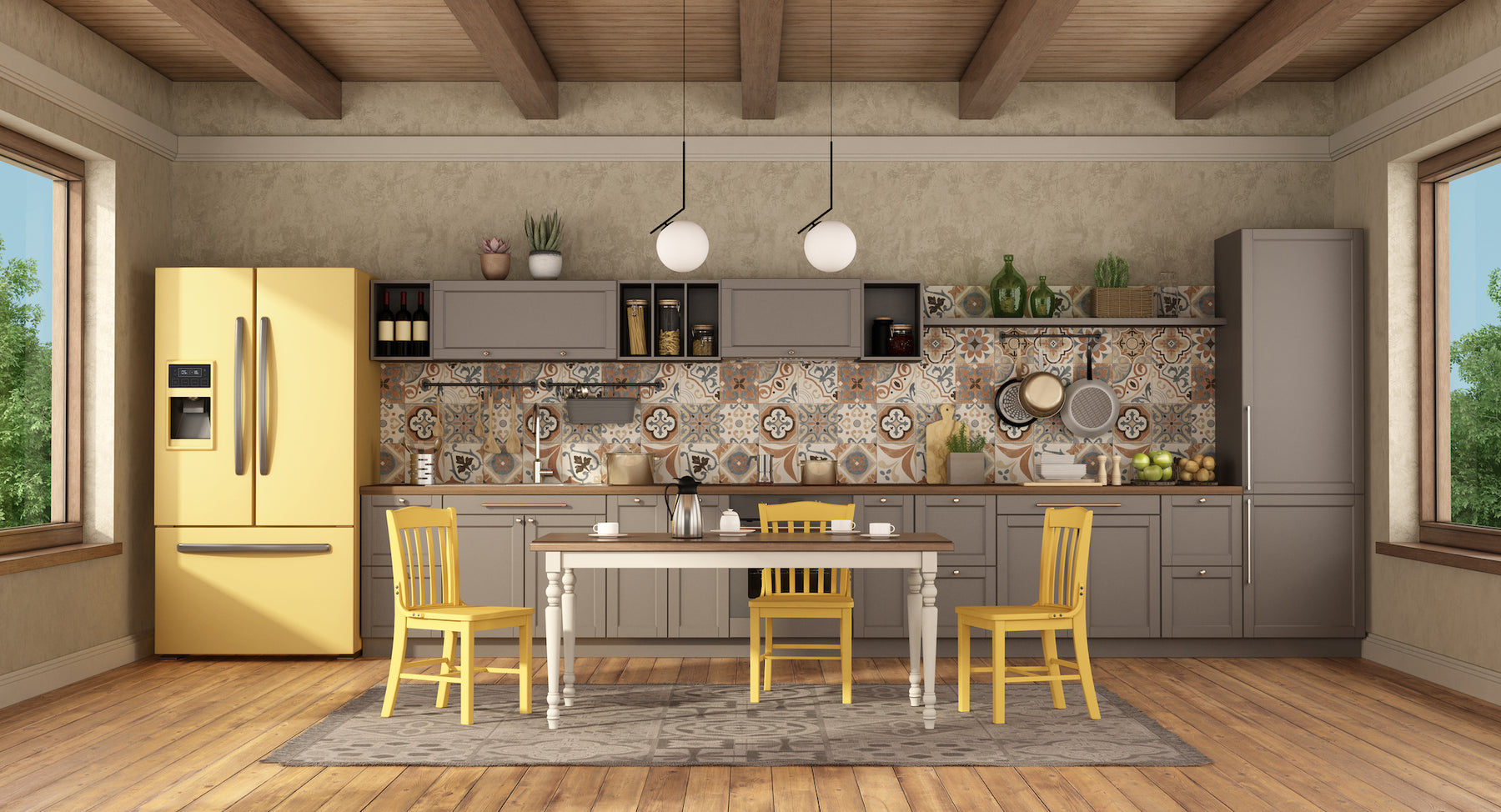 How to Decorate A Vintage Kitchen?
A vintage kitchen is one of the most special areas in your home as it adds both charm and functionality. To decorate your vintage kitchen perfectly, you need to fill the space with the right decorative items. Utensils can be one of the best decorative elements for your kitchen. Feeling surprised?
Yes, you can revamp your kitchen with unwanted and old utensils! You just need to know how to transform your crockeries and cutleries into the beautiful decor. The best thing is that you need to spend no or a minimal amount to do that.
Want to know how you can decorate your vintage kitchen with utensils? This post outlines the tips and tricks to do that. Here, you will also learn how to make your modern kitchen look vintage and the key elements of a vintage kitchen. Let's dive in.
9 Tips to Make a Modern Kitchen Look Vintage
When it comes to your kitchen, vintage decor can always work as it creates a warm and cozy environment. Here are the tips to make your modern kitchen look vintage:
1. Paint Walls White and Simple
Keep your kitchen walls white. Its plain look can attract visitors' attention to vintage accents, dishware, and cabinets. Plus, any type of decorative element looks good on plain white walls.
2. Combine Different Patterns
Mix and match various patterns uniquely. Replace the existing hardware with a bold mix of quirky cabinets. Use and mix up intricate hooks, pulls, and hooks. You can also add some oversized brackets to add a vintage-looking kitchen.
3. Hang Cafe Curtains
Beautiful curtains in windows can always enhance any room. Once you hang colorful and patterned curtains on windows, you get that feeling of the good old days.
4. Use Exposed Wood
The rustic and country look of weathered wood can be a great addition to your kitchen. The patina of salvaged/reclaimed wood adds depth be it on a breakfast bar, cutting board, or the stove for covering the hood.
5. Pick Florals and Pastels
Cottage-styled floral and pastel prints are perfect for a vintage kitchen. You can use the faded and weathered look of these fabrics in diverse vintage-inspired ways.
6. Display Beautiful Items in Open Shelves
Do you have open shelves in your kitchen? Fill the shelves with some dishware, antique rocks, old utensils, and cookbooks, to display them.
7. Keep Big Containers
Add vintage charm and functionality to your modern kitchen with oversized containers in bold colors and block lettering.
8. Install Antique Lights
Every room in your home needs proper lighting. As you cook food in your kitchen, the space needs to have the correct lighting. An exposed chain pendant light and a rusty colander turned upside down can brighten up your kitchen beautifully. You can install an elegant chandelier to give vintage vibes to your kitchen.
9. Add Fresh Flowers
Every room requires a few fresh flowers sometimes. All flowers look great in a vintage kitchen as long as they are fresh. Mason jars are trending as they are perfect yet affordable containers for all flowers. You can also paint your Mason jar's exterior in subtle blue color to enhance the vintage interior decor.
These are some of the easiest ways to transform your modern kitchen into a vintage space. You don't need to spend too much if you do all the things above.
3 Elements of Vintage Kitchen
Now you know how to add a vintage look to your kitchen so you can enjoy the old-world charm. To make your vintage kitchen look perfect, you need to add the right elements to the space.
Find below the three elements of a vintage kitchen:
You can buy or restructure old appliances depending on the amount you want to invest. Apply a coat of paint to your stove and fridge to enhance them. Appliances in muted colors have made a comeback.
You can cover up your kitchen appliances rather than paint every fixture, which blends modern and vintage visual appeal.
Hire a carpenter who can use a similar good finish and paint (if required) to design a cover for your stove and refrigerator. When it comes to buying new appliances, look for something vintage. Choose stoves colored in white, yellow, and green rather than those only made of stainless steel.
Faucets, with tall spouts and knob handles, are crucial fixtures for your vintage kitchen. Pair the faucet with a farmhouse sink to complete the vintage decor.
A hutch can be the perfect vintage-looking fixture if you have less cabinet space. Go for a painted wood finish. Fill the limited storage space with beautiful silverware and glassware.
Apply bright paint to your kitchen cabinets. Go for pastels or shades with a white base so light can reflect off the exterior. Vintage cabinets look subtle and streamlined. You just need to use a horizontal bar in a painted or polished finish.
To create a distressed vintage look on your kitchen cabinets, run gritty sandpaper along their surface in vertical swipes. Rub off the paint in similar ways to maintain consistency. You can also do the same thing on your stove, hutch, fridge, and wooden surface.
5 Tips to Decorate A Vintage Kitchen With Utensils
When it comes to decorating your kitchen with utensils, you should do it in the right way. Otherwise, your kitchen may not look pleasant in its entirety. Old utensils are not meant to throw away as you use them in various ways to revamp your kitchen.
Follow the tips and tricks below to do that:
1. Illuminate Your Dining Table
Use tea lights and suspended whisks to light up your dining table. Such vintage decor makes your industrial-chic kitchen decor original.
2. Cover Containers
Buy plant pots and beautiful utensil holders to cover old containers and tins kept inside your kitchen.
3. Fill Vacant Walls
Storage is an indispensable thing about your kitchen. So, you should fill up your empty walls with the best decorative pieces. You can hang old casserole dishes on your wall to add a vintage touch to your kitchen.
4. Load Old Jam Jars
Jam jars don't need to be empty as you can fill them with scented ingredients to create your unique room scents. You can use a wide variety of aromas, such as cloves, wintery cinnamon, rosemary, orange, and lemon lighter scents, to freshen up your kitchen. When you leave and return to your kitchen for a while, you can enjoy the pleasant scent and feel charged up.
5. Fix Handles Made of Unused Cutlery
Doorknobs are very common and add as such no beauty to our kitchen. So, revamp the cupboards with eye-catching handles made of unnecessary cutleries.
The Bottom Line
You can add uniqueness to your vintage kitchen decor by using old and unwanted utensils. If you follow the good suggestions above, the result can be perfect. It will add aesthetics, value, and functionality to your home.