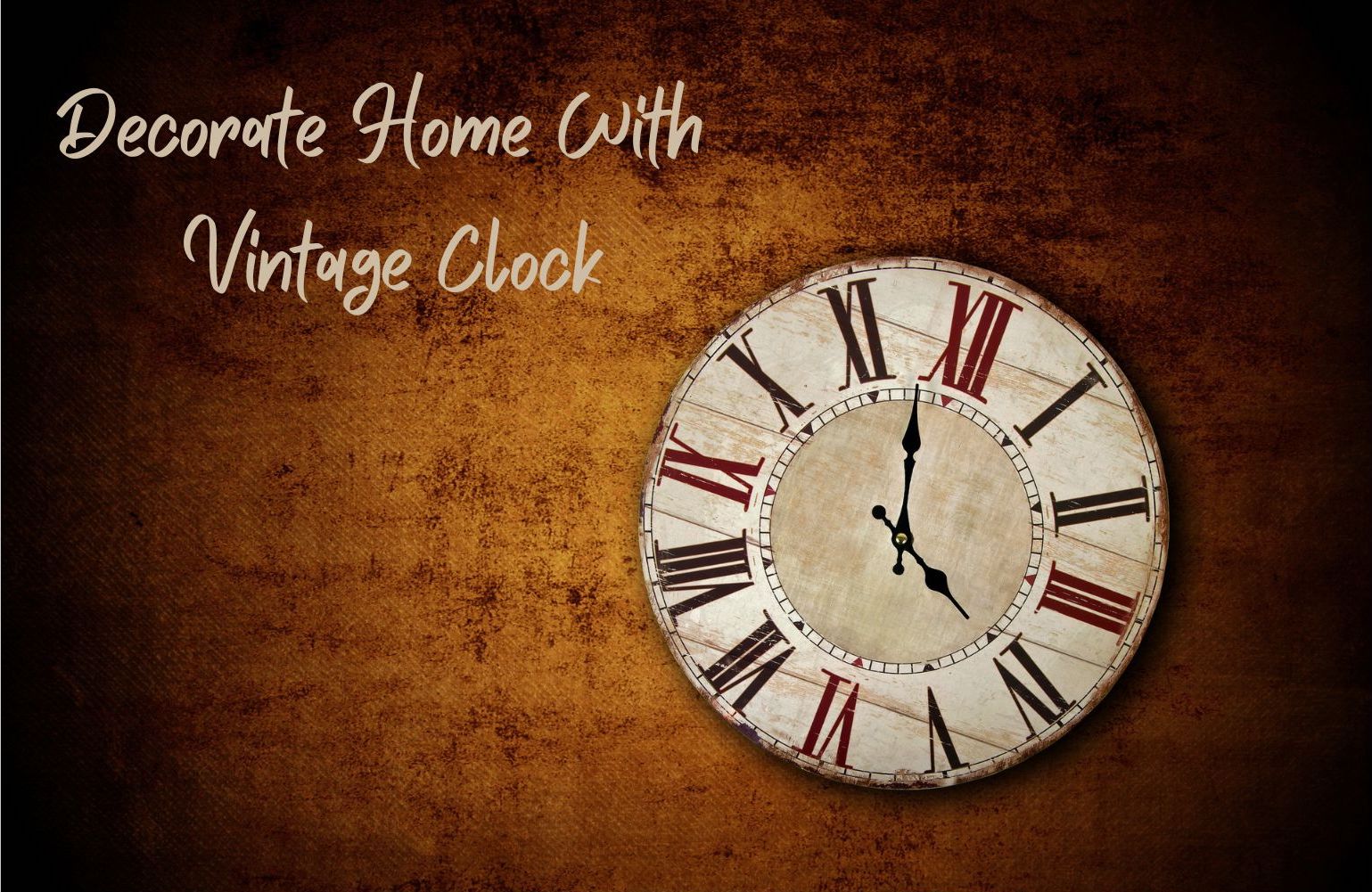 5 Tips To Decorate Home With Vintage Clocks
Clocks have always been a significant part of home decor. Vintage clocks look old but you can still see them in almost every modern household. Many people love decorating their living rooms and bedrooms with eye-catching wall clocks decorated with accent lights on a console table.
You can always choose a vintage clock in color suited to your wall paint, chairs, and throw pillows.
Vintage clocks have made a glorious comeback in the home decor world. They are one of the most sophisticated and affordable decorative pieces that add character and meaning to your home.
Do you want to decorate your home using vintage wall clocks? Here, you will learn the tips and tricks of doing so and why people still love vintage clocks. Let's dive in
Why Do People Love Vintage Clocks?
Vintage clocks are old-fashioned yet trendy and add both aesthetics and functionality to a living space. As vintage clocks are available in a wide variety of designs, sizes, and colors, you can always choose the right option suited to your interior decoration, style sense, and personality.
Use it as a focal point of attraction, which can add life to your wall's dullness. Hang a subtle wall clock in your living room that can create a positive impression on maximum visitors.
People love vintage clocks as they suit all types of interior decor, themes, and moods. You can go for classic or modern timepieces that can enhance the overall interior aesthetics.
How to Decorate Your Home with Vintage Clocks?
Vintage clocks can always be an excellent decorative piece for your home. Find below the tips and tricks to decorate your home with them:
1. Enhance Walls of Your Dining Room
You can use a vintage clock as a centerpiece of attraction on the walls of your dining room. Decorative wall clocks, mainly rustic ones, add a vintage touch to your dining room. Cuckoo clocks or oversized wall clocks are extremely popular worldwide.
2. Add Oversized Clocks to Wall
Oversized wall clocks always capture attention because of their huge size. They can be the perfect addition to farmhouses and industrial and residential spaces. If you add an oversized clock to your wall, you don't need to use many decorative pieces.
3. Hang Clocks Showing Various Time Zones
Fill your living room by hanging multiple clocks together in a large surface area that shows various time zones. This type of wall decoration is perfect for families who stay connected with people living in different countries.
Once you hang clocks representing different time zones, you can always keep in touch with them.
Also Checkout: Vintage Office Decor Collection.
4. Pick an Unadorned Clock
A simple vintage clock gives a classic look and vibe to your home. Pick a sleek clock, which reflects your style. Hang it in the center of your bedroom to add character to the lifeless walls. Combine your wall clock with beautiful pictures and paintings to enhance the home's interior design.
If you have a cuckoo clock at your home, mix it up with artisan or decorative pieces to enhance your wall clock.
5. Create a Wall Full of Clocks
Hang clocks of different types, designs, styles, and sizes to create a wall. You should pick the perfect wall clock designs to create a mesmerising display. Choose a vintage clock that enhances your room and reflects your style sense.
The Bottom Line
Vintage clocks are here to stay as people will keep using that for interior decoration. Thus, you should use them to decorate your home uniquely and stand out with interior decoration. As now you know how you can use a vintage clock to decorate your home, do that perfectly to give a new dimension to your living space.