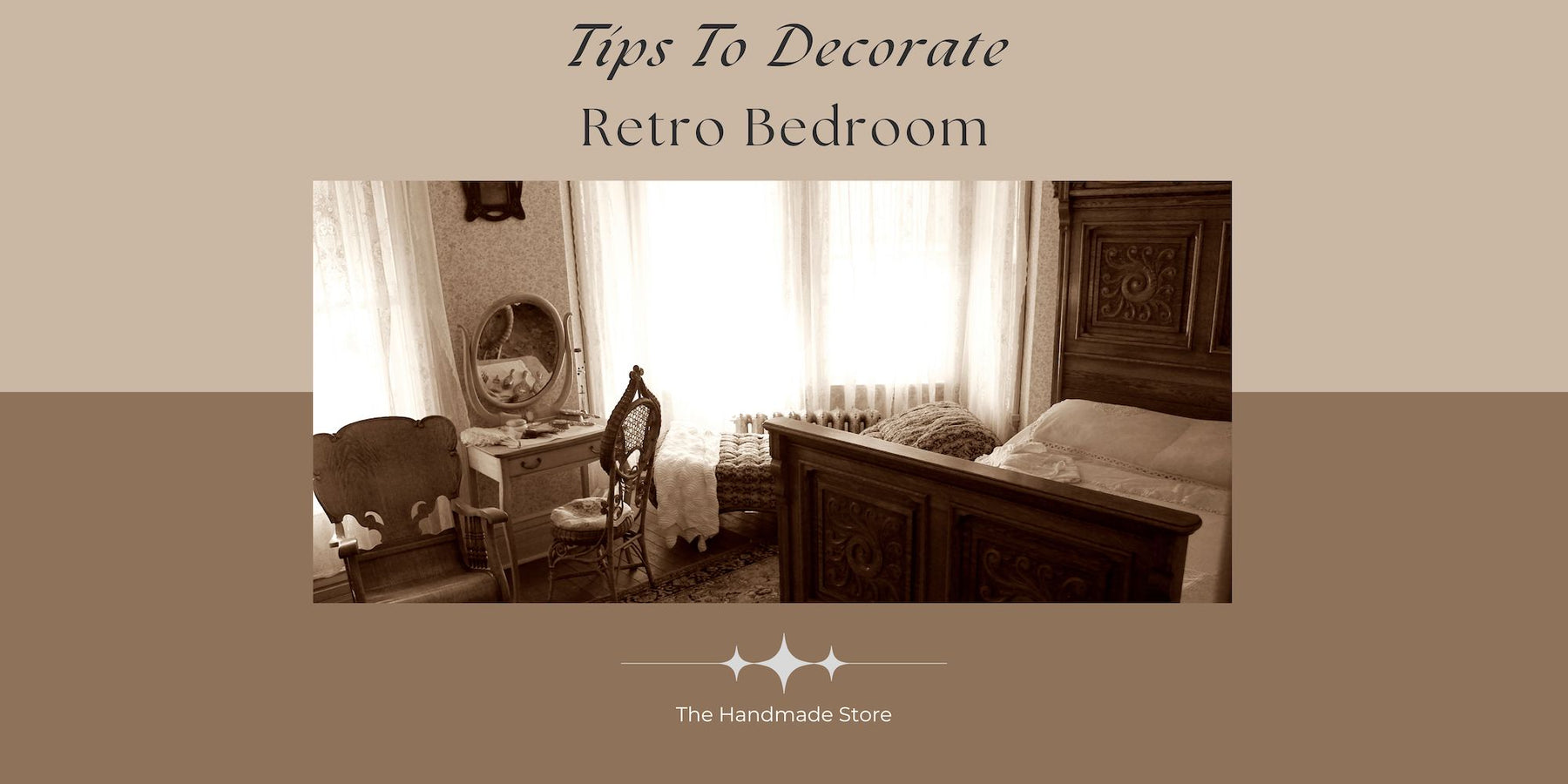 7 Tips To Decorate A Retro Bedroom
Decorating a bedroom can be quite tricky sustaining the primary framework and purpose. Want to decorate and give a unique look to your bedroom?
Retro decor with a unique theme can be a great option to consider. You need to add design elements of the 50s to 80s era and of different sizes to create the desired look.
So what are those decorative elements that you need to use? Here, you will get to learn that and also the ways to create an 80s retro aesthetic style bedroom. Let's dive in.
What are Some of the Elements of Retro Decor?
You spend hours every day in your bedroom and thus, the retro decor shouldn't compromise your comfort. The verdant accents, pastel shades, and vintage artifacts can create a comfortable ambiance. To create a bedroom with a bold maximal retro design, add vibrant colors, same tones, and consistent patterns that brighten your living space.
Retro style is growing popular because of the natural old-world charm. You can enhance your bedroom interior by combining old and new elements to create a background of cherished memories. When it comes to adding retro decor elements, you can experiment and personalize depending on your preferences.
7 Tips For Decorating 80's Retro Aesthetic Style Bedroom
If you want to decorate an 80's retro aesthetic style bedroom, follow these tips:
1. Add Colors and Design to Your Wall
Brighten up your wall with neon and pastel shades. A graphic wallpaper can be a great decorative element as it can hold colors and weaving patterns together.
You need to know how to add the utmost retro visual interest to a space. For instance, a mint-green block design on the walls and coral accent chairs can give the perfect retro look and vibe to your bedroom.
2. Place the Right Furniture In the Right Places
The 80s bedrooms had statement furniture and vibrant colors. Many homeowners recycled the existing furniture and experimented with textiles and paints. Use upgraded nightstands, carved wood wardrobes, recycled headboards, and wrought/cast iron to add a retro touch to your space. A retro television can be the perfect bedside table for the nostalgic feel.
Keep a vintage-colored (green and deep orange) velvet chair to your library or bookshelves for a lavish touch. You can also partner the chair with a velvet sofa in a deep color. The sofa's textural charm will make a stylish statement in your retro bedroom.
3. Use Beautiful Vintage Decor Accents
After placing your furniture, you can place unique vintage decode accents, such as vintage typewriters and gramophones on a table. You can also keep a vintage telephone and cassette tapes on your table to create a retro environment. If you want to create a Victorian-style bedroom, hang embroidery hoops and antique porcelain tea sets.
Place worn-out books, such as dairy, almanac, and encyclopedia on shelves. Keep old hard-cover books to add an elegant touch to your bedroom. If any item holds a sentimental value or takes you back to old memories, you should keep that in your bedroom.
Checkout our collection of Vintage Decor Accents.
4. Lay Designer Rugs
Every bedroom is kind of incomplete without a rug. If you want to create a retro 80s aesthetic bedroom, you should lay a rug. You can bring back the 80's dance culture in your bedroom with a statement rug.
If you are fond of boho design, you can enhance your vintage space by laying a patterned rug, which gives casual and colorful vibes. The best thing is that you can find rugs of different sizes and designs suited to your bedroom decor.
Checkout our collection of Vintage Area Rugs.
5. Hang Exquisite Paintings and Artwork
Color blocking, the art of taking and pairing two contrasting colors in a block format, was trending in the 1980s. The era had homes with colors and metallic gleams in unique ways. You can install the same-looking old-school pink tile to get a nostalgic feel in your bedroom.
If you like minimal decor, create hand-painted details around door frames. Abstract art full of colors, lines, patterns, and shapes was common in the 80s. This artwork is still relevant today.
Checkout our collection of Vintage Wall Decor!
6. Display a Vintage Wall Clock
A vintage wall clock is perfect to display in your retro bedroom to create the old-school visual appeal. You can pair the clock's antique look with the same furniture, such as chairs and tables, or decorative elements, such as antique mirrors and frames, to create a theme in a room.
Make sure you pick a vintage wall clock that suits the room decor. If you pair the clock with dark and industrial decoration, it will add history and charm to your walls.
Checkout our collection of Vintage & Retro Clocks!
7. Install Lamps and Lighting
80's retro decor was mainly about neon and LED lights, which are trending now. You can install a purple light to brighten up the clothes rack. The vibrant suite with pop art and artistic wall decor adds a luxurious touch to the home. Track and fluorescent lighting ruled in 80's interior decor but they didn't look the most beautiful.
To create the same retro look with a modern touch, avoid installing traditional track lights with big bulbs in big plastic cans in favor. If you don't like track lighting, go for recessed fixtures. Though you can't adjust them like track lights, they emit the same lighting if you spread them across the ceiling to create a decor that gives the 1980s vibe.
Checkout our collection of Vintage Lamps & Lightings!
The Bottom Line
Decorating a retro bedroom gets quite easy if you follow the tips above. When it comes to decorating a bedroom or any area of your home, you don't need to follow strict rules and regulations. But, there are certain decorative elements you need to use to give the 1980s retro vibe to your bedroom.
Hopefully, this post helped you in understanding what can be the best ways to decorate your retro bedroom. Now, it's time to implement those tricks.