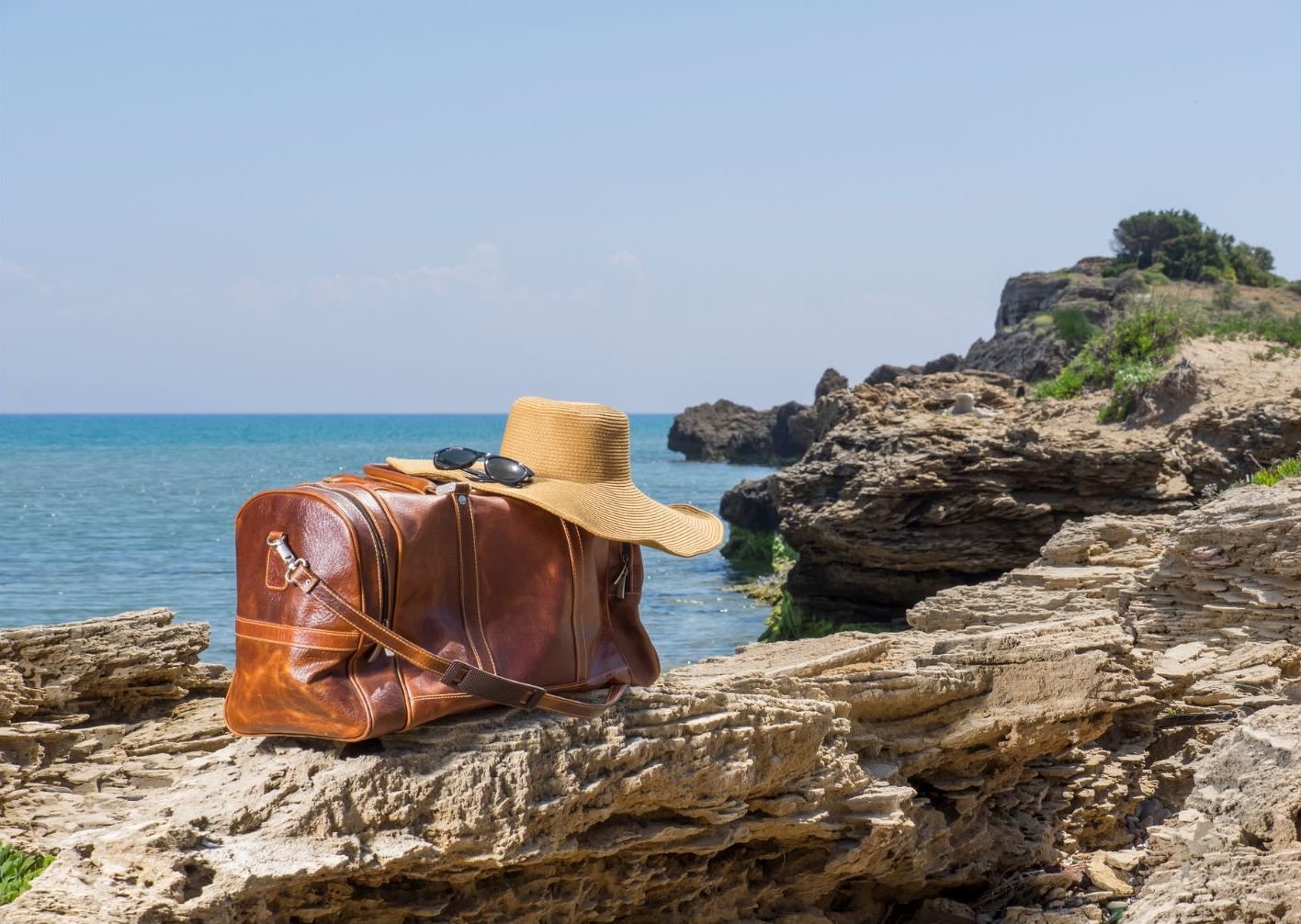 7 Best Real Leather Duffle Bags for Men
A leather duffle bag is both a necessity and a privilege for the modern man. A well-made duffle bag stands out wherever you go and can serve as the best travel companion. Duffle bags for men in particular come with a wide range of choices.
Choosing duffle bags though, can be a tricky affair. From the shape of the duffle bag to its features, there are many options to explore. The material of the bag is quite important as well. Even among leather bags there are many different types of leather to choose from.
4 Benefits of Carrying a Real Leather Duffle Bag


1. Texture
There is no better material for any bag than full-grain leather. The rich grain pattern of real leather is a work of art in itself. The looks and feel of leather is ideal for all occasions.

The timeless elegance of leather is bound to get better with use. The patina that leather develops over time adds to its rustic nature. The rugged texture also makes a leather duffle bag ideal for long trips.
2. All-weather usage
Real leather is quite resistant to various elements of nature. Water in particular is an unwelcome guest when it comes to leather duffle bags. Any precious belongings you may be carrying are safe from the effects of weather.
Real leather duffle bags with wax coating are quite resilient to water. Even if the surface leather is exposed to water, the interior is always dry.
Also Read: 7 Best Affordable Leather Duffle Bags
3. Comfort and Style
Real leather duffle bags come with a wide range of options. There are also a wide range of customization options available. You also get convenient handles and straps to carry your duffle around in comfort.
Most leather duffle bags have many extra compartments as well. Many color schemes are also available to suit your tastes.
4. Durability and Value
Real leather duffle bags are valuable investments much like a well-made car. With proper maintenance these bags can last several lifetimes. Much like cars you can pass them on to your next generation.
A leather duffle is crafted to survive the harshest of conditions. You can also store real leather duffle bags for years under the right conditions. If maintained for several decades your duffle could become a vintage collectible.
Also Read: Leather Duffle Vs. Leather Holdall Vs. Carryon Luggage
7 Real and Authentic Leather Duffle Bags
For leather aficionados and novices alike, this holdall is treat. This tan leather bag is crafted to serve under all conditions. The full grain leather has a rich texture that complements the color well.
This holdall can serve any purpose you have in mind. There are four outside pockets for all essentials that need immediate access. The interior is large enough to house anything you'll need for an extended weekend.
The brass hardware is quite durable and easy to handle. The body colored handles and straps are quite comfortable. The skilled stitch work and ergonomics make the bag of 24L x 10.5H x 7.5D dimensions look compact.
For those of you that need a touch of nostalgia in your luggage, this holdall is the answer. The dark brown color is on the rich leather is quite exquisite indeed. The intricate grains and fold marks make this an alluring sight under any light.

Regular users of authentic leather products will appreciate the rich smell. The vintage look is quite prominent with rugged features. The zipper tips are leather as well and are easy to use.

This vintage leather holdall comes with two rigid carry handles for convenience. There is also a leather shoulder strap which you can detach when not needed. This bag also comes with a leather luggage tag.
If Mad Max needed a duffle bag to carry all his stuff, this would be it. This duffle bag is the definition of rugged and its features highlight the same. The many pockets and gruff exterior make this duffle bag ideal for adventures.

The outdoor prospects of this rugged leather duffle bag are many. The handles and straps have many adjustments to suit any situation you might face. Dust and dirt become pretty much invisible on this rustic looking duffle bag.

The 24L x 16H x 9.5D dimensions are ideal for carrying a ton of stuff without any hassle. Side zippers and well-defined sections make this duffle bag easy to fold.
This bright brown leather duffle bag is an all-purpose star. The design of this bag is elegant yet simplistic. No matter what the nature of your trip is or the duration this bag has you covered.

This authentic leather duffle bag is made from heavy duty leather for durability. You get a large front pocket for easy access to all essentials on the go. This duffle bag also features strategic zipper compartments in the front and sides.

The stealthy and sleek look of this bag is complemented by the its ease of use. Leather briefcase handles and an adjustable shoulder strap make this bag quite convenient.

This real leather duffle is ideal for a long weekend ride. You can strap this bag onto your bike with ease. The military style of this duffle bag makes it convenient and easy to use.

This real leather duffle bag has dimensions of 23" H (closed) x 12" diameter, 25.5 Inch H (Opened). A tough drawstring at the top of the bag ensures that all your belongings are safe.

The darker contrasting colored straps add to the bag's aesthetic. You can carry this bag in all weather without having to worry about the the safety of your essentials.
This leather garment duffle bag is the ideal blend of comfort and practicality. The full-grain leather material is quite durable and handy in all conditions. The distressed brown color goes well with the leather's patina and grain.

Aficionados among you will appreciate the rich leather smell. The interior of this duffle bag is cotton canvas. You also get ample space for everything you might need for a long trip.

The leather strap and handles are comfortable to use. This bag is quite compact with dimensions of 16(H) * 24(W) * 8(D). You can use take this bag as carry-on luggage during flights.
If you want a stylish duffle bag for a weekend trip then look no further. This real leather duffle bag is full of features for your comfort and convenience.

Suited for both long travel and short sleepovers, this weekender has a lot to offer. You get zippered pockets on all four sides. The internal compartments are lined with soft fabric. You can even carry electronic items such as laptops.

The stainless steel and brass plated hardware goes well with the plush-looking leather. This weekender duffle is quite durable with a sturdy leather/canvas shoulder strap.