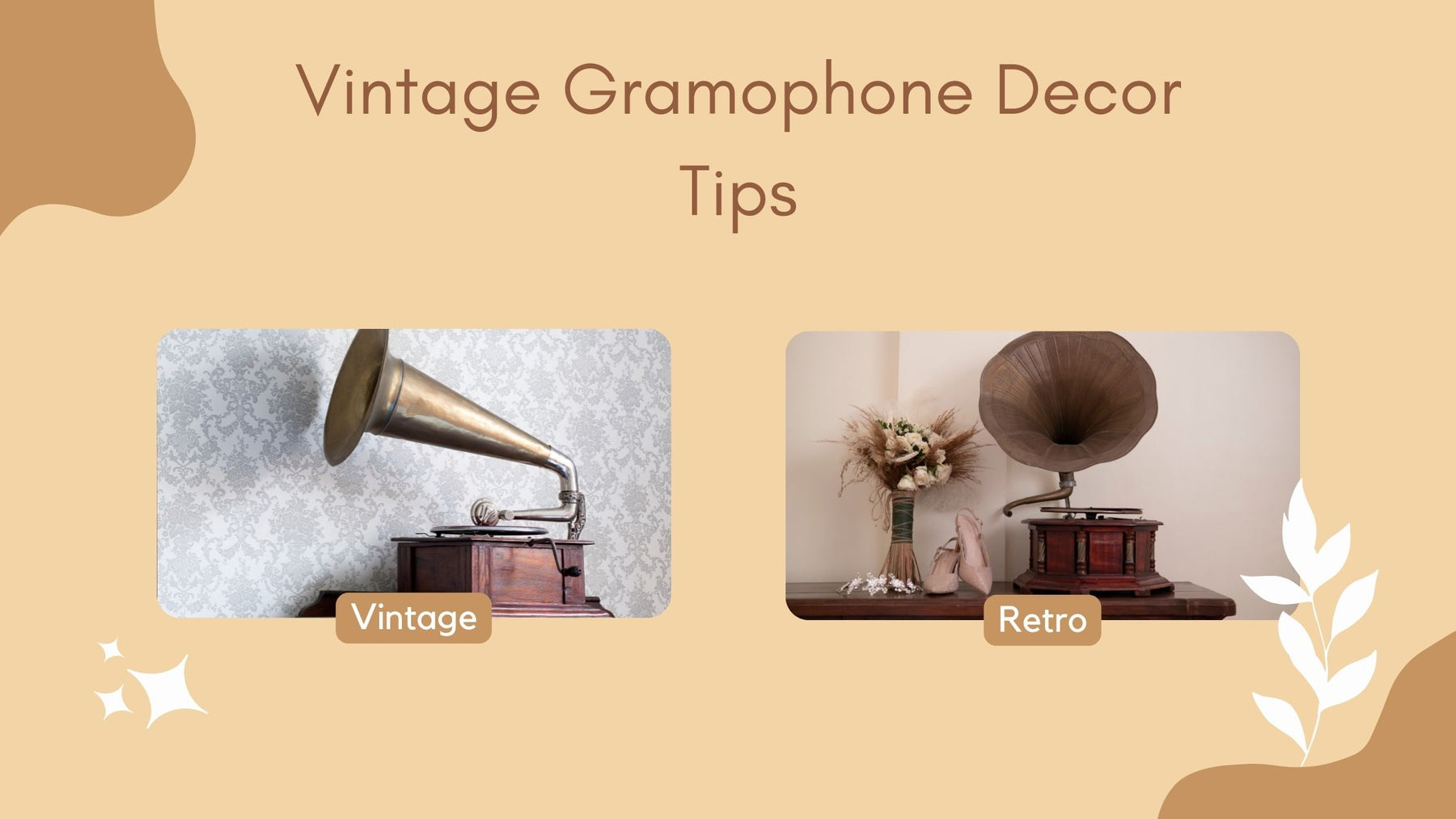 5 Tips To Decorate Your Home With A Vintage Gramophone
Vintage decorative items are high in demand worldwide as they have a character and give a sense of nostalgia to a space.
People who love vintage decorations collect diverse and enhance their homes with old decorative pieces. If you place such decorative items smartly in your home, they can define your space beautifully.
A vintage gramophone can be one of the best accessories to enhance your home. You can keep it in different parts of your home to decorate and add an elegant touch to a space. Want to know how?
Here, you will learn the various ways to place a gramophone in your home. But, before that let's discuss why the gramophone decoration trend is back.
Why is the Trend of Decorative Gramophone Back?
People from all walks of life are fond of different types of music. Many music lovers have expressed how much they have enjoyed listening to their favorite songs using gramophones.
Music is an integral part of Indian and Western culture. The invention of the gramophone combined sounds and lyrics that has resulted in the growth in music and related industries and professions, such as musical artistry and sound engineering.
Music lovers still keep a gramophone in their homes because of the clear and unique sound, which is drastically different from the advanced speaker or speaker sound. The real recording sound emitted by a gramophone strikes a chord with music lovers.
If you too love music, you should have a gramophone, which also acts as a decorative piece, in your home. You can have a mesmerising experience as a listener.
Also Read: Why do people still love Gramophone?
When the gramophone was invented, the music world had a few genres, including Jazz. The invention of the gramophone has led to the rise of jazz in the Western music world. The invention of the gramophone has transformed the lives of people living across the world.
The trend of decorative gramophone is back as people love to add a vintage touch to their homes and get unlimited access to music of any genre, place, and time.
5 Different Ways to Place a Gramophone at Your Home
You can give a makeover to your home by keeping a gramophone in different places. Here are the five different ways to keep a gramophone in your living space:
1. Place it on an Old Cabinet
If you have a painted old cabinet, you can place a gramophone on it. You can complement that with a retro chair of the same or contrasting color of the cabinet to create a cozy and attractive environment. Keep fresh flowers and vinyl records to add a vintage charm to the space.
2. Add it to a Shelf
Almost all homes have a proper shelving system to keep books, mini plants, little clocks, and other decorative pieces. You can also keep a gramophone on one of the shelves in your bedroom to exude the vintage vibe.
3. Revamp a Corner With it
If you have a vacant corner in your living room, you can fill it by keeping a gramophone. Your room may look ultra modern because the gramophone can take you back to the good old days. You can fill up and decorate the corner more with antique pieces and stylish accessories, such as candles and succulents.
4. Put it on the Top of a Table
The top of your table is not only for keeping food, cutleries, or other essential things. You can also use a gramophone as tabletop decor. The vintage decorative pieces and other accessories will pop up against the painted walls.
5. Keep it on Your Desk
A vintage gramophone can be a great addition to your study room or home office. Vintage decor is trending even in official setups. By keeping a vintage gramophone on your office desk, you can transform the office space.
The Bottom Line
If you love vintage decorative pieces, investing in a gramophone can be a smart decision. Besides enhancing your home decor, it can make you happy if you enjoy listening to music while sitting at home. Now you know how to use it to decorate your home, you should invest in it to transform your living space.