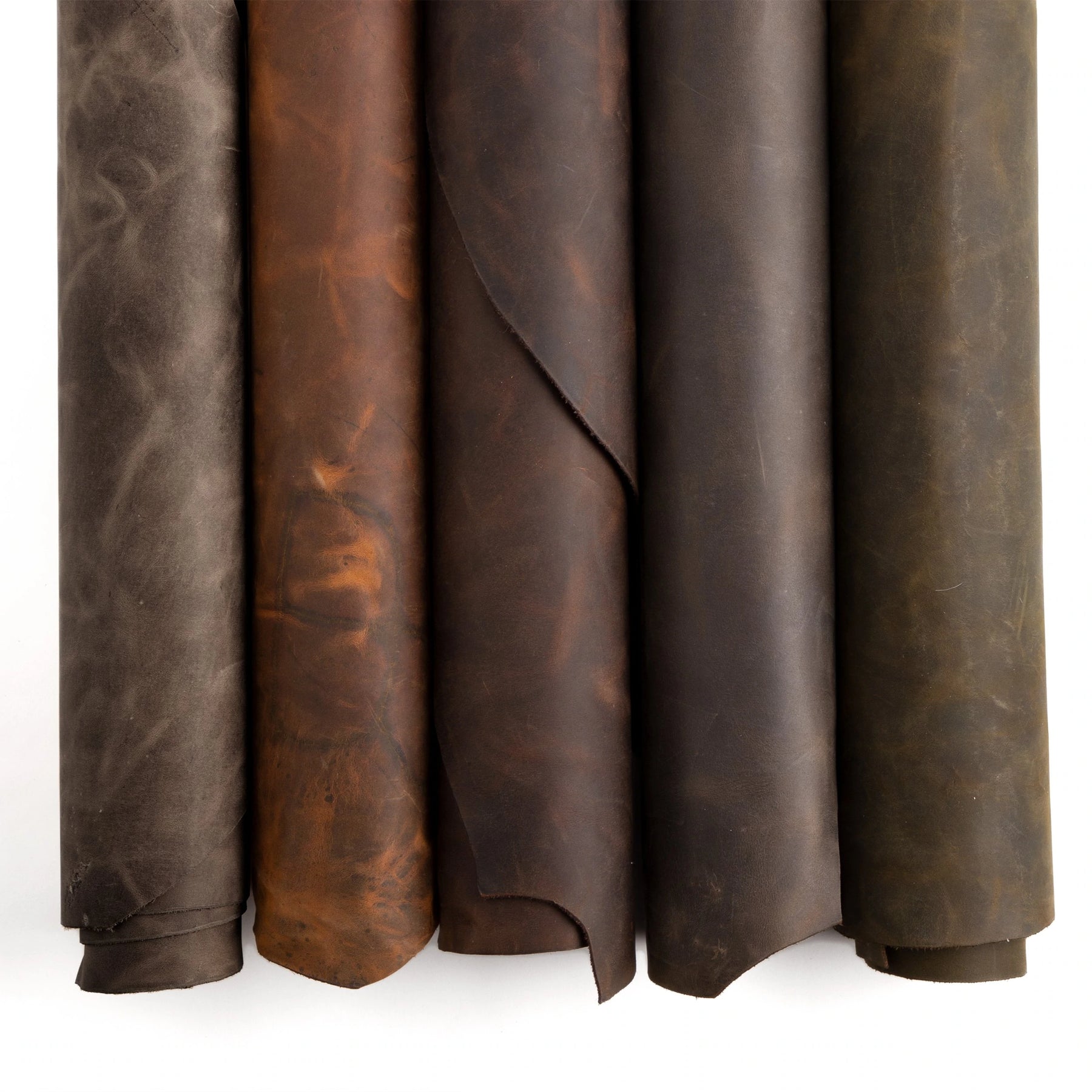 All About Crazy Horse Leather Products
Crazy horse leather is a high-quality material that is a growing favorite among product manufacturers and designers worldwide. This type of leather is robust, durable, and gets better with aging.
As crazy horse leather is full-grain leather, products made of that material stay for over two decades. It is also called "saddle leather" as manufacturers widely used this leather for making horse saddles.
Want to know about crazy horse leather in detail? Here, you will get to learn every important thing about this type of leather.
Let's dive in.
What is Crazy Horse Leather?
Crazy horse leather is full-grain leather, which grows more beautiful and better with time and utilization. This type of leather builds a patina rather than wearing it out.
It is made from a full cowhide and nothing is removed except the hair. By looking at the marks and spots on the leather, you can tell the cow's history.
Why Is It Called Crazy Horse Leather?
Many people have the misconception that crazy horse leather, also known as saddle leather, is made from horse skin. It is a type of cow leather, which derives its name from its history.
Numerous saddleries still admire this type of leather because of its solidity and natural patina development even after repeated use. Crazy horse leather adds a "country cowboy" style to all finished products, and thus, it was named depending upon this fashion trend.
The word "crazy" indicates the leather's toughness. This leather is always capable of holding a horse of different levels of strength. As full-grain cowhide is durable and strong, the saddles become capable of withstanding years of utilization and base.
How is Crazy Horse Leather Made?
Crazy horse leather is made of top-notch materials supplied by the leading suppliers. The full-grain cowhide leather is the best in terms of strength and color.
The skilled craftsmen produce crazy horse leather implementing only the finest and natural leather. They treat the rich full-grain cowhide with natural wax and then finish it to excellence. It develops water-resistant, durable, soft, and beautiful leather.
Crazy horse leather is made by application of a thick layer of special wax on a full-grain cowhide surface, which has been polished and smoothed to give a smooth and shiny look. The wax improves the leather fibers and causes minor changes to the material's looks, shape, and tone.
Also Read: What type of leather is best for making bags?
The wax application gives a timeless look to the crazy horse leather for which it is extremely famous. This leather can withstand several years of use without wearing. The excellent durability is because of the implementation of handmade processing methods and the finest leather quality.
What is Top-Layer Crazy Horse Leather?
The top-layer crazy horse leather is made of the topmost hide layer, without removing any natural grain part. After hair removal, the hide is then taken for tanning. All the original skin characteristics, such as oil-absorbing and full-thickness, stay intact. The hide is used as it is and no buffing/sanding is performed to remove existing marks.
The topmost hide layer is buffed, sanded, and even shaved off to make that thinner. Due to this, the hide gets easy to work with. As the top layer of crazy horse leather is the highest-quality leather, manufacturers use it to produce bags and other products.
How Can You Take Care of a Crazy Horse Leather Bag?
We have designed all our crazy horse leather bags to be strong enough to tolerate even the most rugged terrains, carry heavy loads, and retain their ethereal beauty for decades. With proper care and maintenance, you can increase their longevity.
Find below the tips to take care of a crazy horse leather bag depending on different situations and purposes:
Bag Gets Wet
Wipe dry using a soft leather cloth

Don't store bags when wet.

Wipe off all moisture before storing to prevent mold formation.

After drying the bag, hang it to dry and turn it inside-out

Don't use a hairdryer or heat dry bag as the heat may harden or crack the leather
Spills
Wipe spills off using a little dampened cloth

Don't use cleaners/detergents on your bag as that discolor the leather and ruin the bag's beauty. Pick a soft toothbrush to gently run away stains from the surface.
Remove Unwanted Scratches
Use a soft dry cloth and run scratch in a circular motion to redistribute the wax coat

To remove a deep scratch, apply leather wax to revive the leather's quality

Apply wax/cream periodically to retain leather's luster and softness
Avoid Leather Stretching
Limit the total number of items stored in your bag for a long period

Don't store heavy products for a long period

Avoid overstuffing your bag's pockets
Retain Softness and Beauty
Test a small patch before coating the full bag as certain products change the leather color

Apply a thin and even layer of leather wax/balm to your nag using a clean and soft sponge

Wipe off any extra balm or use a dry and soft leather cloth.

Treat your nag periodically with a leather wax/balm coating to prevent leather cracks or dryness.

Don't overuse bags if they are designed to retain leather softness as that can lead to excess softening and losing of shape
Store Your Bag
Protect your bag by storing it in a clean and dry area

Wipe away moisture before storing the bag

Make sure the bag is fully dry before storing

Empty the bag before storing to get the desired results in its shape maintenance

Keep your bag in a soft cotton pillowcase for long storage periods to prevent distortion from insects' infestation or dust accumulation

To store your bag for an extended period, check it after every three to four weeks. If you store the bag without emptying it, check after every one to two weeks to avoid stretching or mold formation
Where Can You Purchase Crazy Horse Leather Bags at Affordable Prices?
Visit The Handmade Store to browse our collection of crazy horse leather bags and buy the ones you like the most. We have designed high-quality, exquisite, functional, and durable leather bags. If you take proper care of them these days, they can stay for decades even after repeated use and abuse.
If you liked what you learned about crazy house leather from this post and want to enjoy its benefits, shop for bags made from this leather from our store today!