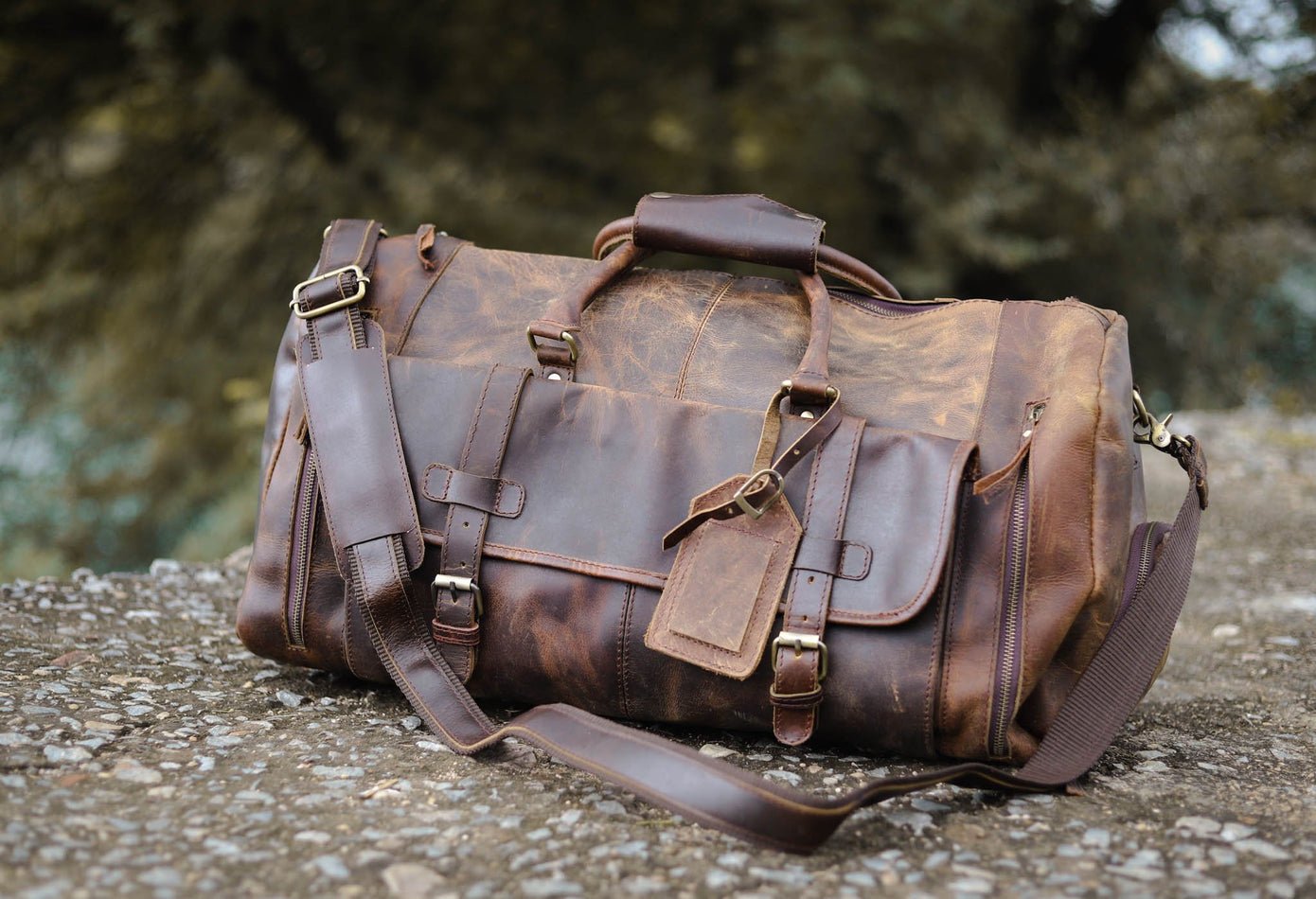 Are Leather Travel Duffels Worth the Price?
We can all agree that suitcases are impractical for a quick weekend getaway or business trip. Until there is a dire need to carry a lot of stuff, nobody prefers those gigantic and heavy bags. Hence, people are exploring the world of leather duffel bags and investing in this smart accessory.
A duffel bag is surely the perfect travel companion on your fleeting excursions with the right blend of all key ingredients. Don't let the soft nature of leather fool you, as it's been creating a statement for its sophistication, durability, elegance, and personality.
Its super-classy look makes it a favourite carry-on not only for women but also for modern men who always find it challenging to choose a masculine bag that doesn't look like a purse. No wonder leather duffel bags are turning fashion tides.
Today, we are taking a closer look at the best traits of leather duffel bags that give you bang for your buck.
What Makes a Leather Duffel the Best Travel Luggage Option?
Durability- A high-quality leather duffel bag won't tear apart soon. If made with premium leather, the bag will be sturdy and last longer than you can imagine, even if you carry it daily, be it gym, business trips, or short vacations.
Durable duffel bags are made from authentic hides and canvas, making them stronger. Moreover, they are supported by tear-resistant fabrics with rust-resistant zippers and storm flap closures. Such a meticulous design protects your stuff from all physical shock and weather conditions.
From a vintage leather holdall to a rugged duffel to a motorcycle duffel bag, you can choose a trusted partner for all your activities, and it will stay with you for years to come. Even a compact duffel for urban days can stand the test of time.
So, get rid of those cheap bags that need to be replaced every year and make a smart buying decision with our chic leather duffel bags.
Stylish- With everyone carrying fashionable accessories, you don't want to look boring with an old-fashioned bag. Leather duffel bags spew elegance, class, and style. Have your way with black or brown duffels, and rest assured that you will be adding a feather to your fashion statement.
Handcrafted by skilled artisans, these bags tick all the checkboxes of an ultramodern bag that today's generation is looking for. We all know that leather is a timeless material that looks good even when it's old and goes perfectly well with all attires.
No matter how many years pass by or what new trends designers come up with, a leather duffel bag will be in fashion now and forever. You can hang the bag across the shoulder or carry it on your shoulder; you are good to go. It is a thing of sophistication, beauty, and taste.
Just pack all the stuff in this compartmentalised bag, and you are ready to travel in style.
Easy on the Lower Back- Don't we all hate those heavy backpacks that end up giving us severe backaches most of the time? Well, it's time to ditch the enormous luggage and go for something convenient and lightweight. Leather duffel bags come with well-rounded handles that feel soft and comfortable in hands.
Most duffel-lovers prefer to carry the bags in their hands or across shoulders. Hence, these bags have adjustable shoulder pads & straps and grip-friendly handle wrap to prevent chafing.
Our leather duffel bags also comprise exterior pockets, designed for looks and utility, which are secured with magnets and buckles to provide quick access to essential items, such as passport, cellphone, or wallet.
The inside of the bag is protected with an additional layer so you can safely pack your electronics, documents, and clothes and wander freely through the crowd. So, buy yourself a versatile duffel bag now and say goodbye to super-heavy suitcases.
No Maintenance- Since leather bags don't collect much dust and feature natural fabric, they require little or no maintenance. A duffel breathes on its own so caring for it is as simple as merely wiping its surface with a clean cloth.
You can store the leather duffel bag without worrying about moisture, fungi, or dry environment, and it will stay as new as ever. The same holds true for the stuff you keep in the bag, be it clothes or other items, it will keep them secure.
With minimum care of the bag and keeping it away from sunlight to prolong its pristine looks, a leather duffel bag will remain your ideal travel buddy for years.
In fact, a premium-quality leather duffel bag is like a fine wine, it only gets better with age. We can assure you that even in a couple of years, it will look just as classy and good.
Also Read: What type of leather is best for making bags?
Where Can You Get the Best Leather Duffel Bag for Men?
Finding the right leather duffel bag can be tremendously joyous, and The Handmade Store values that emotion. Hence, we design 100% genuine leather bags that are crafted dedicatedly by skilled artisans in India. They give the utmost attention to detail while working on each element and creating every component of bags.
We use nothing but the highest-quality hide to give a rustic yet classy vibe to the entire look. We prioritise style and take care of adding functionality to the ensemble, ensuring that the bag carries all your belongings securely and with ease.
The Handmade Store preens itself for the simplicity and longevity we bring to each product. Want to know what makes us stand out from other brands?
Our leather bags are naturally tanned without using any chemicals but just vegetable oil, making them more durable and stronger.

We use full-grain leather that comes from the top layer of the hide, which is considered to be the highest quality.

Leather duffel bags are handcrafted to perfection using high-grade, durable, and thick threads to ensure that all our products last for ages.

Our quality assurance team checks every product twice to dispatch only flawless and the best bags.

We can vouch that our duffels are designed to perfection and last for many of your trips to come.
Shop with us now to find the ideal companion for all your upcoming adventures. You can be sure that our leather duffel bags have got your back every step of the way.