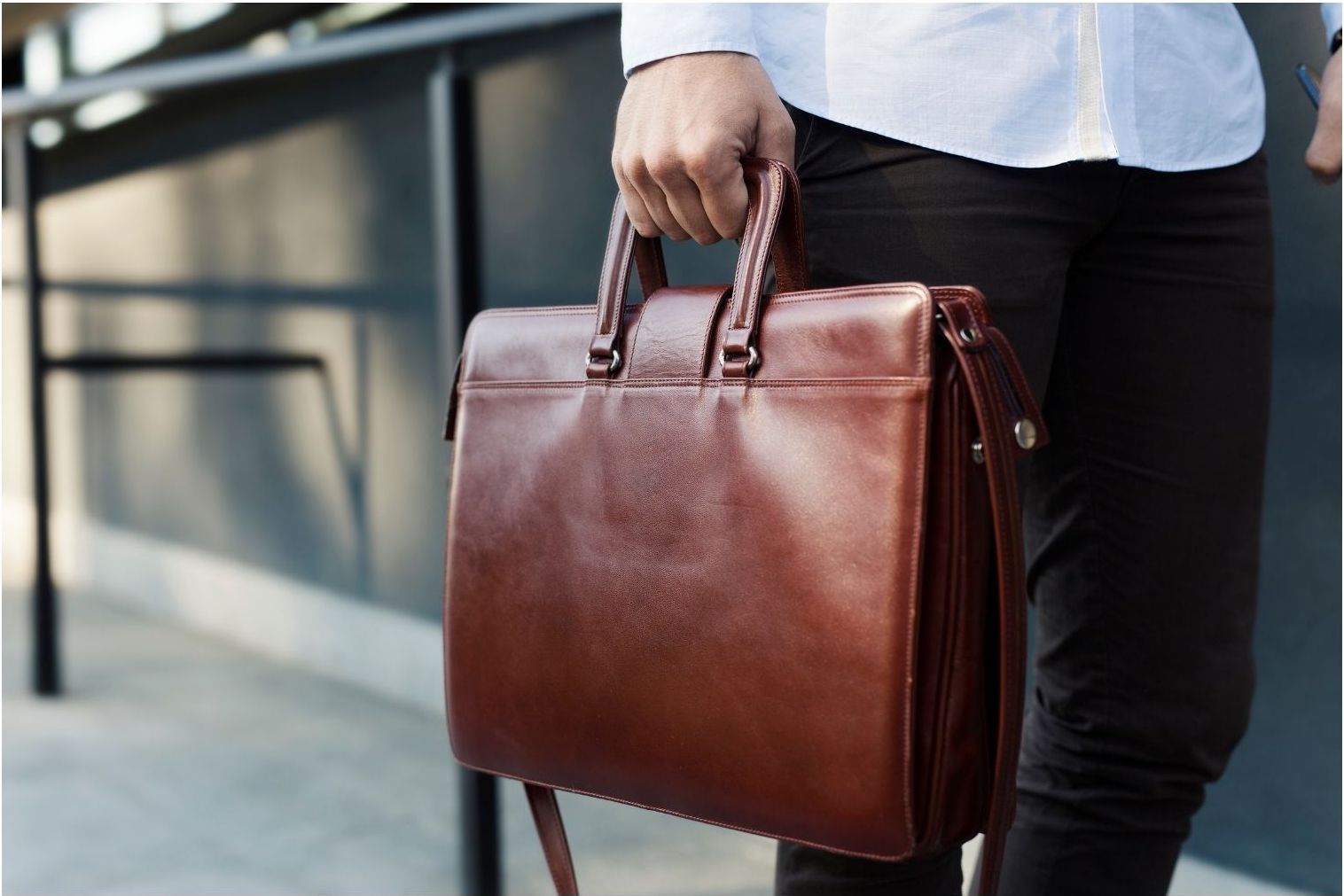 7 Different Leather Bags For Men With Different Outfit Ideas!
Growing up, you all must have seen your father complain about the number of bags your mother owns. And all the outfits to go with them, while he used the same battered leather bag for everything.
Leather is luxurious and timeless. It will never go out of style. An accessory of leather changes the mood of the outfit.
We all know how to achieve that perfect biker look with a leather jacket. And pull off leather shoes like a boss with a three-piece suit.
Ross's struggle tells us exactly why opting for leather pants would not be wise.
There is so much more to leather and ways you can style it. Styling it to your advantage can change the way people look at you.
Leather bags are classy and elegant as well. They are not only stylish but also last a lifetime.
Today, I will tell you how to up your fashion game with different leather bags.
If you are someone, who always likes to be on top of fashion trends, this is for you.
There are a few things you need to change. And here's how.
Outfit With Leather Satchel:
When you think of journalists or writers, the first thing that comes to mind is a leather shoulder bag.
Leather Satchel is very convenient.
It is possible to style it in many ways. A formal look can be achievable with a shirt and trousers.
And casual, with a sweatshirt and chino pants to achieve that laid-back yet chic look. You pick!
Not only journalists/writers but anybody irrespective of their profession can use them.
Next time you go shopping, you do not have to worry whether it is formal or informal. Both work!
Outfit With Leather Messenger:
These are perfect as laptop bags and have enough storage space.
You do not have to worry about what to wear with leather messengers. Men from all age groups can pull off messengers.
You will always find at least one guy in every cafe with a messenger doing his work. Every other college kid uses it.
Anything from a t-shirt and jeans to joggers and hoodies goes well with messengers. It screams casual. Hence, you do not have to think about what clothes work and what does not.
Messenger bags are now slowly climbing the fashion ladder.
Outfit With Leather backpack:
According to me, leather backpacks are the ultimate creation of all.
They are so casual that you can throw them on and go anywhere.
Everybody owns a backpack, but a leather backpack is a statement of its own. It is underlying but represents the style and taste of its user.
You can take them on weekend getaways, picnics, etc. Any holiday of a shorter duration that comes to your mind.
Pair it with shorts and a funky shirt, along with comfortable sneakers, and you are good to go.
Outfit With Leather Duffle Bag:
A leather duffle bag is a must-have for everyone.
A smaller duffle bag is ideal for the gym and a bigger one for business trips, vacations, etc.
Gym looks are a thing. And if Kareena can achieve it, so can you with your perfect duffle bag. Pair it with shorts, a tank and sneakers. It is a simple look that you can rock like a superstar.
Want to take a trip in style? Bring out that duffle and pull it off with loose cotton trousers and a loose cotton shirt.
And of course, sunglasses in case of beaches.
Outfit With Leather Briefcase :
Sturdier compared to other bags and quite put together to look. Leather briefcases have made their way through time. And I am happy to be living in a world where it is still fashionable and classy.
First impressions are everything. So pair this sleek leather briefcase bag with a tailored suit to make an impact.
Read More: What leather is best for leather bags?
Outfit With Leather Fanny Pack :
Fanny packs are back. Now, they are for men as well. They are much more impressive, plush and stylish.
The comeback of fanny packs is a boon.
They are pretty easy to pull off. And you do not have to carry it around nor worry about forgetting it somewhere.
They are convenient for holidays or a casual day out. Just wrap it around your waist.
Pair it with an oversized shirt and cargo pants with chunky jewellery and sneakers. And you have streetwear look all ready to go!
With attractive designs and easy accessibility, adding a fanny pack to your closet is a must.
Outfit With Leather Rucksack:
These can be useful for walking and hiking. Suitable for those who like to travel.
Anything like jeans and a t-shirt, joggers, shorts, etc., go with rucksacks. It is also efficient for students, as it is spacious and is easy to carry.
They fit on your back and are very versatile.
Leather bags are something you must have if you adore fashion.
These were a few suggestions for you to try new things from time to time that work best for you.
Compared to women's clothing, there are not various options available for menswear.
Try to get out of your comfort zone and make it a point to own one item of each sort. And switch it up by styling it.
Oh yes, do not forget to include your leather bag.
Checkout our collection of different leather bags for all your outfits.