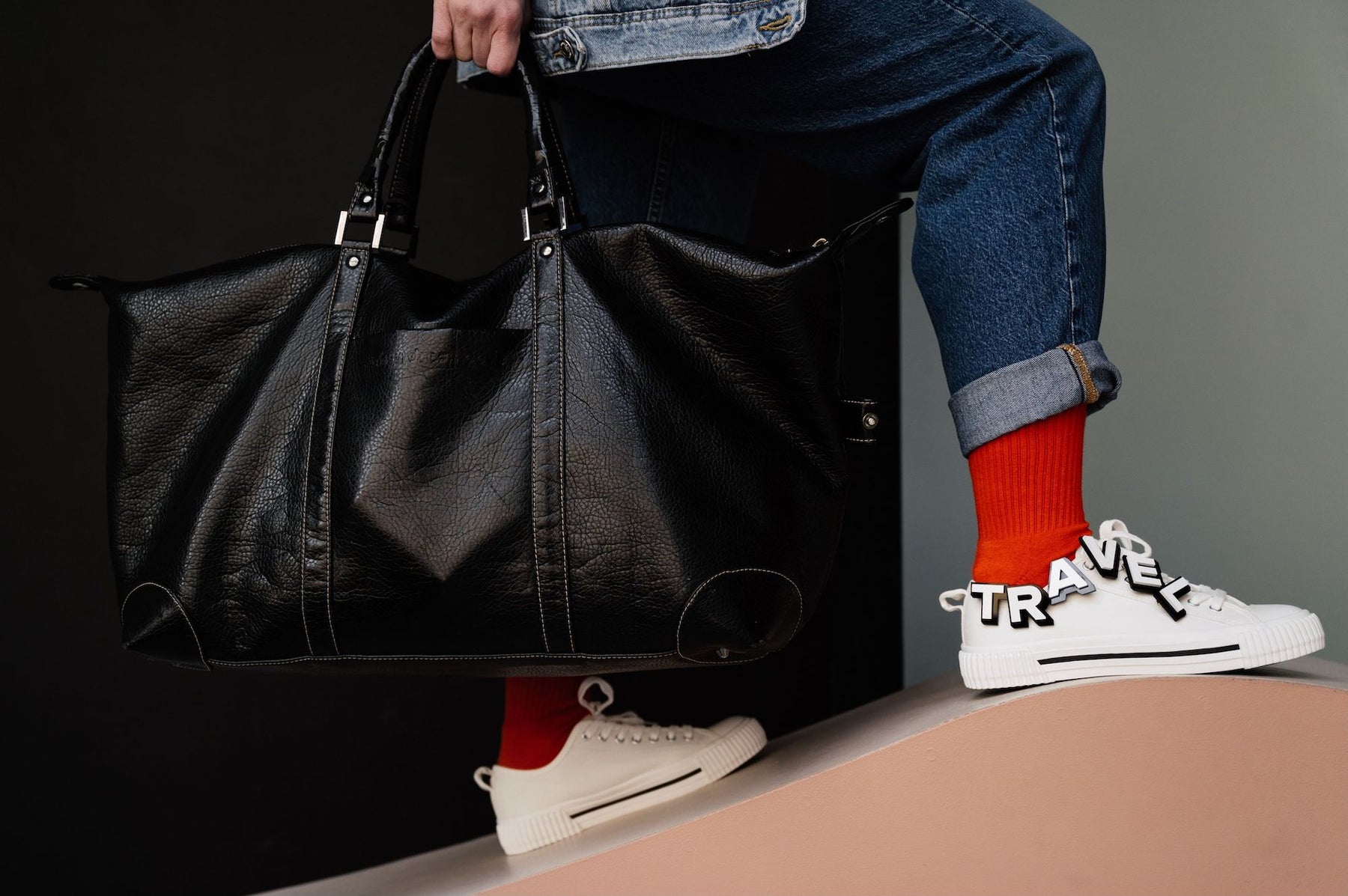 5 Tips To Find A Long-lasting Leather Duffel Bag.
Here are some advance tips on finding a long lasting leather duffel bag which can last for 10+ years.
Leather is a classic as well as stylish material that will never go out of style. It lasts longer than a lifetime if cared for properly.
Leather requires high maintenance regularly. Keeping your bag looking new is important.
You can take care of your bag regularly, but it will not last if the quality of the leather is not top-notch.
Duffle leather bags are a must-have. They can be used for almost anything. Let it be - weekend trip, business trip, gym bag, etc. You can use it the way you want. The duffle bag gets the job done and leather makes you stylish.
Buying a leather duffle bag is a one-time investment. Hence, you should buy the best one.
Here, at The Handmade Store we have the highest quality of leather available at the best prices.
I will give you a few guidelines through which you should buy a duffle bag that is not only durable but also resonates with your style.
Why duffel bags are more durable than backpacks?
As I mentioned earlier, the quality of the bag is very important for it to last longer. But caring for is the next important step.
It is safe to say that duffle bags are more durable compared to backpacks.
Duffle bags are roomier and more flexible in terms of storage as you have a lot more space to keep your belongings compared to backpacks.
A lot of weight in your backpack can cause the straps to come off which is very unlikely in the case of duffle bags.
Backpacks are also said to be bad for your posture. As too much weight on your bag makes you lean forward. It can also cause serious back injuries.
5 tips to find long-lasting leather duffel bags.
1. Type Of Leather Used
You can tell a lot about leather just by touching it. The texture of the leather is the main feather of the bags as it tells about the quality of the leather used.
Since a leather duffle bag is a one-time investment, do not hesitate to spend on good-quality leather.
Like every leather item, you want to choose a bag that's made of full-grain leather. After years and years of use, it looks even more fantastic as its top-quality leather.
Patina – a weathered, sheeny look which material gets through aging and only the best leather develops an attractive patina.
The superior the quality, the better the patina.
This is not something you will get with leather of lesser grades or heavily treated.
Avoid bags that are made of bonded leather just because they are cheap. Such leather bags use scrap pieces of leather that are reworked with chemicals and plastics into a second-rate version of leather. It doesn't have a distinct nice leather smell and nor does it age well. Salespeople try to promote such bags as authentic leather.
They come at low prices but are not value for money so beware.
2. Tanning Process
The leathers used for bags and suitcases aren't prepared the same way.
There are two types of tanning processes that you need to know about – chrome tanning and vegetable tanning.
There are major differences in them, especially in price.
In chrome tanned leather, the process involves chromium and other harsh chemicals. It's finished in a couple of days, that's why their products are always cheap. Chrome tanned leather accounts for about 90% of the leather market.
Then we have vegetable-tanned leather. Unlike chrome tanned leather, it's produced in an eco-friendly way. The term vegetable refers to the natural materials that are used in the process such as tree bark.
In this process, the hide goes through a pre-tanning stage where it is rehydrated after removing all the hair. Each hide is then cut into two pieces called "side''. For several weeks these sides are soaked in tanning liquor.
As this process is longer, the majority of the vegetable-tanned leather products are thicker and stiffer compared to chrome-tanned leather but then get softer when the leather breaks in.
That is why vegetable tanning works best for high-end bags.
The tanning process is itself enough for you to identify the quality of the bag.
They are superior in character, durability and holding ability than chrome tanning. They're known for their excellent patina as well as classic leather smell.
3. Durability & Handwork
The most durable leather makes the best leather durable bags.
They are a work of art. It's not just about putting parts together.
It's a two-step process -1) careful selection of leather 2) precise stitching.
Full-grain leather makes the bags durable. An ideal bag can hold a certain amount of weight and can be moved around without being weakened. That's why grain is very important.
Top-grain leather is an affordable alternative.
The stitching on clothes or bags that matter should be straight, barely noticeable without any loose threading hanging out. You must check the surface of the bag inside out for this consistency.
The handles should be firmly attached to the body of the bag with proper stitching or metal fixtures. Avoid bags with handles glued on as they're at risk of coming off.
4. Country Of Origin & Making
Many times, where the leather is coming from determines the quality of the bag.
We know some countries that produce good quality leather-like Italy, England, France and the US. These countries also have a good track record of tanning leather well.
But these days you need to be a little thorough, especially when it comes to labels. Many companies try to capitalize on the reputation of 'Italy' but do all the work in another country and give the leather its finishing in Italy. Then they go ahead and stamp it as Italian leather. This is how they sell chrome tanned leather or low-quality leathers at higher prices.
Gain a proper understanding as to not falling prey to such companies.
You want to be on the lookout for premium leather, where the hide selection and the tanning are performed in Italy or any other reputable country.
You should trust someone who has a deeper understanding and attention to detail regarding leather.
5. Hardware
Inspecting the quality of little parts is as important as the quality of leather. It is always advised to examine the details from each side of the bag. The features you should pay close attention to are:
Buckles

Handles

Locks

Metallic rings

Shoulder strap fittings

Zippers (take note that metal zippers are of better quality than plastic zippers)
If you are to purchase bags online, make it a point to zoom in on the photos so you can check out the parts carefully. Also, remember to look at pictures that show the bag with its zipper closed and open.
After you find the highest quality leather bag, maintaining that quality takes effort. A few tips to keep your leather duffle bag as good as new.
To remove any dust or dirt from your bag, use a dilute solution of warm soapy water and a soft, clean cloth but avoid strong detergents. Gently rub it using a circular motion. Do it once a week.

Keep the bag in a clean and dry place.

Avoid extremely hot or extremely cold places.

Direct exposure to sunlight can cause discolouration to the leather.

Use leather oil or conditioner to keep the leather from drying out.

Don't wash leather in the washing machine.
Checkout our collection of long lasting leather duffel bags.
[zifyfaq-50226]