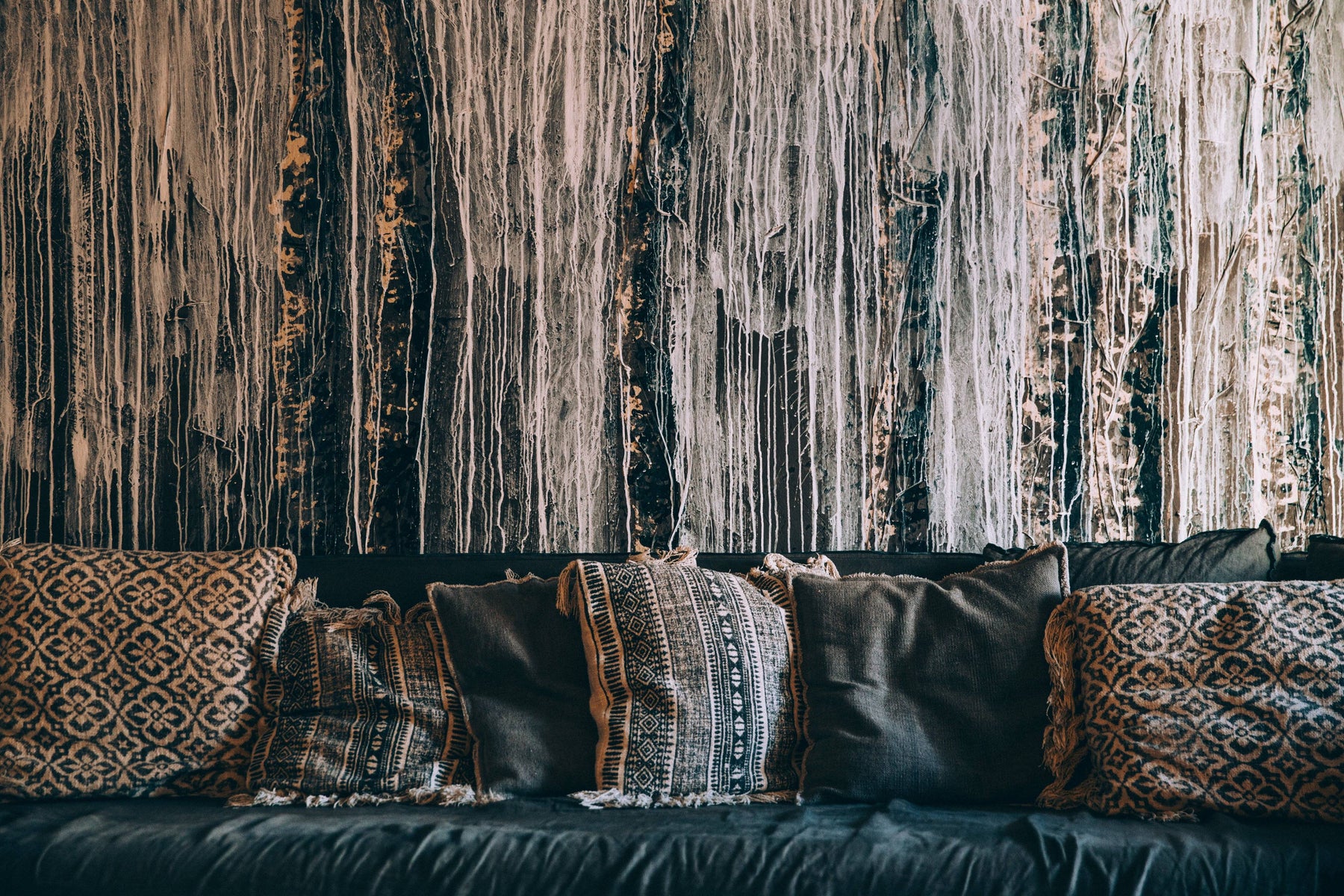 What Makes A Good Cushion Cover?
What's something that makes a cushion cover a real real good cushion cover?
We have been asking this question to a lot of people but none of them came up with the perfect answer. People around the globe are looking for a pair of cushion cover that is beautiful, is hypoallergenic, long-lasting, and holds their dyes for a long period.
Checkout our Handmade Cushion Covers.
An ideal cushion cover is something that goes with the whole theme of the decor of your house. A cushion cover that will keep delivering the same level of comfort and soft feel for a long period.
Folks also complain about the correct method of cleaning cushion covers. Cleaning the cushion cover is not tough at all. Cushion covers are made for heavy usage. If peeps pick the correct fabric which won't catch stain or is dirt resistant it is a complete win-win.
But not every fabric is stain resistant. Fabrics like polyester are less vulnerable to catch spots. On the way to find your ideal cushion cover, you will always find some flaws in your chosen cushion cover. Only choose what appeals to you the most.
How To Pick Your Ideal Cushion Cover
Picking ideal cushion cover is not a tough job. Folks are moving steadily towards the combination of cotton and jute. Cotton and jute bring the mix of being soft and strong long-lasting nature.
There are hundreds of reasons a cushion cover can be an ideal one. From size to stitching. To colors to easily washable covers.
On the surge of choosing your ideal cushion cover. Today we are going to investigate a few topics to look upon before buying cushion covers.
Quality of Fabric
There are several ways people use their cushions. From sofas to chairs. We use cushions everywhere. The ideal cushions must not be filling your space but also be fulfilling your needs.
The quality of the fabric should be top-notch when it is going to make into your room. There are several fabrics in the cushion cover market which deliver long-lasting quality without spending too much cheese on them.
Cotton and jute are far most the best combinations for cushion covers. The quality which these two fabrics deliver combined is the best in the whole cushion cover region.


Different Types Of Fabric For Cushion Covers
There are so many fabrics to choose from at present. The list of these fabrics never ends. While not every fabric is that good. Every fabric has its own best quality and a flaw attached.
Let us check out some of the best fabrics available that you can look for before buying a cushion cover.
The combination of cotton and jute is one of a kind. Jute brings thee long threads with the shiny-looking stitching. Cotton plays the role of bringing softness to the fabric.
This combination will bring your home a nice modern look with a little bit of rustic tinge to it. This combination holds the capability to hold the dye colors in the long run and keeping the quality of the cushion cover intact.
No fabric can even stand near this one. This fabric will bring the comfiest feeling to your home. Wool on cushion covers is an exceptional pick. The feeling wool delivers is one of a kind. The long-lasting nature of the fabric and the premium quality makes it a one-of-one type.
Nylon has both fantastic strengths and scraped area obstruction, permitting it to face any game. It has a phenomenal versatile recuperation implying that textures can stretch as far as possible without losing their shape. In addition, nylon has great protection from daylight, settling on it is a fantastic decision for sports clothing.
One of the most luxurious looking and elegant fabrics to look for if you are a fanatic about decorating your house. This fabric has high-quality weaves and is very flat. Velvet is the safest and exclusive fabric for making your cushion covers look chic.
Polyester may be an artificial material. it's extremely resilient and may withstand an honest deal of wear and tear and tear. Polyester fades less and can carry the dye properly. But doesn't produce the exquisite color as cotton. High-quality polyester holds its shape well and doesn't shrink.


Among all textures, accessible silk texture is the most costly and imperial-looking texture. Silk is just unrivaled when its arousing contact and delicateness are counted. Pad covers produced using silk will in general talk for themselves.
At the point when you will enrich your home, pick the drapes you will get a kick out of the chance to have silk texture as your drapery producer. Silk texture has a characteristic gloss and non-abrasiveness.
This regular texture is likewise quite possibly the toughest fabric that is produced using silk strands. Related to extravagance and style, silk texture has its style proclamation.
This fabric looks very royal. The shine on the outside of the fabric is very lustrous. To make your home look more royal one can choose this fabric. This fabric has a shiny side on the outside and a dull one on the inner part.
Hair on leather is also famous for its different names. Hair on leather fabric has animal fur on the cloth. Fabrics like such are very beautiful if used to decorate properly.
By blending cotton and polyester, enormous producers figured out how to get make this texture, breathable and tough material that consumed the best exhibition properties of the two filaments.
The presence of fabricated materials prompted the production of brilliant tones during coloring, and the presence of cotton strings made the texture breathable and lovely to the touch.

Other Traits Of Perfect Cushion Covers

Stitching is another important aspect of cushion covers. Cushion covers which are handsewn are more delicate than machine sewn. Machine-sewn cushion covers tend to have double-layered stitching on either side. Make sure your cushion cover has strong stitching before purchasing.

While selecting your cushion cover keep your home's decor theme in mind. Folks end up buying a cushion cover that suits their sofa but not their room. You get plenty of options if you are looking out for cushion covers. Even the fabric of the cover makes a difference in the color option.
Shape and Size of the cushion
Well if we talk about the shape the most common shape of cushions used by people is square. That is the default shape that comes to your mind when you think of a cushion. Keeping the shape of the cushion the same for every room will bring balance in decor.
While you are looking for the size of the cushions. never go for big sizes. If your sofa's backrest is 3 feet in length, your cushions should behalf on it. Never go for unusual sizes. The most common size for cushion covers is 30x30 cm.
Not every fabric is hypoallergenic. The safest fabric we will recommend you is cotton and jute. Fabrics like polyester and polycotton are not natural fabrics. Thus skin allergies are expected if you are using one of these.
Easy To Wash Cushion Covers
Cushion covers are easy to wash. Machine washing this cushion cover works. Handwashing cushion covers is not a wise idea. As the stitching may get lose with the pressure of hands. Always ensure you are using the sift detergent available. Cushion covers lose their dye if the detergent is harsh.
The feel of the cushion cover must be soft and comfy. Never chose a beautiful-looking cushion cover that is rough in feel. Always purchase a cushion cover which is made from hypoallergenic materials. Always remember you are not filling the space you are filling your needs.