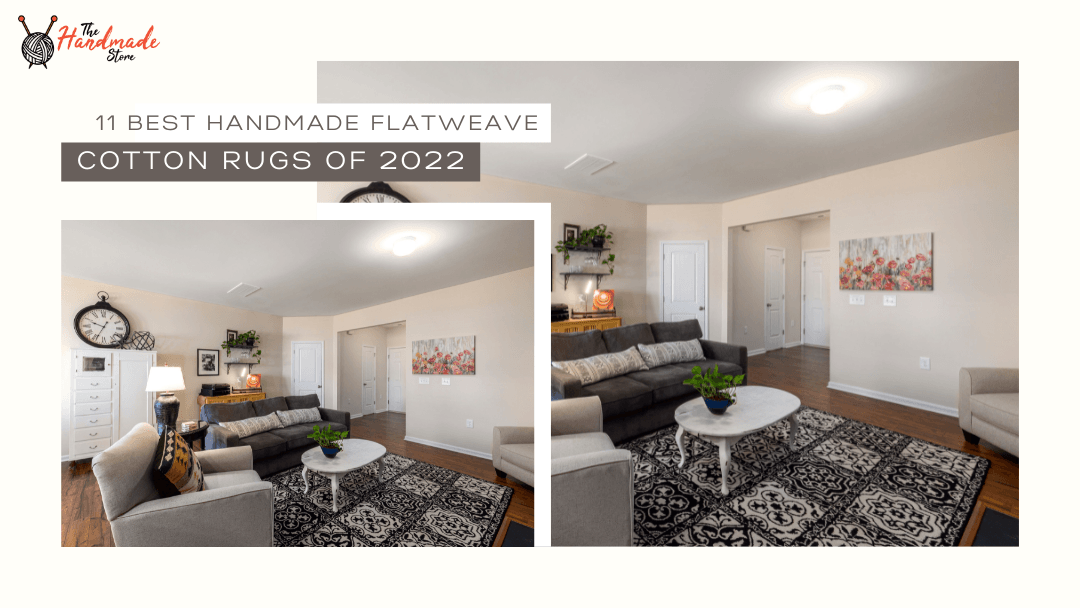 11 Best Handmade Flatweave Cotton Rugs of 2022
Is it time to spruce up your living space? Flatweave cotton rugs are quite trendy in modern décor nowadays, and they are the ideal method to immediately transform a space.
They look great in relaxed, free-spirited houses, but they also come in minimalistic or exotic designs. Flatwoven carpets are thin, light, and surprisingly long-lasting.
Flat weave carpets continued to appear, whether with tribal motifs, classic Persian rug designs, or even plain natural tones. That served as a reminder to us of the versatility, practicality, and style of flat weave carpets.
Layering is a popular design concept in today's houses. Flatweave rugs are ideal for stacking on top of the normal bases, so you can simply refresh your area by adding a flatweave area rug on top of what you currently have.
So, precisely what are flatweave rugs? Why are they so well-liked? And how would you choose the flatweave rug to buy for your home? All of these queries, and more, are answered here.
What does flatweave mean for the area rugs?
A flatweave rug is one that is made without knots. These carpets are woven together out of vertical and horizontal strands to form a single fabric. While flat weave carpets are quite popular now, they are nevertheless based in the ancient rug-making technique.
Chain Stitch carpets, Needlepoint rugs, Aubusson Weaves, and Hooked Rugs are some of the oldest kinds of flatweave rugs. Dhurries, Soumaks, and Kilims are among the best and most popular flatweave designs.
Flatweave rugs are really no rugs with a thin weaving. They are light-weight carpets that are simple to take up and move. They look excellent on hardwood floors, particularly when placed on top of fiber reinforced carpets.
Many flatweave rugs feature fringes on the ends, which look wonderful if you want to go for a more bohemian aesthetic. If you prefer natural fibres, many flat weave carpets are made of wool, cotton, or jute rug.
Are Flatweave rugs comfortable?
If you really need a huge rug to span a high-traffic area, a flatweave rug is an ideal alternative. Flatweaves are often less expensive than high-pile carpets. Most individuals can afford a well-constructed flatweave rug. The cost of your rug is ultimately determined by its size and the materials you select.
This is the most often asked question about flatweave rugs, and the simple answer is that there are softer carpets available, such as sheepskin and shaggy rugs. Nevertheless, gentler flatweave rugs are available, such as those woollen (simply known as a flatweave wool rug) and rayon.
Are Flatweave rugs machine-washable?
They may indeed be brushed (with the beater bar turned off first) without fear of dragging up stray threads and snagging or harming the carpeting. Just make sure the rug is securely fastened to the floor, since light carpets can move easily and shift under a vacuum.
Because of its low weight and flexibility, flat weave rugs may be shaken or beaten to effectively remove dirt and particulates that do not adhere to shag or high-pile rugs as much as they would to a shaggy or increased rug. It's also much simpler to wipe spills, which may seep through pile threads and cotton backings very fast.
In short, yes they are machine washable. The issue is that many carpets are frequently too large, heavy, and unmanageable to run a standard cycle in a normal machine safely and securely.
Plus, you'll have to struggle with drying them for what feels like an eternity. Since, it's mentioned above that Flatweave rugs are light weight, you are good to go!
How to keep flatweave rugs from moving?
It's easy. With these 3 options you can fix it in no time.
The most apparent example is a rug pad. We put them beneath every area rug in our house to help them last longer and remain in place. The fibres of the pad are very grippy–they'll even adhere to your fingerprints) and the rugs have remained flawless since that.
It is possible to install velcro on your flooring and carpeting, but it comes at a cost!
Of course, you'd have to be alright with the other side of the hook and loop being attached to your flooring.
The double-sided indoor rug tape claims to cling to any type of flooring, especially carpet, without leaving any adhesive mess when you peel it up–which sounds pretty good.
Now it's time for the most awaited list of the year!
Top 11 Washable Flatweave Rugs of 2021
Soft and subtle, this rug is a fine addition to your living spaces. Made from 100% premium cotton, it combines comfort, durability and softness in a single product. It is handwoven to add a unique touch to the overall appeal of the product. With a simple design and a muted color palette, this piece features visual serenity that blends into your interior with ease.
Perfect for modern homes, this rug is versatile enough to be used in any space from the bedroom to the kitchen, making it one of the most useful additions to your home. The yellow and black color scheme makes it just perfect for all areas of your house
This rug is crafted using traditional Turkish hand-knotting techniques that have been passed down through generations, to offer homeowners an instant celebrity appeal. This soft and thick handmade cotton round rug will make any home stand out like the stars.
Featuring a vintage design, this eye-catching piece can be used to decorate any room in your home, including the living room, bedroom, bathroom, or entryway.
A gorgeous addition to your living area, this rug will surely be a conversation starter. Featuring a hand-knotted construction and a washed silk look, this piece has an irresistible understated elegance.
It has a washed silk look that comes from being hand brushed in order to achieve a unique texture, which is an authentic feature of handmade rugs. Featuring a subtle square-like geometric pattern, this piece will complete the style of any room.
Multifunctional, vibrant, and handmade - the Handmade Rugs collection is bound to surprise. Enjoy the understated look with modern touches in the Cajun Stripe Indoor/Outdoor Rug with Red Accents .
Featuring a flat weave in an eye-catching braid with authentic ombre coloring, this rug will update your home in subtle fashion with its chic design.
This high quality rug is ideal for every room, including living rooms, offices, or study rooms. With dyed-to-match borders and 100% premium cotton yarn to ensure the highest quality, this rug brings you durability and comfort.-Premium cotton yarn.-Handmade with traditional Indian designs -Tapestry technique.-Made in India.-Colors: Maroon.
This Yellow Rug will bring a fresh look to your home décor. The vibrant colors of this rug will match the ambiance of any décor. This is a unique cotton rug with intricate patterns and a smooth finish. It has a soft and comfortable fiber that adds luxury appeal to your room.
This rug comes in an intricate design that has an appealing touch of modernity to it. The great thing about this rug is that it is not very loud when it comes to the colors, but instead it has a muted connection between all the patterns.
You can place this rug in almost any room in the house, for instance in your study room, bedroom or lounge area. This rug is durable and stain resistant so you can clean it either manually or with a dry cleaning method. The size of this rug is 2ft x 6ft.
This rug is a bright and gentle warm tone that goes great with a variety of interiors. This choice would be perfect for your coffee table, dining area. It's durable and easy to clean.
The quality of this hand knotted rug is also very good; the construction is tight, the weaving is dense and there are no loose ends on the surface.
The stunning Moroccan Salmon colored Rug is a tribute to the most intricately woven rugs of Morocco. This hand-tufted rug is crafted from 100% premium cotton, and offers a lasting beauty you will adore for years to come. This Salmon colored Rug offers a perfect combination of color, design, and style.

10.
This dashing vintage rug is made out of 100% pure Cotton. Just look at the intricate details in it! It can easily fit into any house interior. Its rectangular shape is aesthetically perfect for any room in your house.
Design your house with an exceptional piece of vintage art. This handmade rug truly represents class.
Cleaning rugs is a really hard job for most rug owners. This rug is known to deliver premium quality comfort and is easy to wash also. The colors are vibrant and elegant.
This will make your room look absolutely gorgeous. Just add one or two potted plants and experience the magical aura of the room.Patterns on this rug are modern and suitable for any room. This rug is hand knotted and made of 100% cotton..
Checkout our collection of flatweave cotton rugs.
[zifyfaq-50609]